Micro Fishing Photo Tank
The micro fishing photo tank isn't exactly what I've been looking for, but it is awfully close. I've been looking for a suitable photo tank for a while now. There are some nice Japanese ones, but they are very expensive. A number of people here have made do-it-yourself tanks, and any number of plastics companies will custom make them, but I really wanted to find an off-the-shelf product that would work and be reasonably priced. This tank is the closest I've come across (and thanks to gunner48 on the North American Native Fishes forum for finding it).
Duskystripe Shiner
A photo tank is very useful for getting a nice photo of your catch while keeping it in water so it can still "breathe" and won't flip out of your hand while you ready your camera. Additionally, identifying some species is much easier when their fins are spread - which they are in water and aren't in your palm.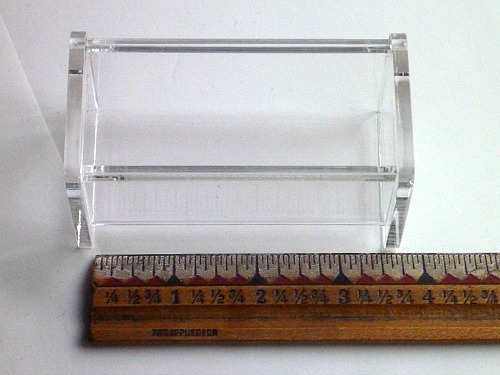 Micro Fishing Photo Tank
The micro fishing photo tank really is micro sized. The inside measurements are just 3.5" x 1.5" x 1.5". There is also a hinged lid. It won't hold some of the larger species, but it will fit in your pocket.
(Please note: these are not professional, glass, distortion free photo tanks.)
Micro Photo Tank - $5.00
If you need a slightly larger tank, perhaps for photographing small sunfish, consider the 3X5 Photo Tank.

---
Shipping
Domestic shipping is $4, via USPS First Class Mail (unless ordered with an item that must go via Priority Mail, and which has a higher shipping charge). The charge is added to your order automatically.
Please note: All packages are shipped via USPS. If you have a PO Box, please list ONLY the PO Box in your address, not the PO Box and your street address.
The charge for international shipping depends on the destination country, the weight of the package, the overall length of the package and the value of the package.
International shipments

International purchases may be subject to import duties and taxes. I cannot keep track of all import regulations in all countries written in all languages. Understanding and paying import duties and taxes is the responsibility of the buyer.
UK

TenkaraBum.com no longer ships to the UK. The new VAT regulations are too onerous for a one-man shop that rarely ships anything to the UK anyway. I apologize.

Australia

The US Postal Service has suspended all shipments to Australia. There are two alternatives. One is the same price as the USPS had been (as calculated at checkout) but may take 3-4 weeks. The other is UPS, which is considerably faster (3-5 days), but also considerably more expensive. If you want the faster, UPS shipment, I will send an invoice for the required amount.

Canada
Canadian buyers have the option to prepay import duty and VAT (which also eliminates the CAN$9.96 Canada Post charge for collecting the import duty and VAT). The prepayment option costs a flat US$6.95, which can yield a substantial savings for larger purchases. This option is only for packages under $400 in value AND 24" or less in length.
Prepaid Canadian Import Duty and Tax - $6.95

THIS BUTTON IS FOR CANADIAN RESIDENTS ONLY!

---
TenkaraBum Home > Micro Fishing > Micro Photo Tank

---
"The bitterness of poor quality remains long after the sweetness of low price is forgotten" - Benjamin Franklin
"Be sure in casting, that your fly fall first into the water, for if the line fall first, it scares or frightens the fish..." -
Col. Robert Venables 1662
As age slows my pace, I will become more like the heron.

---
Warning:
The hooks are sharp.
The coffee's hot.
The fish are slippery when wet.
Beware of the Dogma

---