Trip Report - 10-17-15
On Saturday I was fortunate enough to fish at a private club as a guest  of one of my customers. It isn't the kind of club that stocks and feeds huge fish - he had told me to expect 7-12 inchers. The club is fly fishing only but he said to bring worms - if the fishing wasn't good at the club we could go to the Lehigh, where he said the big fish were. He was joking - fishing at the club was good.

After he gave me a quick tour of the club's water we actually started at the Lehigh (and without worms) - well, without real worms. The Overhand Worm proved itself beautifully on Saturday.
First a word about the photos: A couple of my recent trip reports were subtitled Micro Fishing Gear, Don't Leave Home Without It. This week it should have been Camera, Don't Leave Home Without It. I had needed to charge the battery, but after charging it forgot to put the camera back into the pack.
Since I've dropped my waterproof camera into the drink a few times, I wasn't going to take any chances with my cellphone, so almost all the shots were taken through a plastic bag. (The zip closure bags that I put the "Read Me First" sheets in will hold most smartphones nicely. They're not real robust, but they should save a phone from a quick dunking. They're not that great for photos, though.) I also find it much harder to hold the cellphone steady while shooting one handed.

As I often do, I started out with a bead head black Killer Bugger. I got no hits so when I lost it in the rocks I switched flies and tied on an Oliver Kite Bare Hook Nymph. After only a few casts I decided the copper wire wasn't getting it deep enough so I switched flies again, this time putting on an Overhand Worm with a BB shot about 6" above it. A few casts later the line stopped and when I tightened up to see if it was a fish or a rock I got a head shake in return.

This Overhand Worm was one I had tied at home and used a spot of superglue to keep the overhand knot up by the hook eye. If you tie them at home, that's probably not a bad idea. It definitely keeps the hook bend completely open. Also, it may get the hook just a bit deeper into the mouth. I have noticed that several of the fish I have caught on Overhand Worms tied streamside were hooked right at the very front of the mouth, what would be the upper lip if fish had lips.
Ed, my host, caught a fish a bit bigger than mine and hooked another  that was significantly larger but it got off just before he got it into the net. He may have been right about big fish being in the Lehigh.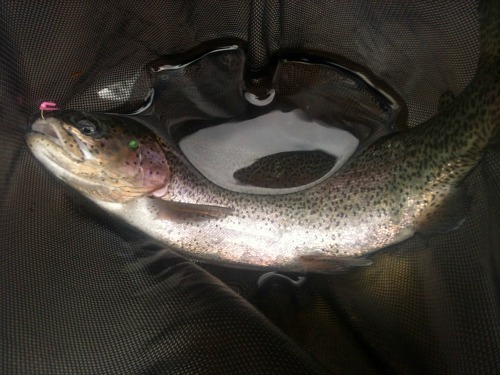 The fish at the club were pretty nice, too, though. This rainbow, quickly measured against the rod (and then the rod measured), was right at 15 inches. You can see the upper "lip" hooking location for an Overhand Worm that was tied streamside. I think the fish thrashing in the net moved the chenille up to the eye because it was right at the bend when I tied it.

Although the other photos show fish hooked right in the corner of the jaw, there was one extremely acrobatic fish that must have jumped a half dozen time before breaking my 6.5X tippet. As it jumped, I could easily see the Overhand Worm right at the front upper "lip", just where the rainbow had been hooked.
Ed asked me what I'd caught the fish on and I told him the Overhand Worm. It think he was a bit surprised so I gave him one. As often happens when fishing with spit shot, after a while he lost it. He came back for another. This time though, I showed him how to tie the fly and gave him some hooks, some pre-cut worms and some BB shot. There on the spot he tied his first fly. I wish I could report that he then caught a fish on his first ever fly but it was not to be. I heard from him a couple days later, saying he needed more materials. He'd used the Overhand Worms again, this time in a pond, and was getting fish on about every other cast.

I spent the day fishing with a Suntech Field Master 44, a Field Master 53 and a Suntech Keiryu Sawanobori 53 (which I am very happy to have back in stock). On the Lehigh I fished the Field Master 44 with a size 3.5 tenkara line. With the longer rods I switched to a keiryu rig, initially with 6.5X tippet (until I had two very nice fish break off) and then 5X tippet.
The Overhand Worm with a BB shot can be fished with a tenkara rod and line or with a keiryu rod and line. If you don't have overhead branches to get in the way, the longer rod and lighter line will give you better drifts, but if the stream is a bit tight (or if you don't have a long keiryu rod) by all means use your tenkara rod. For lighter seiryu rods like the Suntech Kurenai I would use a smaller shot, perhaps a #6 or #4, and in very small, relatively shallow streams I have used a #10 shot successfully with the Pink Chenille Worm (similar but slightly more complicated than the dead simple Overhand Worm).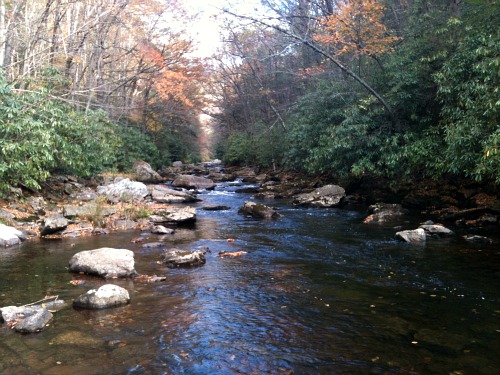 This is about as far as we fished, although the club water does extend upstream quite a ways further. The club has some long glassy pools that are probably a dry fly angler's dream, but there was lots of pocket water as well, which is what I think of when I think of tenkara water.
It is certainly beautiful water, but I am sure that there are lots of streams running through various state parks and forests, and the national parks and forests that are also beautiful. They'll get more fishing pressure than a private club, of course, but I suspect if you hike in a ways it'll cut the fishing pressure dramatically.
Fishing the club water was a stark contrast to fishing where I generally do, which is almost always within sight of a road. I'd rather fish than hike, but I think I'll break out the maps and see what I can find that is a reasonable compromise. Being off the beaten path, or at least, on the path less traveled by, was very, very nice.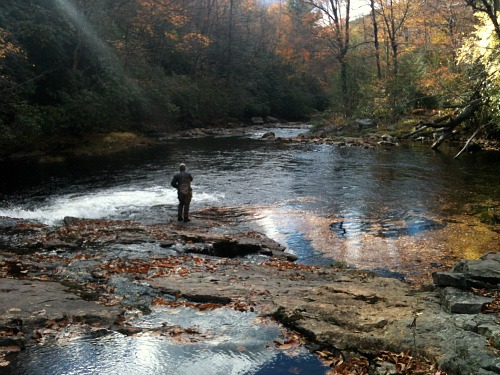 Here's Ed, fishing one of the larger pools.
Thank you, Ed, for a wonderful day.

---
TenkaraBum Home > Trip Reports > Trip Report 10-17-15

---
"The bitterness of poor quality remains long after the sweetness of low price is forgotten" - Benjamin Franklin
"Be sure in casting, that your fly fall first into the water, for if the line fall first, it scares or frightens the fish..." -
Col. Robert Venables 1662
As age slows my pace, I will become more like the heron.

---
Warning:
The hooks are sharp.
The coffee's hot.
The fish are slippery when wet.
Beware of the Dogma

---