Trip Report - 4-22-17
Saturday was an interesting day. I confirmed my expectations regarding Cortland's Indicator Mono and Suntech's new Field Master Long, but I got a huge surprise fishing ajing jigs.
I started out on a popular stream on which I rarely catch many fish even though it is heavily stocked. Some time ago, I read a very interesting forum comment from a Pennsylvania fisherman. In essence, he said if you are not the first person to fish that section of stream that day, you would be better off going someplace else. On the one hand, he has many, many streams to fish within a reasonable driving distance (Pennsylvania has more miles of trout stream than any other state in the lower 48). On the other hand, I think he leaves home at "oh dark thirty" to start his day.
I'm not a morning person. I used to be, but that was before starting what my wife calls a "one man sweat shop." I rarely get to bed before midnight, and the day before a fishing trip generally sees me tying flies at 11:30 PM (that's STARTING to tie flies at 11:30). Why, I don't know. If I never tied another fly, I would still have enough to last me the rest of my life. That really is one of the attractions of keiryu fishing. You don't have to tie flies at 11:30!
Getting back to the fishing, it takes me anywhere from an hour and a half to two and a half hours to get to any stream I fish - streams that other anglers live right next to! I'm not sure I am ever the first person to fish any section of any stream. Whether that is why I rarely catch more than a few fish on that heavily stocked stream, I don't know, but that's as good an excuse as any.
Saturday was true to form. I caught exactly one fish where I started out. I recently added the Cortland Indicator Mono to the shop and although I had tried their Opaque White mono previously, it was my first time to try the Bi-Color indicator mono. Both are extremely visible. The Opaque White seems to be a bit stealthier, while the the Bi-Color seems to be more visible when viewed against glare on the water. The Yellow seems like it is in between - a bit stealthier than the Bi-Color and perhaps more visible than the Opaque White. I did not fish any of the three late in the evening, when the visibility of the sighter is the most critical.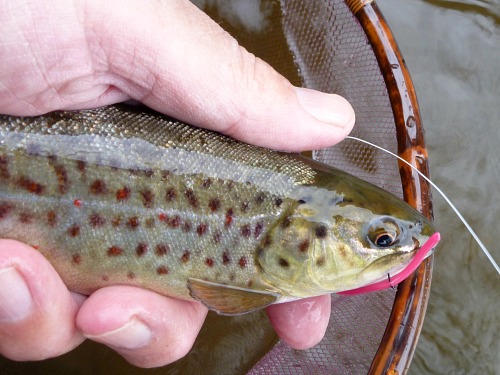 I had started out with a TenkaraBum 40 and a cast of two bead head nymphs. Within just a few casts a very nice fish, clearly large enough to be a holdover from last year's stocking, took one of the nymphs. Unfortunately, the hook pulled free and because of the deep bend in the rod it was like a slingshot cast in reverse. The flies shot from the water to high in the streamside trees. Two flies lost. A few minutes later, a missed hook set resulted in two more flies lost to the trees.
I switched to a Squirmito (essentially the same as a Squirmy Wormy) and before long caught a small brown. The Opaque White Cortland Indicator Mono indicated the strike immediately. It really is very easy to see, and thus it is very easy to see it twitch or hesitate.
After a bit, I went to a different section of the stream and switched from flies (assuming you can call a squimito, which in essence is a rubber worm for trout, a "fly") to a spinner (and that's not a spinner as in Rusty Spinner, it's a spinner as in Mepps).
I generally take quite a few rods on each fishing trip, but having starting a website selling Japanese spinning and baitcasting gear, finesse-fishing.com, I now have even more rods to bring! When I got to the section of stream I wanted to fish, I saw another spin fisherman. I walked downstream a ways, intending to fish my way back up, and passed another spin fishermen on the way.
After fishing just one pool and one riffle, one of the two guys I had seen fishing was then right above me and the other one had just passed me. Since they had just fished all the water from the parking area to where I then was, I followed the advice from that forum post and went to a different stream.
I also switched from spinning to keiryu, and to a rod I had not yet fished, a Suntech Field Master Suguru Long H 54. The Suguru Long is similar to the Kurenai Long, which is a wonderfully light keiryu rod that comes in 6.1, 7.1 and 8.1m lengths. The Suguru Long is beefier than the Kurenai Long - just as the Suntech Field Master is beefier than the Suntech Kurenai. It is still a light rod for its length (4.5, 5.4, 6.3 or 7.2m) and because of the long sections (41 3/8") it has a very smooth bend profile.
The 4.5m rod is firm enough through the midsection that I think it will prove to be better for keiryu fishing than big water tenkara. It would be fine for fishing nymphs, but definitely would not be my first choice for cast-pulse-pulse-pulse-cast tenkara. I have only fished the 5.4m rod as a pure keiryu rod, for which it was very nice. I suspect the greater inertia would allow the 5.4m rod to cast a light tenkara line better than the 4.5m rod, but I suspect there are other 5.3 or 5.4m rods I would like better than the Suguru Long 54 when paired with a tenkara line. I have not fished the 6.3m version (and have not seen the 7.2m version)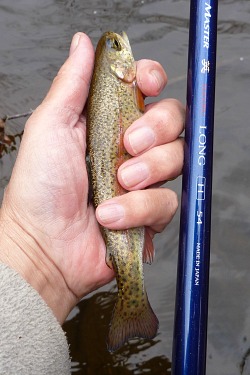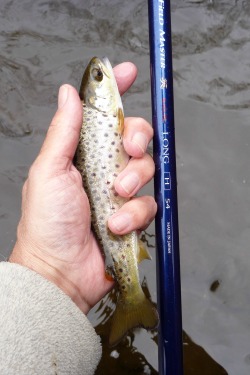 After catching a few small rainbows and a couple small bowns (smaller than I thought the state stocked) and nothing even remotely capable of putting the rod to the test, I left to go to a third stream (and that is a major reason behind why I now rent cars rather than taking the commuter trains to the suburban streams - with the trains, I'm pretty much committed to one stream for the day and cannot easily move to a second, let alone a third stream).
That's where the day got interesting (and unfortunately, by then the day was almost over). The third stream is smaller, but has a couple spots where I almost always catch fish. I had gone to the upper spot, and was again fishing with a spinning rod (the Tenryu Rayz RZ53UL), but this time instead of using a spinner I was using an ajing jig (ajing is fishing for aji, a Japanese salt water fish that people catch with ultralight spinning gear, jigs and small plastic minnow-like "worms").
C'ultiva JH-85 jig head and C'ultiva Pinworm
Even though I was spin fishing and this trip report is on the TenkaraBum site, there is a definite connection. Stay with me.
I started out like I always fish, working my way upstream. I got no hits and then recalled that when I had last fished an ajing jig I had gotten a better response when fishing it downstream (at Coach's suggestion). So, I went back to where I had started fishing upstream and began fishing downstream.
I got almost instant action. Fish were slashing at the jig but missing. The shape of the jig head makes the action quite erratic, which was amplified by the current. I was pulsing the fly very similarly to pulsing a sakasa kebari (but reeling between the pulses). A steady retrieve did not get the same response.
Paul and John of Discover Tenkara stress that the pulsing of a tenkara fly should be rhythmic - which makes it easier for the trout to connect with your fly. The erratic darting action of the jig did not make it easy for the fish to catch it - but it must have triggered something because I do not ever remember seeing a fish (either the same fish different fish from exactly the same spot) repeatedly slash at a lure or fly on several subsequent casts until it finally connected.
I worked my way downstream, casting either across and down or straight down, and pulsing the jig back upstream through eddies or right where the fast current in the middle of the stream started to slow towards the edge of the stream.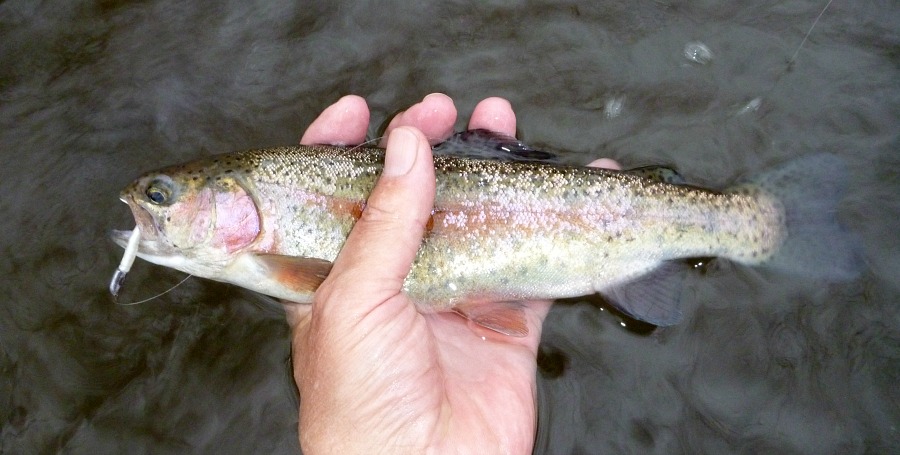 Within about 20 minutes and certainly no more than 100 yards of stream, I caught four fish and missed at least that many. That response rate was higher than I had gotten earlier in the day on bead head nymphs and even on worms - both of which were fished with a dead drift.
So here's the relevance for a tenkara-related site. I had pretty much decided to discontinue my Minimal Dace One Fly Kit because of slow sales. I really like the fly and have caught a bunch of fish with it, and other anglers did very well with it in the TenkaraBum Streamer Challenge I ran last year. After the challenge was over it never really caught on, though. I'm not going to discontinue it. It's currently out of stock and will be until I get more bucktails in a few days, but I'm bringing it back.
(Note: Sales were again slow, so I finally discontinued it and all the other One Fly Kits.)

The jig with which I had gotten such surprisingly good response is essentially a minnow imitation, as is the Minimal Dace. Nearly all the fish I caught on the Minimal Dace, and I caught quite a few, were caught fishing upstream or as the fly was swinging from across to down. I don't think I ever retrieved the fly as I did the jig last Saturday - pulsed back upstream in the quiet water near a seam.
One of the anglers to whom Paul and John asked "What does tenkara mean to you?" said that the essence of tenkara was fly manipulation. I found out Saturday that the pulsing retrieve had a big impact on how fish reacted to the jig. I am cautiously optimistic that they will react similarly if I pulse a Minimal Dace the same way I pulsed the ajing jig. The fly won't have the same side to side darting action, but just the pulsing should have an impact.
Most of my tenkara fishing has been essentially dead drifting flies, although I did have an eye-opening day last year with Klags, in which pulsing the fly was the critical difference between a fishless morning and a fishy afternoon. Even that day was upstream fishing, though.
One of the things that struck me the two times I was fortunate enough to fish with Tenkara no Oni, once in Japan and once at the Oni School in Salt Lake City, was the amount of time he spent fishing downstream and pulsing the fly back up. Why I have been so slow to really pick up on that is a mystery.

---
TenkaraBum Home > Trip Reports > Trip Report 4-22-17

---
"The bitterness of poor quality remains long after the sweetness of low price is forgotten" - Benjamin Franklin
"Be sure in casting, that your fly fall first into the water, for if the line fall first, it scares or frightens the fish..." -
Col. Robert Venables 1662
As age slows my pace, I will become more like the heron.

---
Warning:
The hooks are sharp.
The coffee's hot.
The fish are slippery when wet.
Beware of the Dogma

---