Covid-19 Announcement
INTERNATIONAL: Shipments to Europe and Canada are still slightly delayed but are getting back closer to normal. Shipments to Australia are still much slower than normal.

DOMESTIC: Many deliveries are taking about a day longer than normal. A few deliveries are taking a lot longer than normal. If you are planning a trip, please order well in advance.

---
Trip Report 10-26-14

Sunday reminded me why I rarely fish the Catskills. It's a longer drive, I generally catch fewer fish and traffic on the way back to the city is absolutely horrendous.
I spent the day on the Esopus Creek, which is one of the storied streams in the Catskills. It's not as well known as the Beaver Kill or the Willowemoc but it still has quite a history. The Esopus is famous for wild rainbow trout and for a huge number of fish per mile of stream. That's the good news.
The bad news is that it's almost always off color because of silt coming in from one of the major tributaries and it has didymo, necessitating the disinfection of wading boots before going to any other stream. Not being able to just head over to a different stream was an issue on Sunday. I would have bailed out at lunchtime had didymo not been an issue.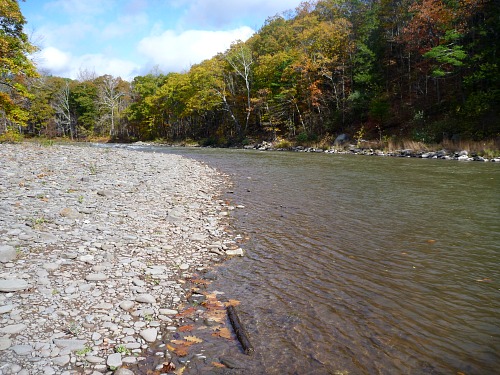 One of the reasons I wanted to go was the existence of broad cobble "beaches" along parts of the stream. The Esopus floods badly when a hurricane hits the Northeast, which seems to happen just often enough that some of the banks are not lined by trees. The lack of streamside trees makes parts of the Esopus look a bit like the streams you see in videos by Japanese tenkara anglers. There is lots of casting room.

I had wanted another day with the long rods, so I took my Suntech Kaname 63, Suntech ZPRO 54, Daiwa Kiyose 53MF and Daiwa Tryan Zero 65MR. I spent nearly the whole day fishing with the Tryan Zero, which is a 6-6.5m zoom rod designed for the same light lines as the Suntech ZPRO 54 (equivalent to 8X to 10X tippet). Despite Daiwa's reputation as one of the best rods in Japan, I have to say that I like the ZPRO better. I haven't tried the ZPRO 64, though, which would be a closer comparison.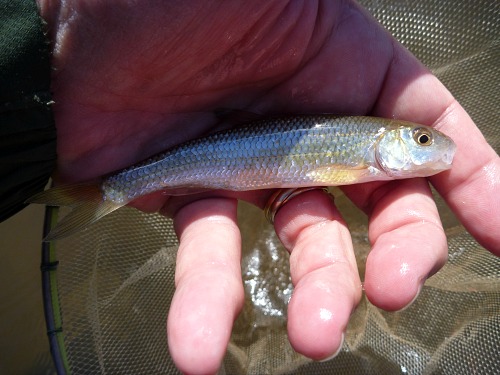 By lunchtime, all I'd caught was one small fallfish. Like I said, I would have bailed out but with didymo spores almost surely on my boots, I couldn't go anywhere else.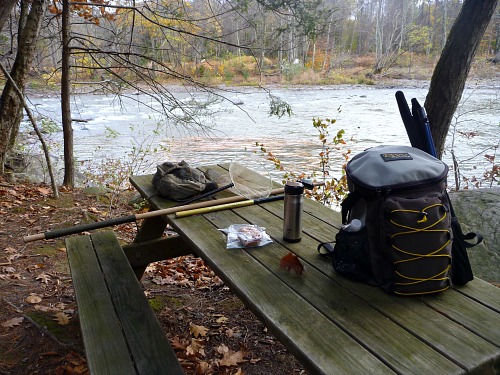 I haven't fished the Esopus all that much, and there is a famous hole that I've never fished. As I approached it, I found an unexpected picnic table. It was lunchtime so I took off my pack and enjoyed the rest. While I was eating my lunch, a whole family trooped past and essentially took over the beach that was alongside the pool. After I finished my lunch I decided to find another spot. The Esopus is big enough that there's no need to rub elbows with other anglers - particularly in late October.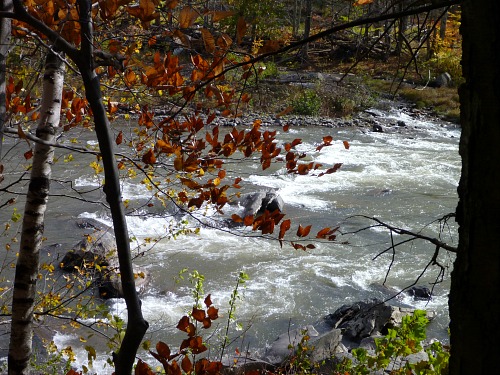 There was some nice pocket water just above the pool, but it was on a bend and the periodic floods have created a high, steep bank. I could have gotten down, but I really don't think I could have gotten back up. Downed trees at each end of the bend made a streamside approach impossible. I had to find another place to fish.

A bit upstream is another section of rapids / pocket water. I finally connected in the quiet water between the rock in the lower left hand corner and the rock at the 3 o'clock position in the photo above. The water was deep enough and off color enough that in many spots I could fish from shore. It was nice to reach out with the 6.5m rod, although on a stream this wide I easily could have used an 8m rod. (One of my customers just ordered one. Can't wait to see it!)

With the fast current and winds gusting to 20 MPH, I needed two BB shot to get down to the strike zone. A lighter than normal line (7X) and heavier than normal weight to keep it tight is an alternative to titanium line or heavy fluorocarbon, furled or floating lines when it's breezy. It's not a perfect solution, but none of the others are, either.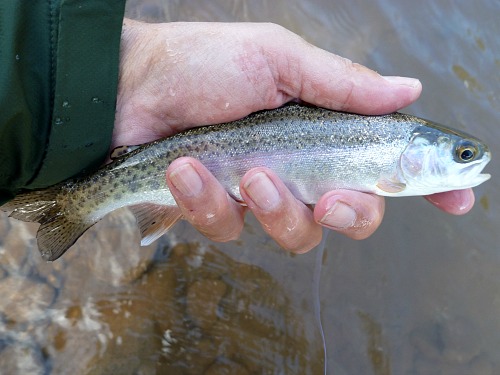 This little rainbow is what the Esopus is famous for (plus larger rainbows, of course), but the few times I've fished the Esopus over the years I've mostly caught stocked browns. I'm not sure why the state stocks browns in a fishery known for wild rainbows but I'm sure they have their reasons.

Later in the afternoon, the wind picked up to the point I could barely keep my line in the water. I decided to pack it in and head for home. I had blissfully forgotten about the miles of bumper to bumper traffic heading back to the city from upstate on a Sunday evening.
I probably won't be back to the Esopus until the water clears or until I forget (again) how bad the traffic is coming home. There's too much other water to fish.

---
TenkaraBum Home > Trip Reports > Trip Report 10-26-14

---
"The bitterness of poor quality remains long after the sweetness of low price is forgotten" – Benjamin Franklin
"Be sure in casting, that your fly fall first into the water, for if the line fall first, it scares or frightens the fish..." Col. Robert Venables 1662
As age slows my pace, I will become more like the heron.

---
Warning:
The hooks are sharp.
The coffee's hot.
The fish are slippery when wet.
Beware of the Dogma

---