Trip Report 4-21-13
For most trips, I fish a number of rods, a number of lines and a number of flies. Today I tried a few flies, just couple lines and only one rod. As Kyle always says at the end of a South Park episode, I learned a valuable lesson today: Don't leave the first aid kit in the car. I would add to that, only slightly in jest, if you're on a blood thinner and you're clumsy, you might want to bring a tourniquet, too, just in case.
These are the blue flies I intended to use today. I used a blue Killer Bugger and a blue clouser but I never did tie on a blue deceiver.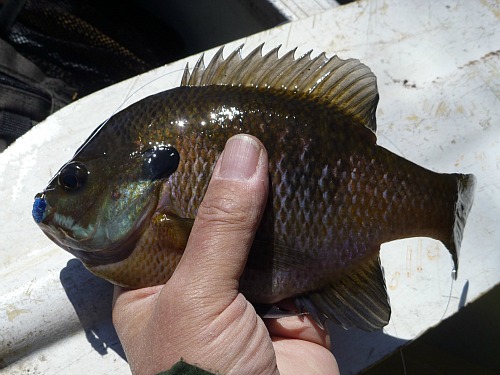 The first fish of the day took a blue Killer Bugger. This pond has a very healthy population of bluegills and being a private pond, it doesn't get fished much. I'll occasionally take a few home and that was certainly my intention today.
Unfortunately, I cut my finger while fileting the first fish on the canoe paddle. It wasn't a bad cut but it bled for the rest of the day. It is hard to paddle while applying compression to your index finger, not to mention trying to tie knots or change lines. Fileting another fish was out of the question, so all the other bluegills caught today were extremely lucky.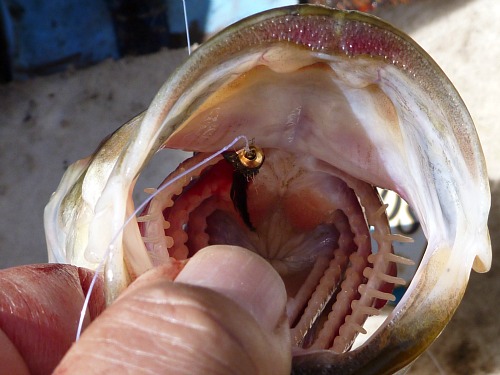 I fish this pond with a friend in his canoe. He fishes a spinning rod and Senkos, I fish a tenkara (or seiryu or keiryu) rod and flies. I generally fish sakasa kebari, often more than one at a time. My friend catches a bunch of bass and a rare bluegill, while I catch a bunch of bluegills and a rare bass.
Today I mostly fished Killer Buggers and caught more bass than usual. The blue ones worked but I have to say that the black ones worked better - at least today. So far I've had very good results with tenkara sized black woolly buggers and black Killer Buggers.
The Killer Buggers work well enough (and they're so much easier to tie) that I've stopped tying the starling/ostrich/marabou tenkara woolly buggers entirely.  I tie Killer Buggers on Daiichi 1560 hooks in size 6 and size 12 (I've tied a couple on size 18 hooks, but haven't fished them yet). Today I fished size 6. Today's blue killer buggers were tied on Daiichi 4660 jig hooks, also in a size 6. In a pond with lots of brush or a stream with low water, the jig hooks will reduce snags because they swim with the hook up. The 4660 doesn't come smaller than a size 8.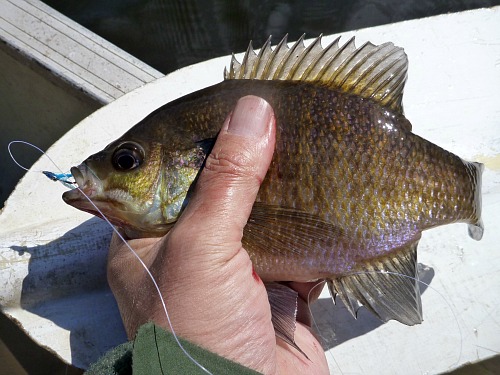 The blue over white clouser also worked, although I suspect it would do better in salt water, where more of the bait fish have a similar coloration. In fresh water, I think olive over white or chartreuse over white is probably better. Olive over white with a few black hairs on the midline would match the color of lots of freshwater minnows (which is one reason it is hard to identify some micros - many do all look about the same).
If it looks like my tippet is surprisingly thick, it is. As an experiment in further simplification, I decided to try a 6 lb test fluorocarbon line all the  way from the rod tip to the fly. (Sixteen feet of line, no added tippet.)  A US 6 lb test fluorocarbon is almost exactly the same diameter as the Japanese size 1.5 line. With the weight of the wet wool, both on the Killer Bugger and as the head on the clouser (along with the bead chain eyes) the line was very easy to cast with the Nissin SP 390 rod.

I would't try it for leader shy trout, but for bass and bluegills it seemed to work pretty well. Also, I definitely would not recommend using tippet with a 6 lb breaking strength if there was any chance of catching fish the rod couldn't easily handle or on a stream where you will get snags that you can't easily retrieve and will be forced to break them off. I've fished this pond enough to know what to expect.
I had other rods and other lines with me that I had intended to try, but  then again, I hadn't intended to bleed all over the canoe.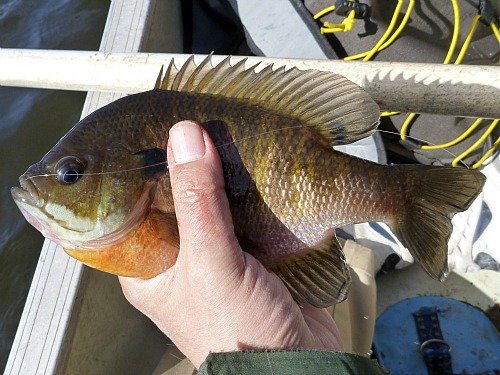 One last fish and then it was back to the car for a bandage. The day ended a little earlier than we had planned, and I have had better days, but it could have been a lot worse.
---
TenkaraBum Home > TenkaraBum Trip Reports > Trip Report 4-21-13
---
"The bitterness of poor quality remains long after the sweetness of low price is forgotten" - Benjamin Franklin
"Be sure in casting, that your fly fall first into the water, for if the line fall first, it scares or frightens the fish..." -
Col. Robert Venables 1662
As age slows my pace, I will become more like the heron.

---
Warning:
The hooks are sharp.
The coffee's hot.
The fish are slippery when wet.
Beware of the Dogma

---