Covid-19 Announcement
INTERNATIONAL: Shipments to Europe and Canada are still slightly delayed but are getting back closer to normal. Shipments to Australia are still much slower than normal.

DOMESTIC: Many deliveries are taking about a day longer than normal. A few deliveries are taking a lot longer than normal. If you are planning a trip, please order well in advance.

---
Trip Report 1-6-13
It was a short trip and this will be a short report. It was a nice day so I decided to head to the park for an hour of fishing. Only one fish was brought to hand, but that's better than none.  (It's also better than staying home and doing accounting.)
I went back to the Harlem Meer at the northern end of New York's Central Park. About half of the pond was free of ice, although where I had fished in my Christmas day report was iced over.
Following my success last trip with a mottled gray killer bugger, I decided to try white, which may match more minnows and shiners than does the gray. Jamieson's Shetland Spindrift has a number white yarns. I chose the Natural White. I don't have any white marabou so I used arctic fox tail.  The hook is a Daiichi 1560 nymph hook, size 6.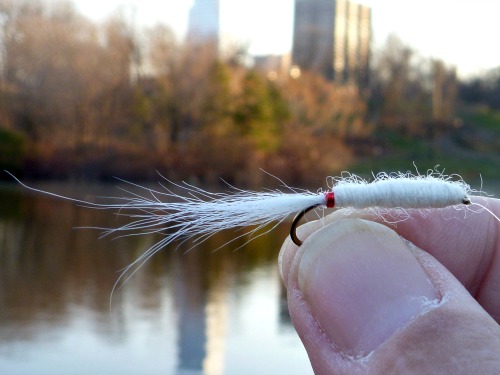 I was only able to catch one fish, but even one warm water fish on a cold water day isn't that bad I don't think. I was using a longer rod than last time (5.4m) and the combination of the fly being further away and the surface glare prevented me from seeing the take. A slight tightening of the line was sufficient indication of a strike though. It proved to be the only strike of the day.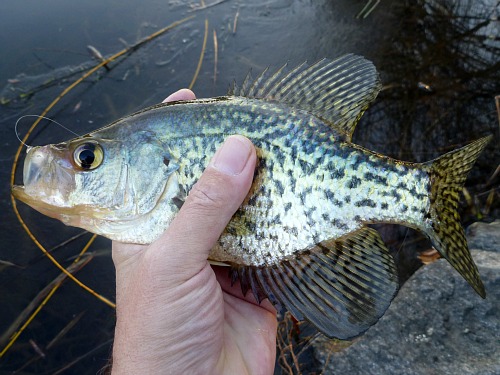 I also tried an Indicator Kebari a little later in the afternoon and found that with size 3 line, even the softest of rods can cast it alone or with a killer bug or killer bugger as a point fly.
Having a point fly with some mass to it changes the dynamics of keeping the line off the water's surface pretty dramatically. It was much easier to keep line off the surface. The acid test will be to try the combo in moving water. It ain't tenkara, but having a fairly large though lightly weighted fly acting as a sea anchor as you keep the top fly right at the surface with no line whatsoever in the water between you and the top fly should work very, very well. This is a technique for which you absolutely need a long rod and a light line. Don't even think about trying it with a size 4.5 line. Use a 3.
In late spring and summer, when the bluegills and bass readily hit about anything that disturbs the water's surface, fishing a killer bugger below an indicator fly that is kept vibrating at the surface like a fly caught in the film but still buzzing it's wings just has to be deadly.  Stop your forward cast with the rod still fairly high so you can keep the line between the rod and the top fly out of the water, adusting the speed of the retrieve so that the fly is vibrated right along the surface. I don't think you can do this with a floating line. I think you'll need a very light line held above the water.
In a stream, I would probably fish the combo dead drift most of the time, but in a pond I would definitely vibrate the top fly on the surface, although pulsing it just under the surface would probably work also. If you have room overhead and behind you, this is a technique for a 4.5m rod (but a light weight one). The 5.4m rod I was using today works, and is light enough to be a one handed rod, but the 4.5 is much nicer. I hope to have some in stock in time for the Somerset, NJ Fly Fishing Show.
TenkaraBum Home > Tenkara Trip Reports > Trip Report 1-6-13

---
"The bitterness of poor quality remains long after the sweetness of low price is forgotten" – Benjamin Franklin
"Be sure in casting, that your fly fall first into the water, for if the line fall first, it scares or frightens the fish..." Col. Robert Venables 1662
As age slows my pace, I will become more like the heron.

---
Warning:
The hooks are sharp.
The coffee's hot.
The fish are slippery when wet.
Beware of the Dogma

---