Trip Report Maine 2017

Although much of my fishing on this year's Maine smallmouth trip was testing spinning rods for my Finesse-Fishing.com site, I did get in some fixed line action. I found it very interesting to compare fixed line and conventional fishing.
For the last few years I have done very, very well fishing with tenkara and keiryu rods on my Maine fishing trips. This year, though, I had a sneaking suspicion that my baitcaster or spinning rods would be more productive. After all, that has to be why a Japanese tenkara angler replied, when asked about bass fishing with a tenkara rod, "why would you want to?"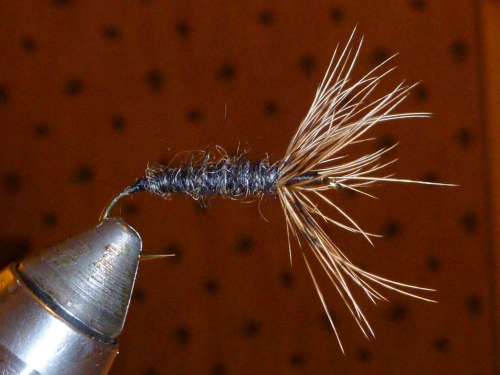 Original Keeper Kebari (I now add a wire rib).
I have used a lot of different flies when fishing for smallmouth bass. Fly choice was often based on whatever "challenge" I was running at the time. Absent a challenge though, I generally fished a Keeper Kebari (first tied on my 2013 Maine vacation). The fly has been very, very effective.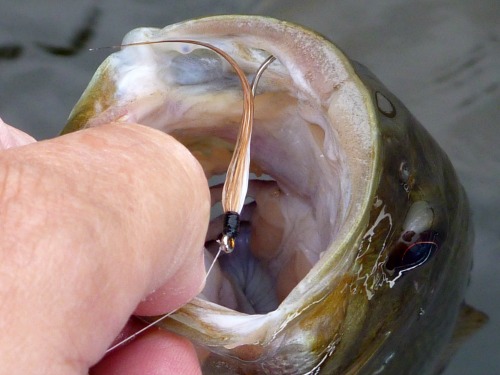 Maximal Dace (a Minimal Dace, supersized).
For last year's Streamer Challenge, I fished with a Minimal Dace, which is as simplest pattern I could devise to match a blacknose dace. It worked, but tied on a size 12 Daiichi 1720 (a 3XL streamer hook), I thought it a bit smaller than ideal when used for bass. This year I tried a Maximal Dace, tied on a size 4 Daiichi 1750 (4xl streamer hook). The only difference between a Minimal Dace and a Maximal Dace is the hook size, the amount of black thread used, and how much you trim the bucktail. It also worked, but the Keeper Kebari worked a bit better.

This year with my conventional gear I also fished with the small Senkos I used before switching to fixed line rods. For fly guys who are unfamiliar with Senkos, a Senko is a brand name type of rubber worm used primarily for bass fishing. They work very well (very, very well!).

I was a little surprised that the Keeper Kebari proved to be more effective than the Senkos. It may be that the bass there see a lot of Senkos, or at least rubber worms, but on more than a few occasions bass looked at the Senko and then turned away. I also had bass follow jigs and various lures, only to turn around and go back. It was very, very rare for a bass to approach a Keeper Kebari and not take it.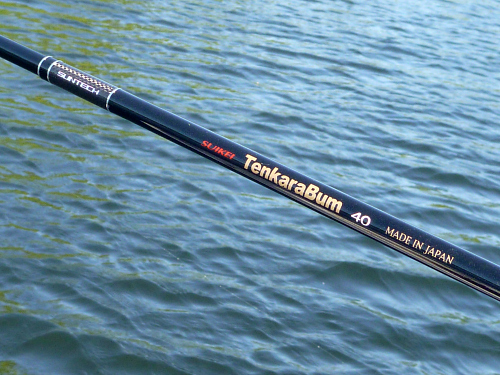 Suntech TenkaraBum 40
This year I fished with only three fixed line rods: the Suntech TenkaraBum 40 tenkara rod, and Suntech GM Keiryu Special 53 and Suntech Field Master Suguru Long H 63 keiryu rods. I think I caught more fish with the Field Master Long 63, but I fished it more (when fishing with a guy who casts a spinning rod MUCH further than I can cast a fixed line rod - and when boat maneuvering is a compromise between his casting distance and mine - the longer casting keiryu rod took precedence).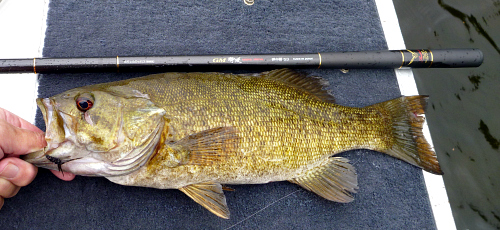 Keiryu Special 53.
All the rods were quite effective at playing and landing smallmouth bass that were mostly 14-16" with a few 18 - 18 1/2" fish as well.
The Field Master has a much higher penny rating than the TenkaraBum 40's 18.5 pennies or the Keiryu Special 53's 26.5 at full extension. The Field Master Suguru Long 63 at 20'9" is longer than I can measure, but the Field Master Suguru Long 54, which I can measure, is 33 pennies. The 63 would have a slightly higher penny rating than the 54. Thus, Field Master provided a bit more control over the larger bass than the other two rods.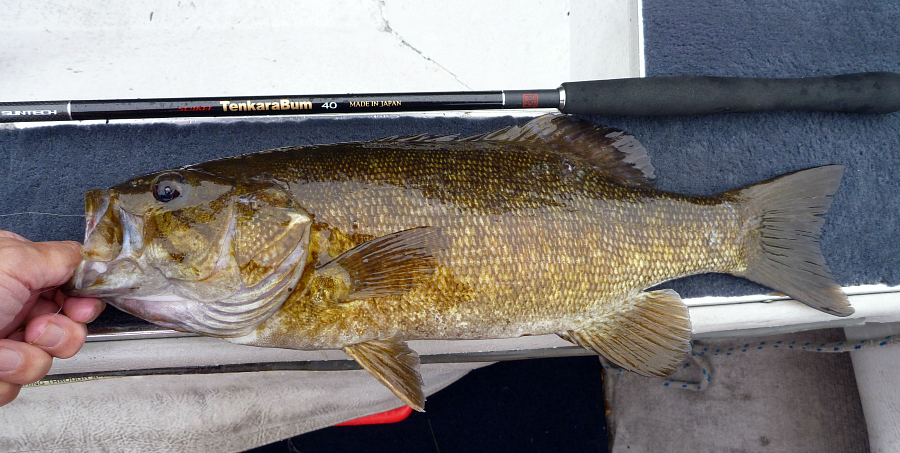 TenkaraBum 40.
Still, it is a bit surprising how effective even a relatively soft rod can be at subduing a large fish. The fish may make a couple more run attempts, but each attempt gets halted. Just remember to let the bend in the rod provide the resistance, don't try to stop a fish by pulling back on the rod like you'd pull back on the reins to stop a horse. That forces the natural bend of the rod too deep into the lower sections. Rods get broken that way.
Each of the rods were fished with Varivas 0X fluorocarbon tippet as the casting line with a TenkaraBum Tactical Nymphing Sighter for strike detection.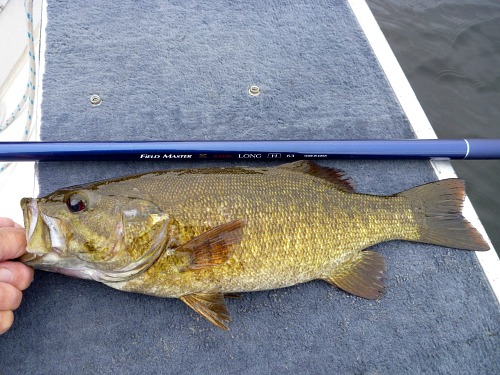 Field Master Suguru Long H 63
When I did my initial write up of the Suntech Field Master Suguru rods I said that they didn't have quite the action you would want for tenkara fishing. Keiryu rods are bait rods so it is not surprising that a rod designed for fishing with a split shot would not be ideal at casting an unweighted fly. I think my initial report was overly influenced by the Field Master Suguru Long H 45, which is very much a tip flex rod. The 54, and to an even greater extent, the 63 do not seem to be overly tip flex and I had absolutely no problem casting a fly (and a relatively wind resistant fly at that).
I fished the fly in a manner that is essentially the same as you'll see in YouTube videos of the tenkara masters. Stopping the cast with the rod tip still high enough that the fly landed first and the sighter remained off the water's surface. I was able to pulse the fly. The Keeper Kebari, with it's long hen pheasant hackle, has a lot of action when pulsed. 

With a line as long as you would use with a 20+ foot rod, you have to pulse slowly and gently or the line makes exaggerated bounces. Whether pulsed slowly or fished with a slow steady retrieve, the Keeper Kebari fooled a lot of fish. The hen pheasant breast feather that is used for the hackle is light tan or cream colored so I was generally able to see the fly and strike as I saw a fish take it. When fishing a black Killer Bugger, though, the fly was not visible and I watched the TenkaraBum Tactical Nymphing Sighter.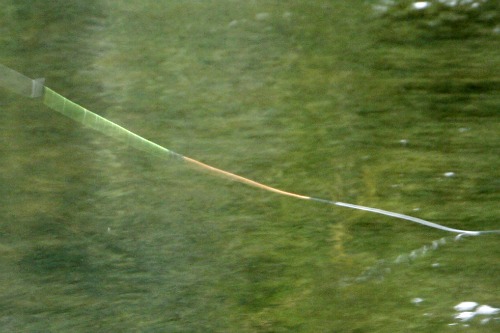 Sighter before strike.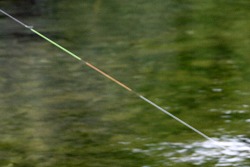 Sighter after strike.
In still water, when a fish takes your fly the sighter straightens. I found it to be just as effective as a brightly colored tenkara line. I don't think bass are particularly line shy, and I am really pretty sure sunfish aren't, but getting used to a sighter in a lake before using one in a stream with skittish trout does make sense.
It will take a while longer to write the Maine Vacation trip report for the Finesse-Fishing.com website. I spent a lot more time with the various spinning rods and the baitcaster than I did with fixed line rods this year.
All in all, it was a nice trip and it was good to get some fish on a couple of this year's new rods, the Suntech Field Master Suguru Long 63 and the Suntech TenkaraBum 40.

---
TenkaraBum Home > Trip Reports > Trip Report Maine 2017

---
"The bitterness of poor quality remains long after the sweetness of low price is forgotten" - Benjamin Franklin
"Be sure in casting, that your fly fall first into the water, for if the line fall first, it scares or frightens the fish..." -
Col. Robert Venables 1662
As age slows my pace, I will become more like the heron.

---
Warning:
The hooks are sharp.
The coffee's hot.
The fish are slippery when wet.
Beware of the Dogma

---