Trip Report - 7-25-14
Friday was my first trip with the Suntech ZPRO 54 but it very definitely won't be my last. I don't really know what I was expecting of the rod, but whatever it was, it wasn't even close what turned out to be reality.
The Suntech ZPRO 54 is one of the Japanese keiryu rods designed specifically for fishing with extremely light lines. The rod is rated for lines ranging from Japanese line size .3 down to .1 - which are equivalent to Varivas 8X tippet down to even thinner than Varivas 10X tippet.
The theory behind fishing with such light lines is that the light line allows a much more natural presentation and the light rod prevents the fish from feeling any resistance when it takes the bait. I fished mostly with flies on Friday, but the Japanese keiryu anglers fish mostly with bait.

When I first took the ZPRO out of the case, I was immediately reminded of the Suntech Field Master. Aside from the ZPRO being blue and the Field Master gray (and a bit shorter when collapsed), they look very similar, with the same excellent fit and finish.

On extending the rod, though, all comparisons (with any rod) fell away. I was very surprised at how light the rod is. The rod weighs 2.8 ounces.  The long rod most people in the US are familiar with is the Ito, which weighs 4.1 ounces. The ZPRO weighs 1.3 ounces less than the Ito, but it is a 17.5 foot rod! What was by far the most surprising thing about the rod is that I could cast it one handed at full extension! To be sure, it was a little more pleasant to cast two handed, but there were many times I found myself casting with one hand rather than two.
The reason for that, of course, is that I use my other hand for holding my wading staff (which is definitely what I would recommend you do with your other hand).
The ZPRO 54 can be fished at three lengths, 14'10", 16'3" and 17'5". At the shortest length, 14'10", it felt far too light to cast two handed.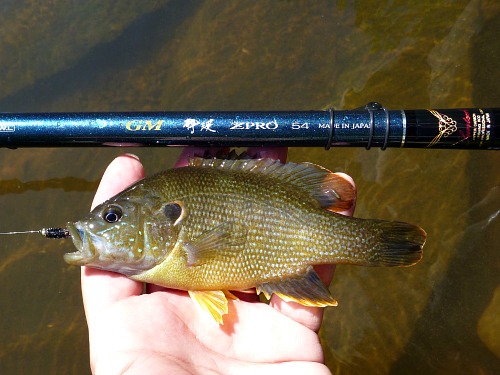 Green Sunfish

I started the day with a line consisting of about 16' of 7X tippet material, to which I added about a foot and a half of 10X. With a size 12 Killer Bugger with 1/8" tungsten bead, the rod cast very easily (later in the day I was casting size 12 Killer Buggers without beads). It did not take long at all to hook up with a green sunfish. The stream I was fishing holds a lot of species, but most of the fish I caught were green or redbreast sunfish.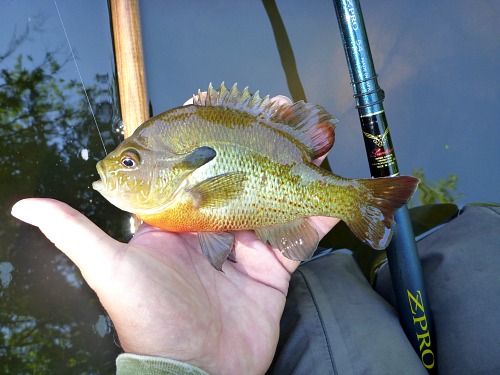 Redbreast Sunfish

I have to say, though, that fishing with 10X tippet is for the obsessed. I caught a number of fish with the 7X/10X combo but then broke one off on the hook set. I probably should have tied on new tippet after catching a few fish, but I just eliminated the 10X and went 7X from rod tip to fly. That worked pretty well but I've gone with 7X rod tip to fly several times, and when I get a snag and have to break off, the tippet often seems to break at the rod tip, not at the fly. Having at least some tippet with a lighter breaking strength between your main line and your hook is a good idea, I think.
I started fishing just downstream of a bridge, and for some reason (basic hydrodynamics, probably) there is often a nice, relatively deep pool right under and just downstream of a bridge. At this bridge, the slightly deeper water is home to rock bass, and they readily take black Killer Buggers.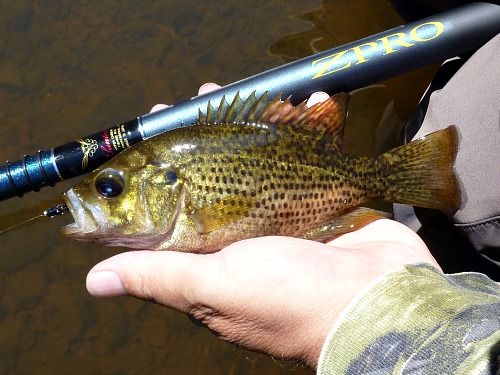 Rock Bass

There was also a large log in the pool and the first or second cast alongside the log yielded what might have been the best fish of the day. Based on how it fought I think it was a smallmouth bass, but I never got it in the net or even in sight.
The Suntech ZPRO 54 is a soft rod - as you would expect of any rod designed for a maximum of 8X tippet! I could hold the fish and stop its runs, but I couldn't get it in. After a while the hook pulled free. What a fight, though! Based on the size of the smallmouth bass I've seen there in the past, and the size of the swirls as it fought, I would guess it ran about 10", maybe 12" at the outside.
Spottail Shiner

Going from large fish to small, the stream has a number of shiner species. On Friday, I only caught spottail shiners. I couldn't catch any on unweighted size 26 Killer Buggers, which stayed too high in the water column, and the beadhead size 20s I had seemed to be too big for them. I switched to a tanago hook and a very tiny speck cut from a small red plastic worm. To provide sufficient weight to cast I used a combination of a Unibobber and a single #10 shot - which cast surprisingly well with the 7X line - well enough I plan to test a Unibobber as an indicator in place of the yarn markers. Fishing with a float is one method of keiyru angling in Japan, so I'm not straying far from tradition.

| | |
| --- | --- |
| Largemouth Bass | Smallmouth Bass |
Although the shiners wouldn't or couldn't take the size 20 beadhead Buggers, the juvenile largemouths and smallmouths took them with abandon.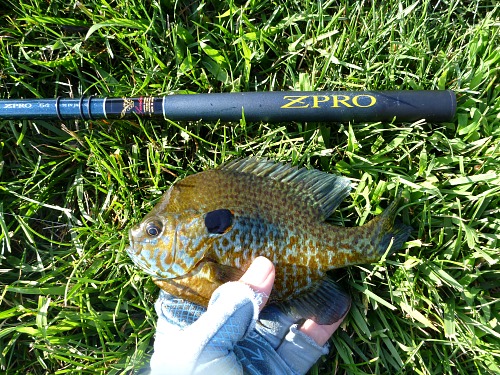 Pumpkinseed Sunfish

We left the suburban stream for a suburban pond in the middle of a condo complex. It's home to bluegills, largemouths, some pumpkinseed and a few koi. As usual, the black Killer Bugger racked up sunfish after sunfish, and also a few smaller bass.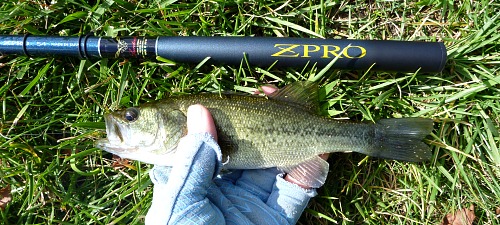 Largemouth Bass

The above bass was not the largest I hooked. There was one I thought was 10-11" and Coach thought was 12-13". It put up a whale of a fight on the soft rod. Unlike with the smallmouth earlier in the day, this time the hook held and I finally got it in. Unfortunately, the pond has about a 18" vertical paving stone "bank" that you have to lift fish up and over. After catching numerous fish, and after a good tussle with the largemouth, the 7X was too abraded and snapped as soon as I tried to lift the fish.
I used to spin fish for bass with 2 lb test line. My rule then was to retie after each fish. If I'm going to fish for bass with 7X tippet I'll have to follow the same rule. It's not so critical with trout or sunfish, but with ultra light tippets, it's probably a good idea to check the tippet frequently for abrasion - whether from rocks, branches or fish teeth.
I'm not sold on using 10X tippet - at least not yet. I suspect the fish in Japan are more highly pressured than the fish here, not to mention being smaller on average. I do think that lighter lines do make for better presentations, though, and I do like softer rods.
I'll need to fish the Suntech ZPRO 54 a few more times before deciding whether to import them (although if you want one I can certainly order one for you). If you would like to try the light line approach using 7X tippet and a less extreme rod, the Nissin 2Way 450ZX soft and medium rods, as well as the Nissin Fine Mode Kosansui 450 soft are rated for lines down to 9X. They are shorter rods than the ZPRO54, at 4.5m rather than 5.4m, and a bit heavier, but they will certainly give you a feel for the zero drag / zero resistance approach to keiryu fishing.
Oh, I almost forgot. After casting the ZPRO 54 for a while, it struck me that it felt a lot like a tenkara rod. I put on a size 3 line and it cast beautifully. The 3 felt a little heavier than necessary, particularly at full extension, so I tried a size 2 line. It cast beautifully. Never one to stop halfway, I put on a 17.5' size 1.5 line and was blown away at how well it cast. I am redoubling my efforts to find lighter line that can be used as tenkara line. If you have any interest in fishing "far and fine", as Charles Cotton put it, the Suntech ZPRO is the best rod I've found so far to do just that.
Can't wait to get it on the stream again!

TenkaraBum Home > Trip Reports > Trip Report 7-25-14

---
"The bitterness of poor quality remains long after the sweetness of low price is forgotten" - Benjamin Franklin
"Be sure in casting, that your fly fall first into the water, for if the line fall first, it scares or frightens the fish..." -
Col. Robert Venables 1662
As age slows my pace, I will become more like the heron.

---
Warning:
The hooks are sharp.
The coffee's hot.
The fish are slippery when wet.
Beware of the Dogma

---