Nissin Fine Mode Kosansui

The Nissin Fine Mode Kosansui 270 is a short (9') inexpensive keiryu rod. It's a little on the stiff side, measuring 19 pennies, which is 5.5 pennies more than the Suntech TenkaraBum Traveler 27. The rod is ideal for smaller streams that have larger fish than you would expect for a stream that size.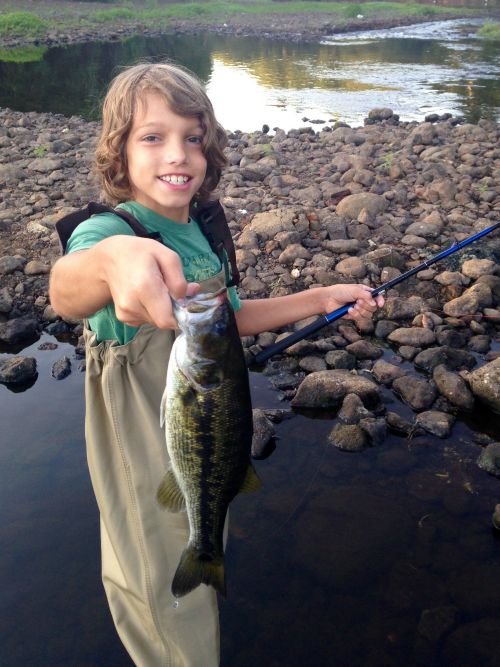 Big fish for a small stream. Jeff R photo.
I initially offered the rod as part of a Kid's Tenkara Kit and as part of a  Small Stream Tenkara Kit (both since discontinued). Over the years, I decided the Nissin Pro Square 6:4 360 made a better tenkara rod for kids, and the TenkaraBum Traveler 27 made a better rod for small streams.
I kept one of the Fine Mode Kosansui 270 rods as a ready supply of replacement parts, but it has been a long time since I have needed to replace any Kosansui parts so I am selling the rod now while the 15% off Holiday Sale is still in place.

---
Nissin Fine Mode Kosansui Features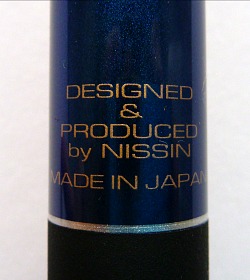 The grip, as in all the keiryu rods I've seen, is just the rod blank itself with a very effective non-skid covering. I have come to prefer this style of grip to the cork found on tenkara rods. It is much better at transmitting the tactile information of what your rod is doing during the cast, what your fly is doing during the drift, and what the fish is doing during the fight.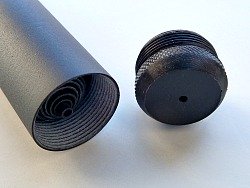 The grip screw cap is plastic and is knurled for easy gripping. There is a rubber insert to make it quiet and a ventilation hole to help in drying out the rod. I would still recommend that the rod be completely disassembled to dry thoroughly between uses, though. Moisture does get inside during a day on the water, and it can ruin the finish of any telescopic rod if it is put away wet.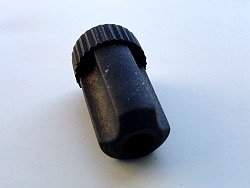 The tip plug is rubber, and like many of the Nissin plugs has aggressive fluting. This not only allows you to keep the line attached when you collapse the rod, it also insures that the tip plug is not going to fall out when you least expect it. You will find that it helps to screw the plug in rather than trying to push it straight in. When taking the plug off, be careful not to pull it to the side. The part that is inserted into the rod is hollow, and the tip and lillian will occasionally come out with the plug. If you pull the plug straight out, though, it will never be a problem.
Please note that the Nissin Fine Mode Kosansui rods do not come with a rod sock. The medium rod case fits the Kosansui rods.
Nissin Fine Mode Kosansui 270
Length Extended    8'10"
Length Collapsed    20.5"
Weight                   1.4 oz
Pennies                  19
Tippet                    7X - 5X
Made in Japan.
Shipping
Domestic shipping is via USPS Priority Mail (2-3 day delivery). Rates will vary with package weight and destination. Most rates will be between $14.50 and $20.50. You can see the rate in the checkout process before the purchase is finalized.

Please note: All packages are shipped via USPS. If you have a PO Box, please list ONLY the PO Box in your address, not the PO Box and your street address.
If you live in an apartment, please put the apartment number in the same box as the street address (as in 123 Main St. Apt 45).
Please do not put anything in the box for "Company" if it isn't absolutely necessary. Not "self", not "none" not "--". It wastes your time to put it in and it wastes my time to take it back out. Please just leave it blank.

International Shipments

International purchases may be subject to import duties and taxes. I cannot keep track of all import regulations in all countries written in all languages. Understanding and paying import duties and taxes is the responsibility of the buyer.
Russia
TenkaraBum.com no longer ships to Russia.

UK

TenkaraBum.com no longer ships to the UK. The new VAT regulations are too onerous for a one-man shop that rarely ships anything to the UK anyway. I apologize. 

Shipping
A shipping charge of $10 will be added to all orders.
---
Payment
Payment is processed by PayPal but you don't need to have a PayPal account. You can use your credit card.
---