Trip Report - 4-29,30-16
Long Rod, Short Line Update

The following paragraph was posted as a 9-29-15 update of my initial 10-17-14 "Go Long" trip report, which was one of several "Long Rod, Short Line" essays.
"I have now had several conversations, both in person and via email, with a customer who catches much larger fish than I do. He tells me, and I think he is right, that fishing with a line much shorter than the rod will reduce your chance of landing a really big fish. If your line is too short there is too great a chance that the fish on its first run will pull the rod down, take all the bend out of the rod and then break the tippet. You have to keep what Rob Worthing of the Tenkara Guides calls the "Power Curve" in the rod, and if your line is too short that just isn't possible with a large fish. My customer believes the line plus tippet equal to the rod length is about right. I think he has a point - after all, he speaks from experience (landing big fish with a rod length line and losing big fish with a shorter line). A rod-length line will still give you pretty good drifts - certainly better drifts than you can get with a longer line."

Mark, who is now friend rather than a "customer," is a member of a fishing club in Pennsylvania that has some very large fish in its leased waters.  He invited me to join him for a weekend, hoping that I would not only experience for myself that a large fish will defeat the Long Rod, Short Line approach, but that a longer line (line plus tippet at least equal to the rod length) would allow me to catch the largest trout of my life.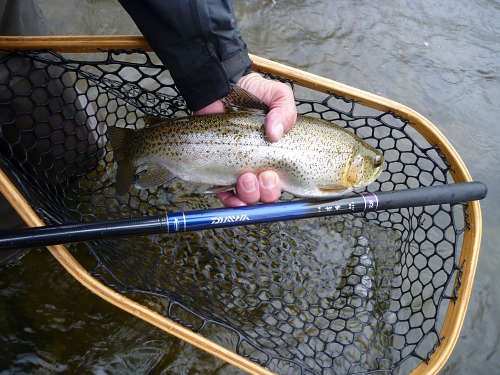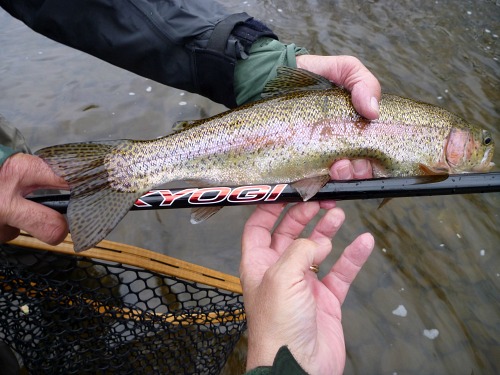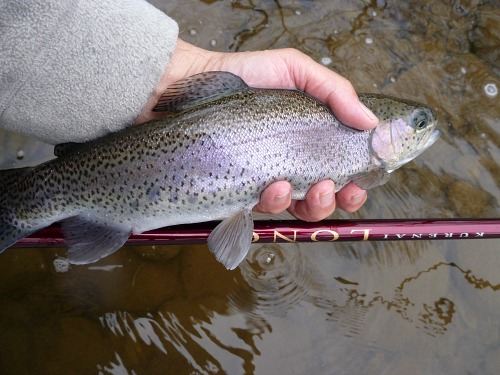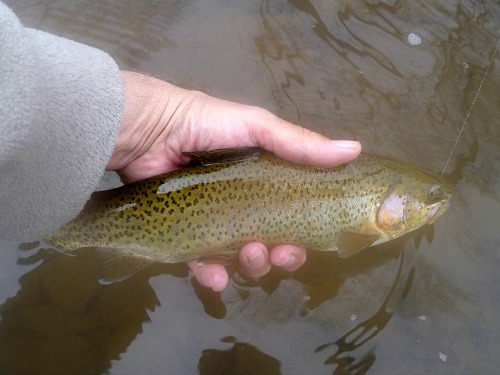 Everything was set up for the last weekend in April. As often seems to happen when everything you can control has been carefully planned, what you can't control, the weather, conspires against you. For the entire weekend, Mark apologized for the poor fishing. I'd have to say (and I did) that the fishing didn't strike me as particularly poor! We both caught fish. No monsters, and perhaps not enough to qualify as a "many" day, but a respectable number, and for me at least, a very respectable average size.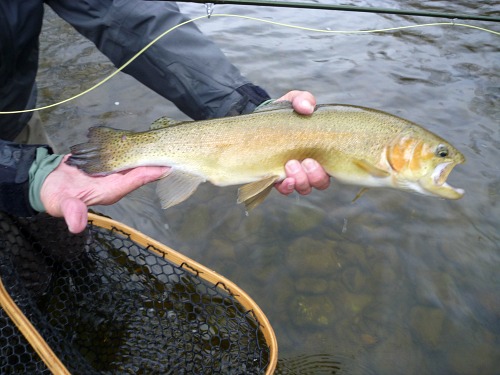 To give me the best chance of catching some really big fish, Mark had hired a guide who knows the club waters better than anyone. While trying to find the pattern of the day, which turned out to be egg flies, the guide did catch the very nice rainbow shown above, so they were clearly in there. (Once he determined the pattern, he stopped fishing.) Also, Mark has shown me photos of some very impressive fish that he has caught in the club waters.

I had brought a number of "big fish" rods, hoping to hook a big fish on each one of them. One of my fishing buddies says I dream in Technicolor, and I suppose that is true (and I suppose that also dates both of us).  I did catch a nice rainbow on the Nissin Kyogi carp rod, but for some reason we didn't measure it. The rod handled it well and could easily have handled a much larger fish.
As it is, I did hook one brown that would have been the largest trout I had ever landed, had I landed it. It wasn't on one of the carp rods, though, which I had planned to use most of the time.  

There was one spot where the guide had suggested I fish, under some tree branches that were just low enough and just far enough out over the stream that all my longer rods were too long. They had the reach, but I could not raise the rod tip without getting the line caught in the branches.  I went to a Daiwa Kiyose 45SF, which was the shortest rod I'd brought. I was fishing a line (plus tippet) about a foot shorter than the rod. With a 5.4m rod, I generally use a line and tippet about 2' shorter than the rod, and with a 6.3m rod, about 4' shorter. With the Kiyose 45SF, which is 4.5m, a foot shorter seems about right to me for a Long Rod, Short Line approach.
Although I did not land the fish, which the guide estimated to be 24", it did not break me off on the initial run, which is what Mark had experienced, and why he had initially contacted me to point out the limitation in the Long Rod, Short Line approach. Perhaps I was helped by having seen Rob Worthing's presentation on fighting big fish at the last Appalachian Tenkara Jam.

"The Tuck" is a move Rob recommends when a fish is pulling the rod down and is thus eliminating the "power curve," which is the amount of bend in the rod that will exert the most resistance, or most pull on a fish. To do the Tuck, take a step forward and go down on one knee, pivoting the rod by pushing the rod butt towards the fish. That puts the bend back into the rod.
I'm sure I didn't kneel, but I did try to pivot the rod rather than just lift it up and back to set the hook. 
It turns out that the move is actually quicker and easier to do when fishing two handed. Your upper hand is a fulcrum and the lower hand only has to push forward a little bit. Since my use of the Long Rod, Short Line approach is generally when fishing the two-handed rods, I think perhaps the best hook setting technique when fishing a two-handed rod is to push down and forward with your lower hand. It is a very quick move and also helps to preserve the "power curve."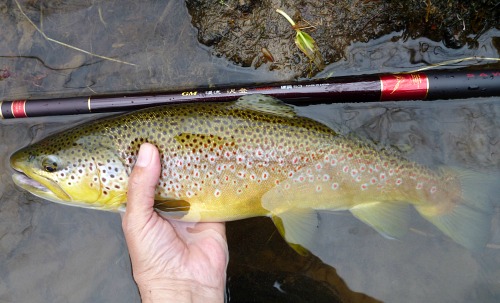 On the following day I was able to land a nice fish - again, not on one of the carp rods. At 17", it was not the largest fish I have ever caught but it was the largest I have caught on a dry fly. For the dries, I was using a Suntech Keiryu Sawanobori 53 with a line plus tippet a couple feet shorter than the Rod. The Long Rod, Short Line approach does give you excellent drifts!
I'd seen what looked like a nice fish taking caddis flies and I'd crept up to what I'd thought was the right distance. My first cast fell bit short, though. After letting the fly drift well below the fish, I took a step forward and put the second cast where it needed to be.
The "Tuck" hook set got the bend in the rod right from the start, but in any event, the fish was not as large as the ones Mark had said would defeat the Long Rod, Short Line approach.

Even though I wasn't able to experience a fish pulling the bend out of the rod immediately following the hook set, and also wasn't able to conclusively prove that it can be avoided with the Tuck, I did get at least some insight on hooking and fighting fish that are larger than I normally catch. Plus, I had a wonderful weekend. I'm sure this will not be my last word on big fish and the Long Rod, Short Line approach!
---
TenkaraBum Home > Trip Reports >Trip Report - April 29-30, 2016

---
"The bitterness of poor quality remains long after the sweetness of low price is forgotten" - Benjamin Franklin
"Be sure in casting, that your fly fall first into the water, for if the line fall first, it scares or frightens the fish..." -
Col. Robert Venables 1662
"There is a time to go long. There is a time to go short. And there is a time to go fishing." - Jesse Livermore

---
Warning:
The hooks are sharp.
The coffee's hot.
The fish are slippery when wet.
Beware of the Dogma

---