Trip Report  - 7-7-13

The day was supposed to be about trout. As usual, I had a number of rods I wanted to try out (I think about 6). In addition, I had one seiryu rod because as much as I had used seiryu rods for tenkara fishing, I'd never done any bait fishing with one, and that is how they are generally used in Japan (Some Japanese tenkara anglers do use them for tenkara fishing - probably for the same reasons I do. They are almost unbelievably light and extremely sensitive.) For once I wanted to at least try a seiryru rod with some bait and a float.
The day's plans got turned upside down shortly after Coach met me at the train station and mentioned that he had found some little fish that he thought might be eastern mosquitofish. We had to go check them out. When we got there, we also saw a couple schools of what at first looked like tadpoles but which we decided were actually juvenile bullheads.
They were skittish at first but seemed to get used to our presence pretty quickly. We both started out using some of the Marukyu minnow bait on Owner "Smallest" tanago hooks. The mosquitofish were interested in it but we couldn't get any of them hooked. I had mixed the bait with flour to make a thicker paste, which did in fact stay on the hook a bit better, but was harder to get a small enough ball of the paste for the mosquitofish to take. The bullheads showed no interest at all in the minnow bait paste.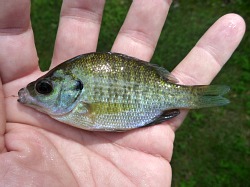 I had seen a couple wakes in an area that was so weedy that I couldn't see what had made them, but whatever it was must have been quite a bit bigger than either the mosquitofish or the bullheads. I dipped my bait just under the surface in a small clear patch and within seconds a little bluegill came to investigate. He took the bait almost instantly.
I then turned my attention back to the bullheads. Coach decided the minnow bait just wasn't going to work with the mosquitofish and I came to the same conclusion for the bullheads. He went off in search of something better and came back in less than a minute with two earthworms. (If you need bait while microfishing in an office park, look under rocks.)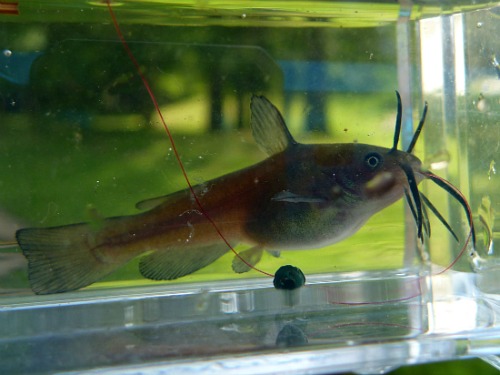 Bullheads like earthworms and the smallest speck of worm you can get on a tanago hook was just about the right size for this guy. Once I had something they wanted to eat it took no more than 30 seconds to catch one. I should put one of those adhesive measuring tapes on my photo box but I would say he is a bit less than 2" long. It was my first ever brown bullhead. The ones I caught as a kid in Colorado were black bullheads (common names for different species, not just different colors).

Now it was on to the mosquitofish. For a mosquitofish, with its smaller mouth, the key proved to be an even smaller speck of worm. It is hard to sight fish when your bait is too small to see. You just have to watch the actions of the fish and guess.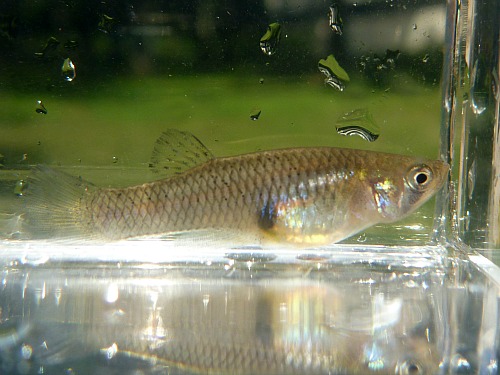 My first eastern mosquitofish - it was even smaller than the bullhead.
And as a bit of incentive to the guys out there who are trying for the "smallest fish" prize in the Blue Fly Challenge, Coach has blue yarn and tanago hooks, and now that he knows where there are mosquitofish and that they can be caught, he will catch one on a blue yarn fly. It is just a matter of time. Relentless. The guy is relentless.
At this point, I was ready to go find some trout. And with something along the lines of MacArthur's "I shall return" and the Terminator's "I'll be back" Coach agreed to leave the suburban office park for the wild trout stream.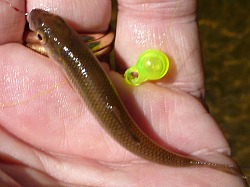 As soon as we got to the stream the first thing I saw was a school of little fish. The trout could wait. I rigged up the seiryu rod with some extremely light line, a tanago hook, bit more of the worm, a #10 shot and a Unibobber for a float. It took a little while to get the depth right and the drifts right but the attempt was soon rewarded with a juvenile fallfish.
I didn't spend that much time with the seiryu rod. After all, I had a half dozen tenkara rods that needed to be fished, but I found it to be easier than my first attempt at keiryu fishing and very similar to indicator nymph fishing.
In this particular stream, we always catch fallfish as well as trout. They'll take flies readily - dries, wets and nymphs. This was my first time fishing with bait in this stream and all I caught were fallfish.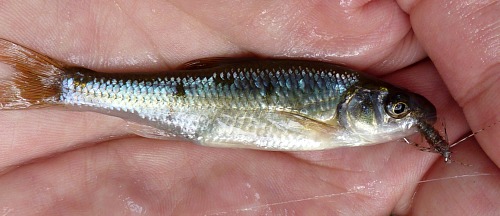 I've also caught common shiners there, including the one above, caught today on a Killer Kebari.

Although the day had pretty much turned into a multi-species micro day, I did manage to catch a couple trout. By then I had switched from the sieryu rod to a Nissin Pro Square 6:4 360. The Pro Square series is Nissin's line of entry level tenkara rods. They are very light for their length and tend to be on the soft side relative to their action rating. I like them and will try to keep at least a few in stock.
We then went to a different, smaller stream to see if we could find some wild brookies. The first fish I found was a creek chub, also caught on a Killer Kebari. It seems like a lot of anglers are disappointed to catch a chub when fishing for trout. Not me. One of my more memorable catches was a 7" chub on an extremely soft rod one day last year. It was a battle I barely won as he almost made it into a downed tree that surely would have broken my 7x tippet. It's all about matching the gear to the fish and a good sized creek chub on the lightest possible tackle is a worthy opponent.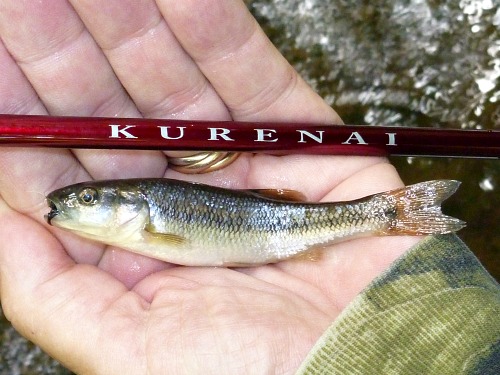 Today I was using a rod that is only slightly stiffer, the Nissin Pro Square レベルライン (Level Line) 320. The Level Line 320 is the softest cork-gripped rod I've measured. It is a full flex rod and I don't know why they don't just call it a 5:5. It does not take a very big fish to put a bend in the rod. The brookie below (also taken on a Killer Kebari, by the way) may not be the king of the stream but he's still a pretty good sized fish for such a small stream. He very definitely put a deep bend in the rod. He turned out to be the last fish of the day as I did have a train to catch, but what a way to end a day!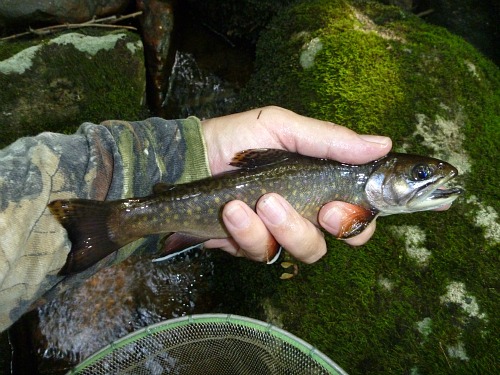 TenkaraBum Home > Seiryu Trip Reports > Trip Report 7-7-13
---
"The bitterness of poor quality remains long after the sweetness of low price is forgotten" - Benjamin Franklin
"Be sure in casting, that your fly fall first into the water, for if the line fall first, it scares or frightens the fish..." -
Col. Robert Venables 1662
As age slows my pace, I will become more like the heron.

---
Warning:
The hooks are sharp.
The coffee's hot.
The fish are slippery when wet.
Beware of the Dogma

---