Covid-19 Announcement
INTERNATIONAL: Shipments to Europe and Canada are still slightly delayed but are getting back closer to normal. Shipments to Australia are still much slower than normal.

DOMESTIC: Many deliveries are taking about a day longer than normal. A few deliveries are taking a lot longer than normal. If you are planning a trip, please order well in advance.

---
Blue Fly Challenge
The Blue Fly Challenge was a contest for anglers seeking to catch the first, largest, most and smallest fish using a fly tied with the TenkaraBum Blue Fly Yarn. There aren't very many blue flies, but why not? Maybe it's because they don't catch fish, but I strongly suspect it is because they don't catch fishermen. We don't buy blue flies because our friends don't. They don't buy blue flies because we don't. Most people have never tried one, though, so they might really be missing out.
This challenge was an attempt to see if blue flies work. Not just any blue flies, though, but flies tied with the TenkaraBum Blue Fly Yarn. I have done very well with yarn bodied flies - of several colors and body styles, as have many of my customers. I was pretty confident that blue flies would work. I've caught a few nice fish with flies tied with blue silk bodies, and in general, I do better with yarn bodied flies than with silk bodied flies.
---
The Challenge
1. Tie flies using the TenkaraBum Blue Fly Yarn.
2. Take a photograph of each fish caught and of each fly that caught fish (one photo of each successful fly is sufficient, no matter how many fish are caught with it).
3. Send photos to the Blue Fly Challenge using the submission form below
4. There will be prizes for first fish, most fish, largest fish and smallest fish.
 
---
The Details
Flies must be substantially blue - to the point where someone's first thought on seeing the fly would be "that's a blue fly." A  pedominantly gray fly with a few wisps of blue dubbing is not a blue fly. The hackle doesn't have to be blue but something prominent on the flies does. You do not have to use the same fly for all the fish. Send in photos of flies that caught fish.
The flies must incorporate the TenkaraBum Blue Fly Yarn in some way (body wraps, dubbing, tailing material, streamer wings, whatever).
You cannot buy TenkaraBum Blue Fly Yarn. I will give away a bit of the yarn with every purchase made on the site.
Prizes will be given for first fish, most fish, largest fish and smallest fish. This is a fly tying contest, but the fish will be the ones judging the flies. We'll judge the fish.
The first fish is the first photo I receive of a fish, caught after the start of the competition, and of the fly tied with Blue Fly Yarn with which it was caught. Photos of fish that might win largest and smallest fish prizes should have something in the photo to give an estimate of length - the rod, your net, your arm, your hand, etc. Please don't keep the fish out of the water for a long time trying to get a photo with a measuring tape.  If you use a tape, get the tape ready while the fish is still in the net and in the water. (Fish held out at arm's length to make them look bigger tend to make the angler look smaller.) The Micro Photo Box works well for photos of small fish. The prize for most fish will be won by the person who submitted the photos of the most fish (one fish per photo, each photo must be of a different fish).
The contest has now ended and we have winners!

---
---
The Winners

---
First Fish: Won by Ashton Chatelain from Utah.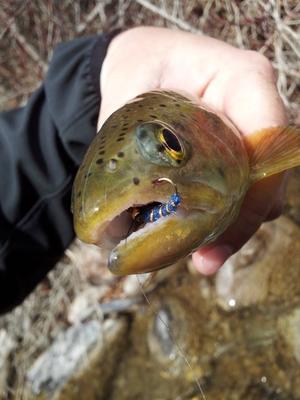 His prize was a package of Owner Yamame blue eyeless tenkara hooks.

---
Most Fish: Won by Vic Velasco from Virginia. He submitted way too many photos to show all of them here. I'll just show the one that was a contender in the Largest Fish category.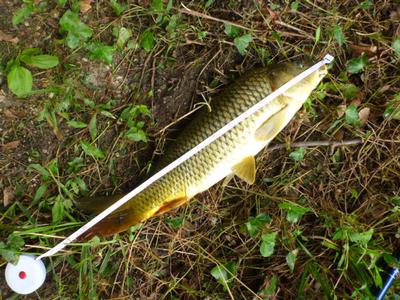 His prize is a full ball of Blue Fly Yarn (after all, he caught a lot of fish with it).
---
Smallest Fish: Won by Levi Cain from North Carolina.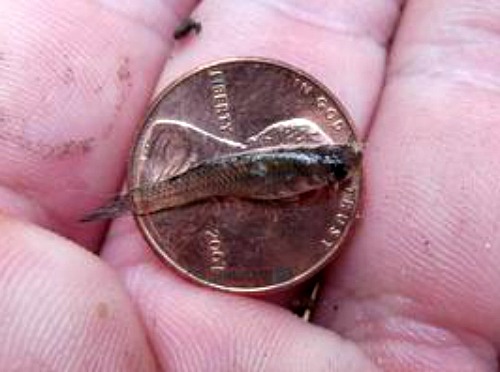 His prize is a Shimotsuke Miyako 1.2M tanago rod.


---
Largest fish: Won by Jackson Dockery from Georgia.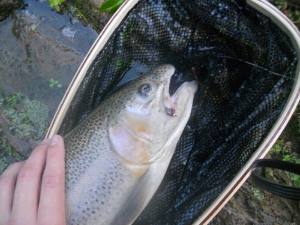 His prize is a Daiwa Kiyose 33SF keiryu rod.

Thank you to all who participated.

I no longer carry the yarn used in this contest, or any yarn for that matter. The "TenkaraBum Blue Fly Yarn" was Jamiesons Shetland Spindrift yarn. The color was Merlin but I wouldn't attribute it's success to magic. Yarn is a very versatile and effective fly tying material.
And, oh, yeah, I guess blue flies work pretty well! The comments below show the contest entries.

---
What Other Visitors Have Said
Click below to see contributions from other visitors to this page...

By entering this competition, you give TenkaraBum.com your permission to use any submitted photos.
Return from Blue Fly Challenge to Tenkara Flies

Return from Blue Fly Challenge to TenkaraBum Home


---
"The bitterness of poor quality remains long after the sweetness of low price is forgotten" – Benjamin Franklin
"Be sure in casting, that your fly fall first into the water, for if the line fall first, it scares or frightens the fish..." Col. Robert Venables 1662
As age slows my pace, I will become more like the heron.

---
Warning:
The hooks are sharp.
The coffee's hot.
The fish are slippery when wet.
Beware of the Dogma

---