Keiryu Trip - 9-26-14
My trip last week was so productive I had to try again to see if I just got lucky or if keiryu really is that good. After my second straight "many-many" day, I've got to conclude keiryu really is that good!
I went to a different stretch of the same stream. It is one of the few nearby trout streams that are not "artificials only." Also, the season for that particular stream closes September 30 so it was a case of go now or wait until April.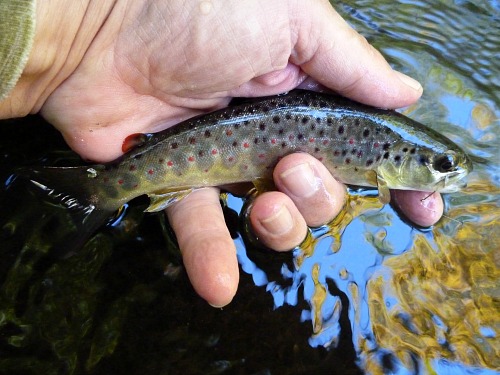 As usual, I tried a few different lines and rods. I received two spools of bright yellow opaque line that I wanted to try. The only downsides are that it is nylon and only comes in sizes 1.5 and smaller. It was visible enough, but was actually less visible than the 6# green Amnesia (as far as I know, the 6# Amnesia is available only on eBay).
I had written after last week's trip that the yarn markers create wind resistance, and so require the use of heavier weight. That is true, but this week I used a #4 split shot rather than the #6 shot I used last week, and found that the larger size was sufficient to overcome the wind resistance of three yarn markers. The markers were much more visible than any of the very light lines I have tried. As I had mentioned after using the yarn markers on my smallmouth bass trip in Maine, using markers of different colors makes them much easier to spot.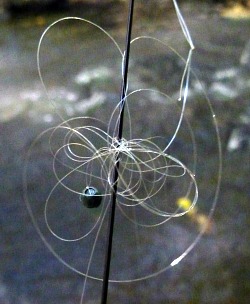 The 15# green Amnesia is extremely visible, but so are the yarn markers and an extremely light line with markers does sag less than a much thicker nylon line. Less sag means a tighter line that is less susceptible to conflicting currents.

Of course, there is a downside to the extremely light keiryu lines. If you happen to miss a strike, (which will happen!) and if the line wraps around your rod tip, you may as well just cut it off and start over. With a size 3 line, you can untangle most tangles. With a size .8 line, fuhgetaboutit. You have better things to do with the limited amount of time you have on the stream.
One of the reasons I went for a second consecutive keiryu trip was that during the week I received a few Suntech Field Master 44 rods. I had thought the Field Master 44 might be a very nice rod for keiryu fishing on a small stream and that certainly proved to be the case.
A 4.4m tenkara rod is considered a "mainstream" rod for fishing wider rivers. A 4.4m keiryu rod, though, is a nice length for small to medium sized streams, as long as there aren't low tree branches overhead.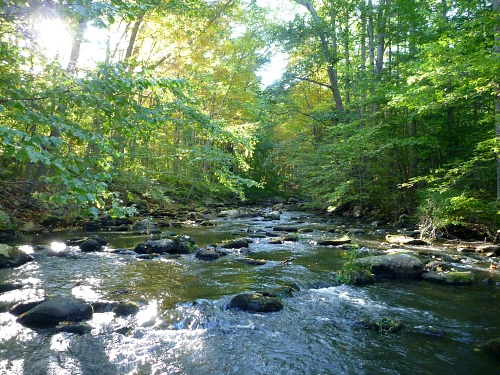 The stream I fished Friday does have quite a few tree branches that from time to time did get in the way. There were spots directly under branches where I couldn't fish. Still, most of the time I could fish around them and there was plenty of water that I could fish. I also caught plenty of fish. People often differ on how small a "small" stream is. It is hard to tell from the photo, but this stream was running at 11 CFS (cubic feet per second).

The Suntech Field Master 39 has been in stock at the TenkaraBum Store for almost two years now. Although it is a three position, double zoom rod, I have fished it primarily at the two shorter lengths (3.2m and 3.6m). I suspect most of the people who have bought them do as well. When I fished on Friday with the Field Master 44, which can be fished at 3.6m, 4.0m and 4.4m, I fished all three lengths.
On a medium to small stream, there are definitely times where you want a longer rod and times where you want a shorter rod. For the first year or two of my tenkara fishing, I believed that all casts were the same length and you fished likely looking spots as they came into casting range. I have since learned (largely from an afternoon spent fishing with Tenkara no Oni) that casting distance is not the only factor. He stressed getting into the proper position before making the first cast to a particular spot - not so much because of the distance but because of the water flow. The proper position is the one that will give you the best drift. Water reading is not just to figure out where the fish will be holding. You have to read the water to know how your fly (or bait) will drift after you make the cast.
Getting into the optimal position from the standpoint of how your line will drift pretty much means utilizing casts of different lengths - at least it does in a stream with rocks and tree branches and other obstructions as in the stream in the photo above. I found the ability to fish the rod at three different lengths to be extremely handy indeed.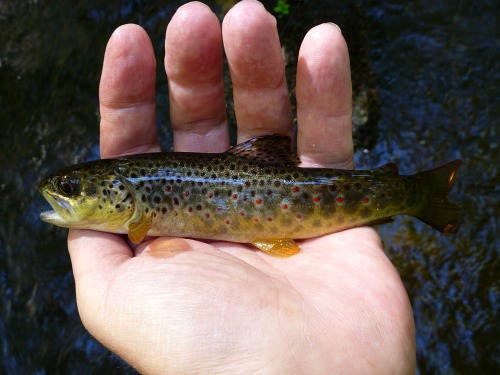 As with last week, most of the fish I caught were small. Most of the fish in the stream are small. However, there are lots of fish. (Lots and lots of fish). I suspect there are more fish than we realize in most of the streams we fish.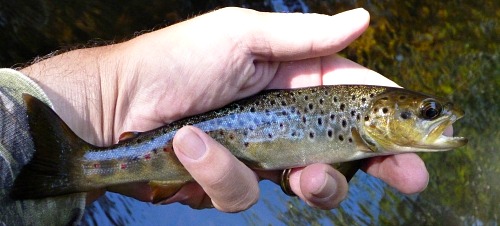 One of the things that surprised me last week was that the bait never flew off the hook when making a cast (which I had previously heard some people complain about). In fact, one worm usually was good for several fish. Even after the parts that didn't have the hook in them got bitten off, the fairly small bits that were left still caught fish!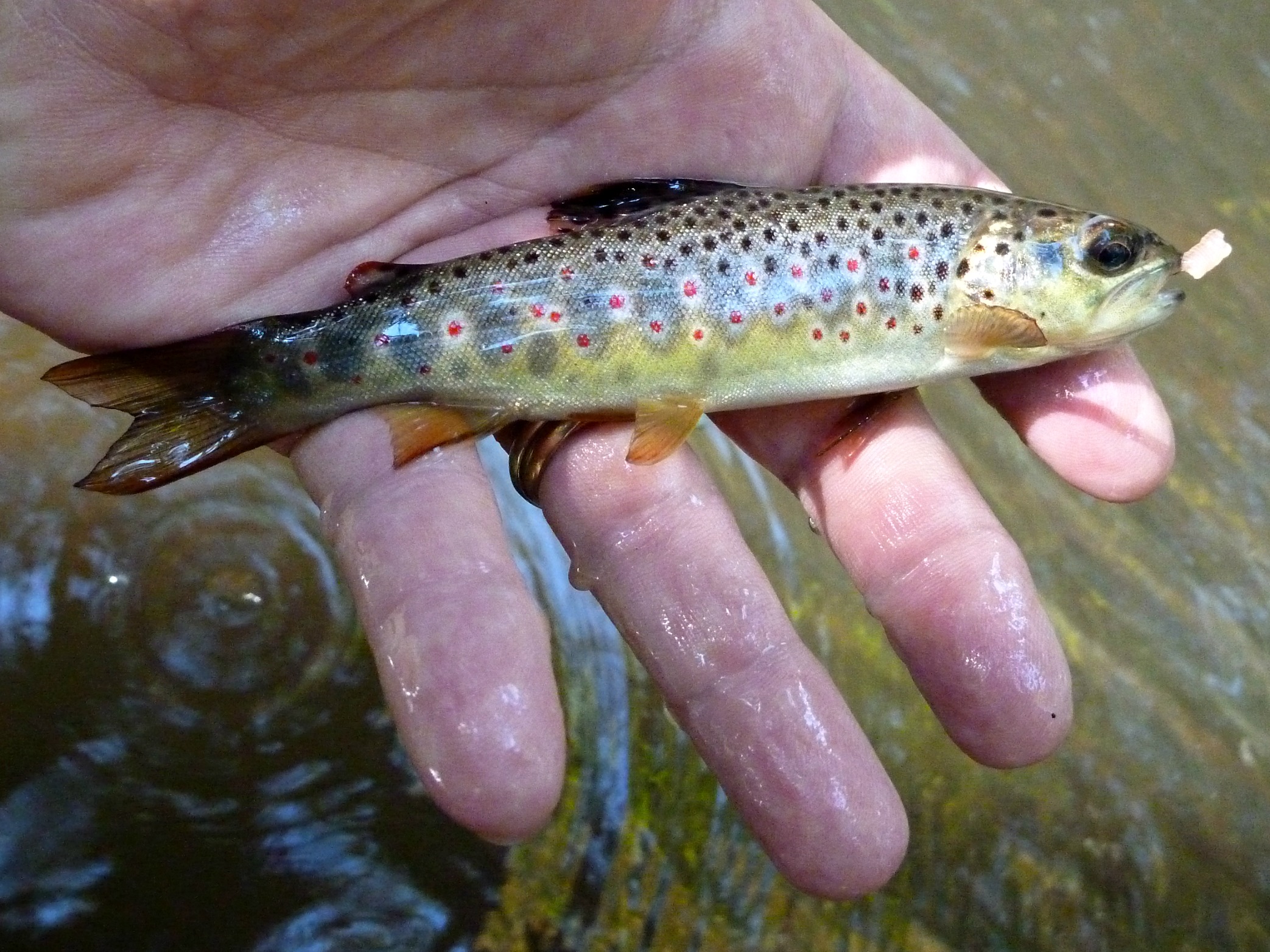 The fish above was caught with about 1/4" of worm. I don't know what it looks like to a fish, but it obviously doesn't look like a worm. Maybe that explains why a Killer Bug or Utah Killer Bug is so effective. It doesn't look like a worm but it does look edible.
With the nearby (New York) streams that allow bait fishing closing in a couple days, I will go back to fishing Killer Bugs, and will probably be successful - but not as successful as I have been the last two keiryu outings. I'm not sure how many more hits I actually got with live bait rather than a fly, but I am sure that many of the fish did hold onto it longer, making the take more obvious.
I did notice on both trips, though, that fish occasionally did spit out the worm. I felt a quick tug on the line (and the fish must have felt resistance on the line) and then nothing. I think that is what prompted the development of Daiwa's Zero and Suntech's ZPRO rods. I fished the ZPRO only very briefly on Friday - not nearly long enough to evaluate the "zero resistance" concept.
As is always the case, more research is needed. I have to go fishing!

---
TenkaraBum Home > Keiryu Trip Reports > Trip Report 9-26-14

---
"The bitterness of poor quality remains long after the sweetness of low price is forgotten" - Benjamin Franklin
"Be sure in casting, that your fly fall first into the water, for if the line fall first, it scares or frightens the fish..." -
Col. Robert Venables 1662
As age slows my pace, I will become more like the heron.

---
Warning:
The hooks are sharp.
The coffee's hot.
The fish are slippery when wet.
Beware of the Dogma

---