Trip Report 11-7-15
My second day out with the Suntech TenkaraBum 36 was a many day. They were all small, but they were all fun. The funny thing about the day, though, was that it didn't seem like a many day. I was fishing with Adam K, and we both felt that the fishing was not nearly as good as we had expected. The stream looked great and we both expected a lot more fish than we caught. Looking through the photos after I got home, though, it had been a many day.
A "many" day is based on an ancient tribal counting system whose sequence is 1, 2, a few and many. At one time I noted every fish, including length, species and the fly on which it was caught. I have long since stopped keeping notes, and I tend to lose count at around 5 or 6 fish, but I can usually remember if I catch 1, 2, a few or many.
Most, though not all of the fish I caught were on the new Suntech TenkaraBum 36. Adam wanted to try it, so part way through the day I lent him my rod. He had asked me to bring an extra one, just in case, and as soon as we got off the stream and back to the car he bought it. (I can't say I was surprised.)
Small brown caught with TenkaraBum 36, size 2 line and Killer Kebari
Most, though not all of the fish I caught were on the Overhand Worm. It works so well and is so easy to tie I find it hard to fish with a different fly. I did want to spend some time fishing without weight, though. Even though the ability of the Suntech TenkaraBum 36 to fish weighted flies has gotten more notice, an equal goal was for the rod to be able to fish a light line.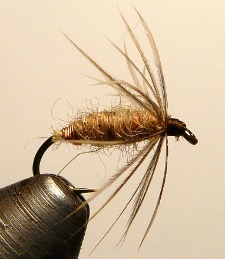 Killer Kebari
Although I no longer sell it, I still do have a small stash of size 2 Sunline. In the past, I have fished size 2 line only with pretty soft rods: the Oikawa III, the Suntech Kurenai and the Suntech Suikei ZPRO come to mind. I am happy to report that the Suntech TenkaraBum 36 will cast a size 2 line very nicely indeed. The small brown in the photo above was caught with a size 2 line and a size 14 Killer Kebari (in one of the spots that looked like it had to have a fish and actually did). No one makes a hi-vis size 2 fluorocarbon line that I know of. There are some pink lines that are made in size 2, but they are pale pink and are not visible in low light.
UPATE: YGK makes a hi-vis size 2 fluorocarbon line.

The size 2.5 Nissin Oni tenkara line is almost as light, is quite visible and casts well. I am sure it will be my "go to" line with the TenkaraBum 36.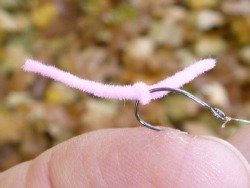 Overhand Worm
When Adam K was fishing with my TenkaraBum 36 I fished a Suntech Kurenai HM33R. It is not a rod I would use with heavy weight, whether bead head nymphs or split shot. However, it is still quite capable of fishing an Overhand Worm if is fished without added weight or with a small (size 6) split shot.

Fishing the Overhand Worm without weight was quite successful two weekends ago when I fished the East Branch of the Westfield in Massachusetts. On Saturday, the unweighted Overhand Worm drew no strikes but a single size 6 shot was enough to get it rolling along the bottom, which was what the fish wanted.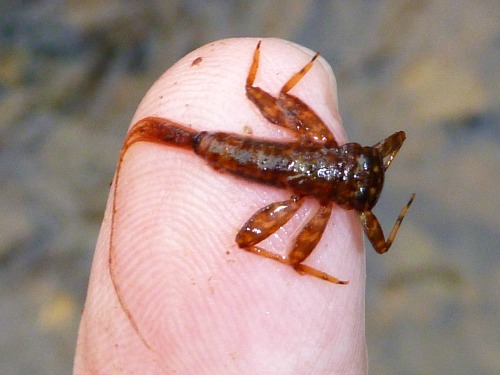 Mayfly Nymph
Late in the day Adam mentioned that he had found some extremely small nymphs under some rocks. I hadn't looked up to that point, but I then turned over a few rocks and found this mayfly nymph. The stream we were on is "artificials only" so it went back in the water right after the photo.
Had it been legal, though, I am sure I would have tried the TenkaraBum 36 to see if it worked well as a keiryu rod. A 3.6m rod is a bit short for keiryu fishing other than on quite small streams, but there were a few spots on the stream where it very likely would have worked. I know the rod works well with a BB shot, and I can't imagine it would make any difference at all if the hook held a a mayfly nymph instead of a bit of chenille. A small stream keiryu rod was not even considered as part of the design goal, but now it is something I am going to have to try.

---
TenkaraBum Home > Trip Reports > Trip Report 11-7-15

---
"The bitterness of poor quality remains long after the sweetness of low price is forgotten" - Benjamin Franklin
"Be sure in casting, that your fly fall first into the water, for if the line fall first, it scares or frightens the fish..." -
Col. Robert Venables 1662
As age slows my pace, I will become more like the heron.

---
Warning:
The hooks are sharp.
The coffee's hot.
The fish are slippery when wet.
Beware of the Dogma

---