Trip Report 9-8-13
I spent the weekend at the Catskill Rodmakers Gathering, hosted by the Catskill Fly Fishing Center and Museum, where Dr. Ishigaki gave the US it's first taste of tenkara back in 2009. I'd been invited by rodmaker and tenkara angler Tom Smithwick, who thought the group might be interested in tenkara. Some were, some weren't, but it was a good weekend nonetheless. I didn't realize until the event was over that I hadn't taken a single photo of the gathering.
I did meet some customers with whom I'd only had on-line interaction, met some new customers, and met some Japanese anglers - one of whom fishes with a tenkara rod in addition to some very nice fiberglass fly rods. He seemed surprised that I had a selection of Nissin rods, thinking perhaps that although the name is well known in Japan it wouldn't be known here.

The gathering ended just after lunch on Sunday, giving me a chance to try to end a years-long skunk on the famed Beaverkill. Truth be told, the Beaverkill is not my idea of perfect tenkara water and I do not fish it often, but it has fish and fish have to eat, so you should be able to catch them (at least occasionally). Much of the Beaverkill is the pool - riffle - pool - riffle of a moderate gradient stream. There isn't a lot of pocket water down around the town of Roscoe, and as far as I know, the entire upper Beaverkill is private.
Still, even in the Beaverkill there are features that a tenkara angler can take advantage of. The photo below shows a spot that to me at least just screams fish. The bulk of the river is behind me and out of view. Here there is deep water along a fairly steep bank, just downstream of a very shallow rocky riffle, with a large overhanging tree providing shade and protection from ospreys (and most fly casters).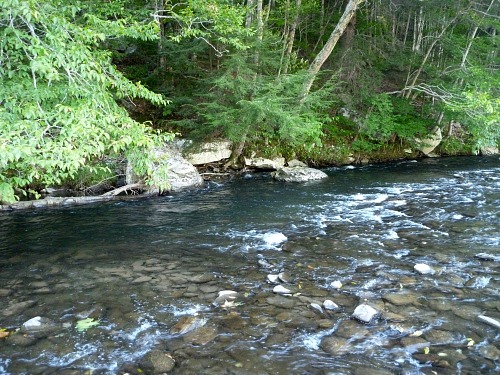 I gave a presentation to a Trout Unlimited chapter earlier this week, and I must have told them a dozen times to keep the rod tip high - keeps the line off the water, improves drifts, aids hook sets, protects tippets, and on and on. Well, I suppose there are a few cases where you do not want to keep your rod tip high. One is if it is windy and you want to anchor your line in the water so it doesn't act like a sail. One is to allow your line (and fly) to sink deeper if for some reason you object to the much more practical use of a weighted fly. Another, illustrated below, is when you need to fish under a low tree.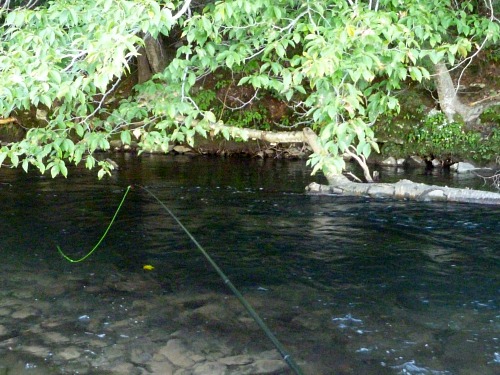 In this shot, not just the Yamatoyo line, but the rod tip itself was under the branches. I could have fished the lie from further away with a longer line, but the current flowing over the rocks at the bottom of the photo was flowing in one direction and the current in the deeper water was flowing in a different direction. Keeping my line off the water, in this case the water flowing over the rocks, required a shorter line (often the case) and a low rod tip (rarely the case).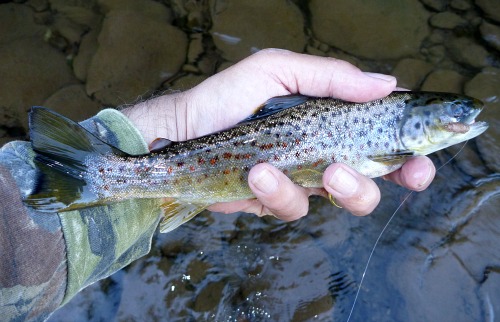 It worked, though, and my first trout from the Beaverkill for many years was soon in the net. I should call it the Skunkkill. The fly was a size 6 Killer Bug, which I have called a Killer Crane Fly before, but there are getting to be to many "Killer ____" flies, so I'll just call it a big Killer Bug.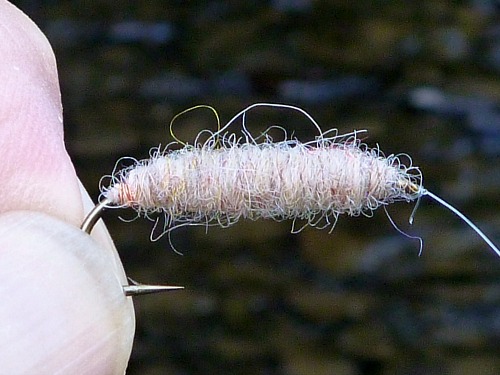 The rod I was using was a Nissin Fine Mode Kosansui 450 (soft) keiryu rod. It is similar to the 2-Way 450ZX but it isn't a 2-way rod (doesn't zoom) so it is even more reasonably priced than the 450ZX (just $110).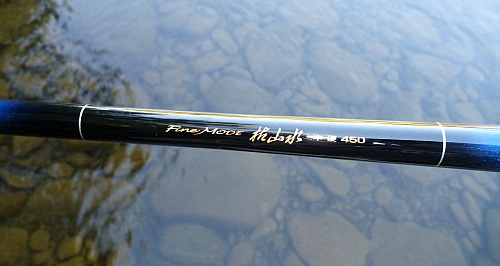 Of course, just as I almost never fish with just one rod on any given day, I also almost never fish with just one fly. I'm always evaluating new rods, and I'm always playing around with new flies. To me that keeps things interesting.
One of the questions I have been playing around with is just how little can I tie on a hook and still catch fish. (I've caught fish on bare hooks, but only bluegills, crappies and perch, never trout.) This one, which I'll call "Red Spot" is about as little as I can put on a hook and still have a recognizable "fly." I didn't catch anything on it ... today.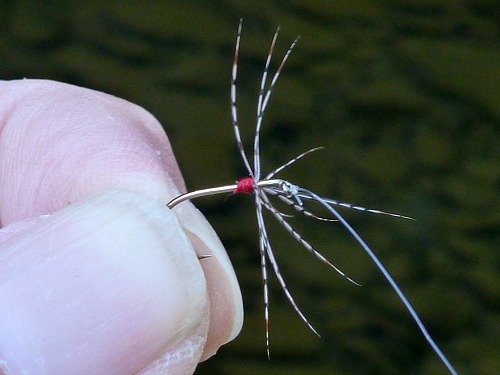 "Red Spot"
On a later date, though, I did catch a little brookie with the same minimalist fly tied with purple thread.

"Purple Spot"
TenkaraBum Home > Trip Reports > Trip Report 9-8-13

---
"The bitterness of poor quality remains long after the sweetness of low price is forgotten" - Benjamin Franklin
"Be sure in casting, that your fly fall first into the water, for if the line fall first, it scares or frightens the fish..." -
Col. Robert Venables 1662
As age slows my pace, I will become more like the heron.

---
Warning:
The hooks are sharp.
The coffee's hot.
The fish are slippery when wet.
Beware of the Dogma

---