Utah Killer Crane Fly
The inspiration for the Utah Killer Crane Fly was a video on Midcurrent showing a crane fly larva being tied using the Utah Killer Bug Yarn. Since the video was released, there has been a spike in interest in the Utah Killer Bug and Utah Killer Bug Yarn but also in tying crane fly larvae imitations.
Crane fly larvae get big - up to two or three inches long. In the video, the fly was tied on a size 12 3xl hook. The one shown here is tied on a size 6 Daiichi 1560, which is a 1 xl hook. Compared to the real thing it is still a bit on the small side, at about an inch. Still, it is a meaty mouthfull meant to tempt a hungry trout.
A size 6 fly with a yarn body, which will absorb water, will get heavy. The one pictured will be even heavier, as it has 10 wraps of lead wire. It really is a bit much for traditional tenkara rods, which after all, were designed to fish unweighted wet flies. For a nontraditional rod, like the Daiwa Kiyose SF series, that isn't a problem.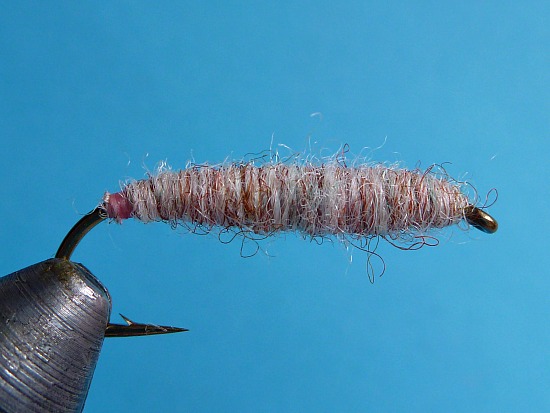 First Trial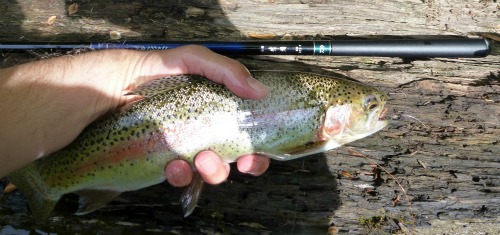 First fish on Utah Killer Crane Fly - 14.5" Rainbow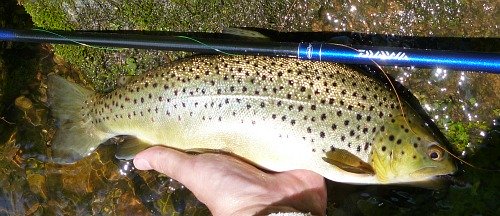 Third fish on Utah Killer Crane Fly - 15" Brown
The Rod

The rod I used for this trial is the Daiwa Kiyose 30SF, which is a relatively stiff 10' rod. The fish put a good bend in the rod, to be sure, but I did not feel it was anywhere close to its limits.
The Kiyose is a stiff rod, but that is what you need to fish heavy nymphs deep in current. The average tenkara rod is much too soft, particularly in the tip sections, to give you reliable hook sets if you are fishing in the bottom few inches of the water column rather than the top few inches.

I'd say both the Kiyose and the heavy Utah Killer Crane Fly performed beautifully together.
I no longer carry the Kiyose 30SF. I have replaced the SF series with the very similar but newer Daiwa Keiryu-X rods.

---
TenkaraBum Home > Tenkara Flies > Utah Killer Crane Fly

---
"The bitterness of poor quality remains long after the sweetness of low price is forgotten" - Benjamin Franklin
"Be sure in casting, that your fly fall first into the water, for if the line fall first, it scares or frightens the fish..." -
Col. Robert Venables 1662
As age slows my pace, I will become more like the heron.

---
Warning:
The hooks are sharp.
The coffee's hot.
The fish are slippery when wet.
Beware of the Dogma

---