Trip Report 4-28-13
Some days you just try to cram too much stuff into one day. Sunday was one of those days. I think I fished with six different rods and six different lines (luckily I didn't try to fish each line on each rod - that would have just been insane). I caught four different species of fish, both warm water and cold water. The day started early and ended late. I'm still tired.
One of the lines I definitely wanted to try was a titanium line. I had first heard of titanium lines years ago and was impressed by the ability of their main proponent, Tatsurou Okaniwa, to keep his fly in an extremely small eddy on the far side of a rushing current. I tried a titanium line (not one that Mr. Okaniwa sells on his tenkara.com website) and found it to be absolutely invisible against any background. Even with a 2' length of Hi-Vis fluorocarbon between the titanium line and the tippet, I had a hard time finding the fluorocarbon. It may be that I picked a bad time of day in a bad location to try it, but I hated it and never tried it again....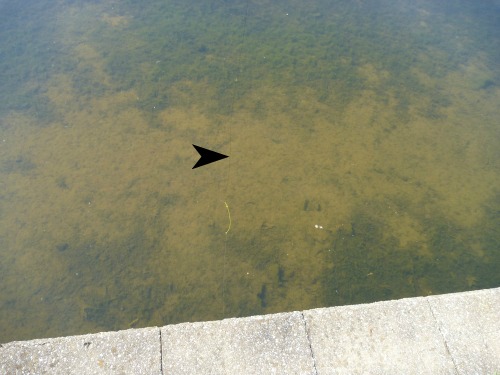 Titanium line is almost invisible even hanging straight down from your rod tip. The point of the arrowhead is right on the line.
until Sunday. I tried a titanium line again Sunday. I couldn't see it. I didn't make it easy, as I used only about 6" of hi-vis line instead of 2', but the goal of the test was not to determine whether I could see the line but rather to determine if it would work well as a wind line and also to determine how the line casts.
The biggest difference between Sunday's test and when I had tried the line previously was that this time I tried it on a lake. I still couldn't see the line as I was casting, but I could see the ripples as the line settled to the water. I have to say, the line was extremely easy to cast. Even with a bit of a breeze I was able to get a complete extension of the line and tippet when casting directly into the breeze. And that was with a line of the same diameter as size 1.5 tenkara line - the same diameter as 6# test fluorocarbon spinning line! That's impressive.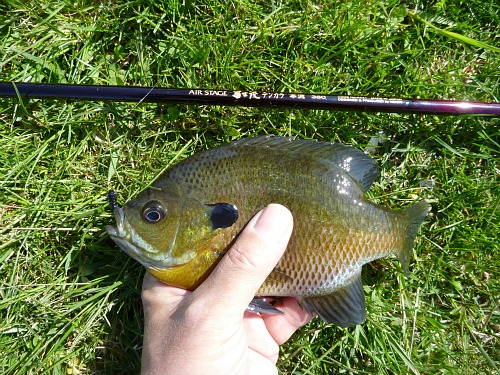 Not being able to see the line, I fished by feel. The slightest "tick" on the line was a signal to tighten up, and it almost always resulted in a fish. I'd have to say that titanium lines have gone up a lot in my estimation. I don't know yet whether I like them, but I certainly won't wait another couple years to try one again. I'll fish with them some more, and probably carry them on the site (one of my suppliers has a titanium line at a pretty reasonable price).
While fishing the titanium line, and later with a size 3 fluorocarbon line, I got to try out the Nissin Air Stage Honryu rod. I'm impressed. The rod I used was a 3804 - 3.8 meter, 4 piece rod. It's telescopic, just like other tenkara rods, but the sections are very long - as long as most keiryu rods. (All of the keiryu rods I carry are carefully chosen from the very few that collapse to a tenkara-like 22-24". Most keiryu rods collapse to around 40".)
The Nissin Air Stage Honryu rod also comes in a 4.5 meter, 5 piece rod. I haven't fished one but based on my impression of the 3.8 meter rod, I think it would be an excellent big water rod. (Big water, not necessarily big fish).

I have frequently read comments on fly fishing forums about how the action of multi-section travel fly rods suffers because of the greater number of ferrules - a situation analogous to the many pieces of a telescopic tenkara rod. I had never given it a whole lot of credence until I fished the Honryu.
I don't know how much of it is because the rod only has three joints, but it is one smooth casting rod. I like it a lot.  For my fishing, though, in and out of subways and commuter trains, following deer trails and ducking under vines and saplings, carrying a 40" collapsed rod just isn't going to work. If you drive to where you fish and don't have to hike in far, a rod of that collapsed length might be just fine.

---

Sunday was going to be a black killer bugger day. I'd have to say it worked marvelously on the warm water fish. The bluegills just wouldn't leave it alone - and at times were quite competitive to see who could get to it first. The bass were a bit more reserved. Most of them had something else on their mind. Still, there were a few who couldn't resist. There was one in particular that I should have resisted but I couldn't either. The killer bugger did it's job, and the light tippet did it's job.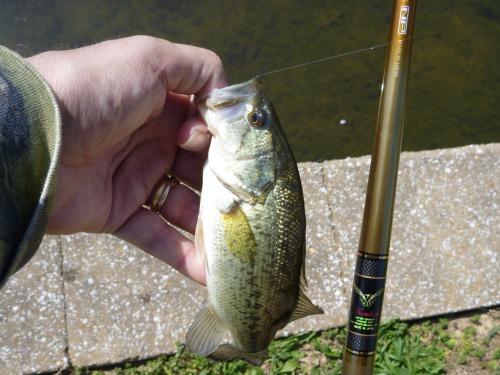 When we got to the cold water, though, things cooled off a lot - at least with respect to the effectiveness of the black killer bugger. I think I caught only two fish with it - one little trout and one even littler fallfish. What a difference from the last time I fished a black killer bugger, when I caught one of my once-a-year 18 inchers with it.

I guess I'm just not cut out to be a one-fly angler. Here I was dutifully fishing the black killer bugger - dead drifting, slowly pulsing, quickly pulsing, swinging. Getting good drifts, probing all the likely looking spots and with precious little to show for it. Coach, on the other hand, was slaying them with a caddis pattern.
The stream we fished is a fairly classic pool/riffle/run small freestone stream, but it was low enough that most of the action was limited to the deeper pools. That, combined with the fact that much of the stream is posted made for a lot of fishing/driving/fishing/driving. I think each time we got to the car Coach would say, "Chris, put on a caddis." I resisted. I did. Then I put on a caddis. Then I started catching fish. It was like night and day. If you get your kicks by figuring out just the right twitch, pause, twitch, twitch for your kebari, more power to you. I'm just happier to switch flies than switch twitches.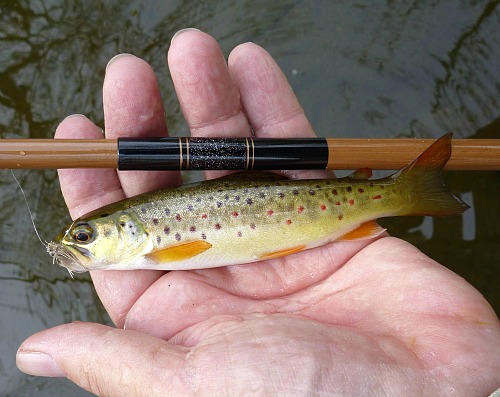 Part of it, too, is that I don't get to fish as much as I like - I'm lucky if I get one day a week on the water - and I do always seem to have new rods that I need to test. And of course, part of the testing is seeing how they feel with a fish on the end of the line.
I know, it's a tough job but somebody has to do it.

TenkaraBum Home > Tenkara Trip Reports > Trip Report 4-28-13
---
"The bitterness of poor quality remains long after the sweetness of low price is forgotten" - Benjamin Franklin
"Be sure in casting, that your fly fall first into the water, for if the line fall first, it scares or frightens the fish..." -
Col. Robert Venables 1662
As age slows my pace, I will become more like the heron.

---
Warning:
The hooks are sharp.
The coffee's hot.
The fish are slippery when wet.
Beware of the Dogma

---