Covid-19 Announcement
Some shipments are still delayed. If you are planning a trip, please order well in advance.
---
TenkaraBum Challenge 2014
What can you catch with a
Black Killer Bugger?

The TenkaraBum Challenge 2014 stems from the comment "You can catch anything with a black woolly bugger." Personally, I don't think that's true (you might also need a white woolly bugger). Seriously, some fish just eat algae, some saltwater fish eat coral. There are fish you can't catch with a black woolly bugger.
Still, it is the genesis for an interesting challenge.
First, the fly at the center of TenkaraBum Challenge 2014 is not a woolly bugger, but a Killer Bugger - which is a cross between a Killer Bug and a Woolly Bugger - basically a Killer Bug with a marabou tail.
Click for Killer Bugger Step by Step tying instructions.
Visit the Black Killer Bugger Gallery to see how the challenge is shaping up so far.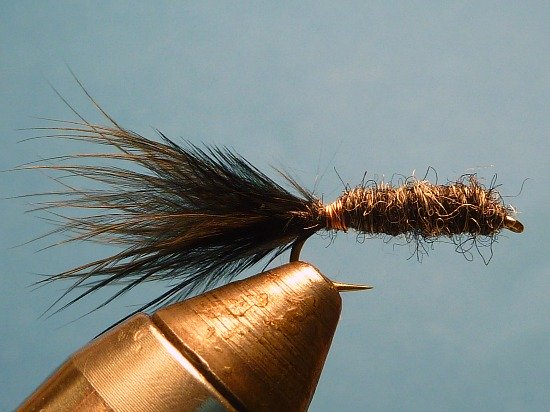 Black Killer Bugger

I've done extremely well with a Killer Bug, and the Black Killer Bugger has been a success from the very start.
| | |
| --- | --- |
| My first fish caught on a Black Killer Bugger | 18" chain pickerel |
| Beadhead Killer Bugger Bass | Black Killer Bugger Bluegill |
| Size 26 Black Killer Bugger | Baby Bluegill on Size 26 Bugger |
---
So, what can YOU catch with a Black Killer Bugger?
The TenkaraBum Challenge 2014 is a species contest. The angler who catches the most species of fish using a Black Killer Bugger wins.
Rules:
1) The contest begins at 12:01 AM May 1, 2014 and ends at 11:59 PM August 31, 2014. Times are Eastern Daylight Time. Submissions must be for fish caught after the contest starts and must be received before the contest ends.
2) Each submission must include a photo of the fish and a photo of the fly, taken before you've fished with it (use your camera's macro setting if it has one) and photos of at least 1 and no more than 3 fish of the same species caught with that fly. If you forget the fly photo, the submission won't count but can be resubmitted with the fly photo. If you have caught several species with the same fly, please upload the fish photo first so the blog entries (which are automatically generated) don't show the same image over and over.

3) You do not have to use the same fly or the same size fly. The fly just has to fit the definition of a Black Killer Bugger.

4) For the purposes of this contest:
A Black Killer Bugger MUST be:
A) Tied on a straight shank hook. (Tanago hooks don't qualify but the Daiichi 1110 size 26 do.)
B) Tied with a body consisting of TenkaraBum Black Killer Bugger Yarn.
C) Tied with a black marabou tail.
A Black Killer Bugger MAY be:
A) Tied with copper wire or tying thread (or both).
B) Tied with or without a bead head, a cone head, lead or other wire.
A Black Killer Bugger MUST NOT be:
A) Tied with any hackle, rubber legs, or anything other than Black Killer Bugger Yarn, Black Marabou, wire, thread, bead head, cone head.

5) Only one species per submission, and only one submission per species. If you caught different species with the same fly, submit them separately and upload the same fly photo for each species.

6) You must identify the species. You don't have to be certain and you don't have to be right, but you have to say what you think it is. If you are submitting micros, a photo box helps in identification. If there is any question on identification, I will ask for help from outside experts. After their input, I'll be the judge and the judge's ruling is final. You can challenge someone else's ID, but don't be a jerk about it. I do want to have an accurate contest and an accurate count, though. Send challenges to the Contact Us page. Hybrids count, but a tiger trout does not count as both a brown and a brookie.

7) Black Killer Bugger yarn samples will be given out with each* purchase from TenkaraBum.com from now until the contest ends. (If you start getting more yarn than you want, you can opt out, but you'll probably have to opt out again with each purchase.) In addition to the samples I will send with each purchase, you can also purchase packages of the Black Killer Bugger Yarn directly. Of course, you can also purchase the marabou, hooks, wire or thread (and receive a free sample of the yarn) but you do not have to purchase them from TenkaraBum.com.
*If you buy Black Killer Bugger Yarn package(s) or the Black Killer Bugger One Fly Kit, you may receive a bit of Black Woolly Bugger Marabou or a couple hooks instead of getting an extra sample of the yarn.

8) Prize (possibly prizes) to be determined. I'm thinking a T-shirt, but might change my mind.
9) Kiwi has agreed to tie Black Killer Buggers for me, and they may be used in the challenge. They will be available on the TenkaraBum Store - Flies page. I will not get many at a time and they will sell out very quickly. I will not reserve or hold them for even the very best customers. They are strictly on a first come, first served basis. No backorders. If they say "Out of stock" they really are out of stock. No need to send an email asking if they are in stock. Even if they say "In stock" they may have sold out before I got a chance to edit the page to change it. If they won't stay in your cart, they are out of stock. Limit: one order of three flies per customer per day.

10) Each submission must be made using the form below.
11) The rules may change and the challenge may be discontinued prior to the scheduled ending time (neither is anticipated, buy hey, you never know). 

---
What Other Anglers have Caught
Click below to see submissions from other anglers.

---
TenkaraBum Home > TenkaraBum Challenge 2014

---
"The bitterness of poor quality remains long after the sweetness of low price is forgotten" - Benjamin Franklin
"Be sure in casting, that your fly fall first into the water, for if the line fall first, it scares or frightens the fish..." -
Col. Robert Venables 1662
As age slows my pace, I will become more like the heron.

---
Warning:
The hooks are sharp.
The coffee's hot.
The fish are slippery when wet.
Beware of the Dogma

---