Tenryu Rayz RZ39LL
The Tenryu Rayz RZ39LL was discontinued last year. It has now sold out and is no longer available.
Much of the following article applies also to the Daiwa Silver Creek Stream Twitcher 38UL. It is the same length (1" shorter, actually) and designed to be used in the same small streams to catch the little wild fish that live there.
Please read this page first, as it helps explain why you really do want a 38" spinning rod! Then read more about the Stream Twitcher 38UL here: https://www.finesse-fishing.com/daiwa-silver-creek-stream-twitcher.html

---
The Tenryu Rayz RZ39LL is going to be the most fun spinning rod you've ever used. It's a headwaters / little blue line rod that will let you fish where no one else can!
The feedback I've gotten over the years clearly shows that lots of tenkara anglers are interested in little headwaters streams. The feedback I got over the last couple years clearly showed that a lot more tenkara anglers are interested in ultralight spin fishing than I had expected or even imagined.
I had thought that tenkara anglers and spin fishermen would be two fairly distinct and separate populations. Apparently not. The attraction seems to be ultralight - but whether it is ultralight fly fishing (tenkara) or ultralight spin fishing may not matter that much to a lot of people - certainly to a lot more people than I had expected.
And that is why this spinning rod is on the TenkaraBum site. I've known for a long time that a lot of tenkara anglers fish headwaters, and I know now that a lot of tenkara anglers fish with ultralight spinning rods. I am betting, though, that almost no one knows they can fish the headwaters with a spinning rod, or that a spinning rod specifically designed for headwaters streams even exists.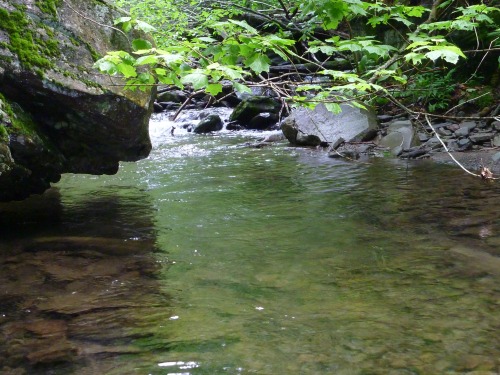 The brookies are there, but can you get a cast in there?
The Tenryu Rayz RZ39LL is just 3'9" long - which is very short for a spinning rod. However, it was made that short specifically for fishing in narrow, overgrown headwaters streams. Streams where you can't easily cast a 5' rod. Streams where not only is there no room for an overhand cast, in places there's no room for a sidearm cast. A lot of your casts will be underhand. Point the rod tip at your toes and then flick it forward.
You are not casting for distance, you are casting for accuracy.  And as often as not, you are casting under low branches. (Some of the nicest fish I have ever caught were right under branches, making casting to them extremely difficult.)
The Tenryu Rayz RZ39LL will handle any fish you hook in the headwaters.
Even though the Tenryu Rayz RZ39LL is a short little rod, it is not a toy. When matched with a reel that has a good drag, it can handle much larger fish than you will ever hook in the headwaters! Tenryu's description of the rod says it can handle 12" trout. Coach says I always underestimate the capability of the rods I sell. It seems I'm not alone. I know for a fact that Tenryu's claim is overly modest.
With the Tenryu Rayz RZ39LL I have caught fish substantially larger than the one shown above. Yes, I have photos, but I am not trying to position this as a rod for the main stream. You should understand, though, that if you want to fish the little feeder streams and the main stream both, you can do it with one rod (and if you happen to hook a bruiser, the rod can handle it).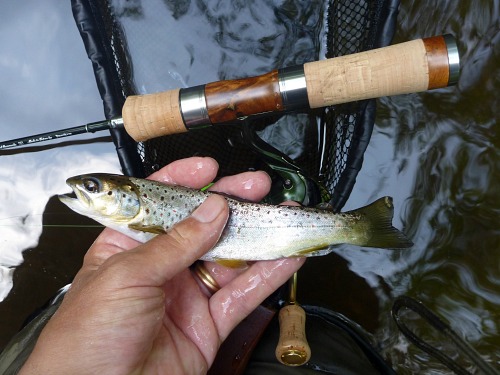 Catching big fish, though, is not what a headwaters rod is all about. Mostly, you will catch 5-7 inchers and you'll want it to be fun. With the Tenryu Rayz RZ39LL it will be fun to catch the 5 inchers. I must admit I had forgotten the value of a good drag on a reel - if you happen to hook one three to four times that size, though, the reel will save you (and the rod).

One of the best things about the rod - certainly from a tenkara angler's point of view - is that it's a two piece rod and is only 23 1/4" long when broken down. That's a quarter inch shorter than the Suntech Kurenai. The rod fits in the Medium Rod Case!
I have had more than one person ask for a backpack spinning rod, and one guy said he wanted to carry two rods, a tenkara rod for the little streams and a spinning rod for the lakes. It would be very reasonable to pack a tenkara rod and the RZ39LL both! Tenryu also makes a couple 4-piece spinning rods that break down to an even shorter length, but at 5' they may be a bit long for the really small overgrown streams where the RZ39LL would be ideal and where the tenkara rod might not work at all.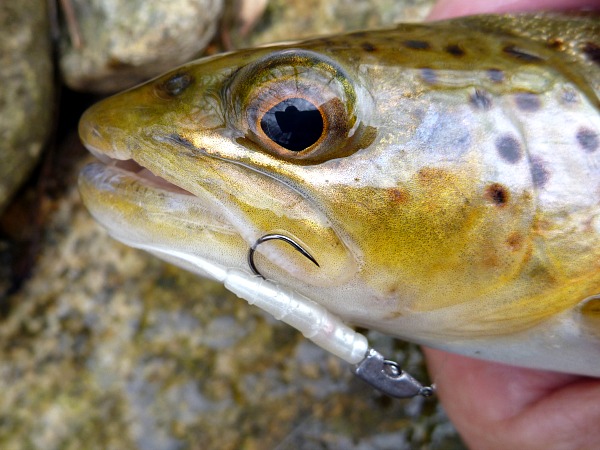 C'ultiva JH-85 (.7g) and 1.3" Pinworm (.3g)
Tenryu rates the rod as an LL, which is between light and ultra light. The specs indicate that you can cast lures as light as one gram (which is exactly the weight of the .7g C'ultiva JH-85 jig head and the 1.3" Pin Worm, shown above) or as heavy as 8 grams (1/4 oz).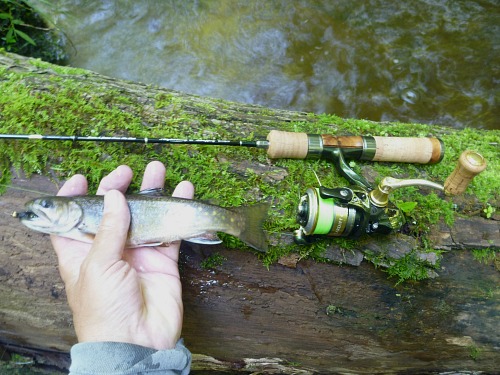 With a light line the RZ39LL can cast a bead head bugger!
However, because on a very small stream you're not casting for distance (and you're not catching 4 lb fish so you can use a very light line) you can cast things that weigh much less than one gram. If it looks a lot like the brookie above hit a bead head bugger, that's because it did! If your go-to small stream rod now is a Suntech Kurenai HM30R, you know that the one thing it doesn't do well is cast heavy bead heads.
Even small streams have holes deep enough that a bead head would be ideal.

Small spoons are ideal for small streams.
My favorite lures for small streams, though, are small spoons. Because of their action and flash, they definitely attract fish better than a Killer Bugger, and spoons cause much less line twist than small spinners. Plus, all the small spoons on the Finesse-Fishing.com site have single hooks (and most are barbless).

There are a number of small spoons on the Finesse-Fishing site that weigh from 1.2 to 1.8 grams and will work well in the headwaters. Heavier lures will cast further, but they'll make more disturbance when they hit the water and in most cases you won't have to cast very far.

Tenryu Rayz RZ39LL Features

As nice as the Tenryu Furaibo tenkara rods are, the Tenryu spinning and baitcasting rods are on a whole new level. In one of the Tenkara in Focus videos, Go Ishii said that many think Tenryu makes the best blanks but that they're better known for their lure rods. When you see and handle one of their lure rods you will know why.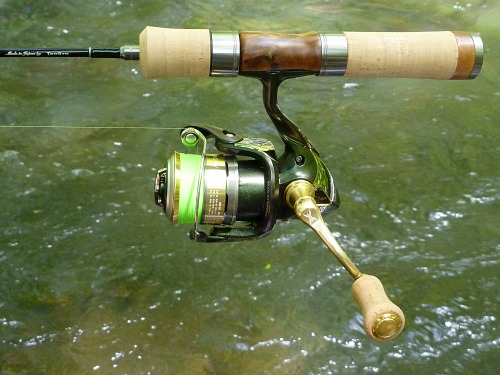 Tenryu Rayz RZ39LL and Shimano Cardiff CI4+ C2000HGS
The Tenryu Rayz RZ39LL grip is top quality cork. The reel seat has a beautiful hardwood insert, with a matching hardwood accent just in front of the metal rod butt. The guides are titanium frame K-series with SiC rings.
The rear grip (behind the spinning reel foot) is a short 110mm (about 4 3/8") on the RZ39LL, making it easy to execute underhand casts without the rear grip getting in the way.

When you put the two sections together, there will be a gap. It is supposed to be that way. Do not force them.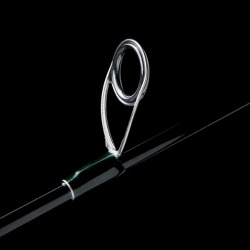 Model
Type
Length
Sections
Breakdown
 Length
Rod Wt
Line Wt
Lure Wt


RZ39LL
Native (stream rod)
3'9"
2

23 1/4"
1.8 oz
1 - 5 lb
1/32 - 1/4 oz

If you have ever wanted to do a little spin fishing in really tiny streams - tiny enough that no one else fishes them, consider the Tenryu Rayz RZ39LL. It will be an eye opener!
Careful, though. I've now had two people tell me it's the dark side.

---
Shimano Soare CI4+ 500S

For a rod as light and short as the Tenryu Rayz RZ39LL it will feel best to pair it with a light reel. If you are going to fish the main stream as well as the feeder streams, you will want a reel with a very good drag (you could hook a 20" fish, but with a good drag you could land it).
I would suggest the Shimano Soare CI4+ 500S. It weighs only 4.9 oz. It has eight ball bearings and one roller bearing. The gear ratio is 5.6:1. One turn of  the handle retrieves 27" of line. Line capacity is more than you'll ever need (115m of 2#, 100m of 2.5# or 70m of 3#). Maximum practical drag is 4.4#. (More than your practical line strength!)

Note: the reel shown in the photos above is the Shimano Cardiff CI4+ C2000HGS, which is the reel I recommended before the Soare CI4+ 500S was introduced. The Soare reel is smaller and lighter, and a better match for the RZ39LL rod.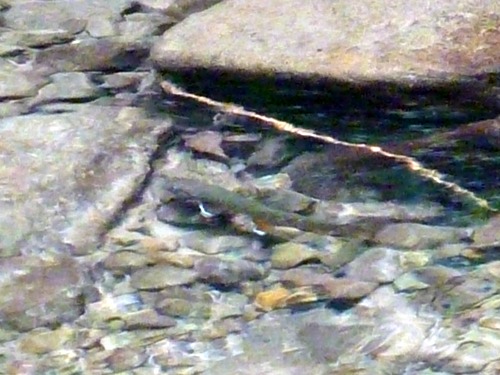 ---
Shipping
Domestic shipping is between $10 and $15, depending on package weight and destination, via USPS Ground Advantage (2-5 day delivery).

Please note: All packages are shipped via USPS. If you have a PO Box, please list ONLY the PO Box in your address, not the PO Box and your street address.
If you live in an apartment, please put the apartment number in the same box as the street address (as in 123 Main St. Apt 45).
Please do not put anything in the box for "Company" if it isn't absolutely necessary. Not "self", not "none" not "--". It wastes your time to put it in and it wastes my time to take it back out. Please just leave it blank.

International Shipments

International purchases may be subject to import duties and taxes. I cannot keep track of all import regulations in all countries written in all languages. Understanding and paying import duties and taxes is the responsibility of the buyer.
EU
TenkaraBum.com no longer ships to the EU.

Russia
TenkaraBum.com no longer ships to Russia.

UK

TenkaraBum.com no longer ships to the UK. The new VAT regulations are too onerous for a one-man shop that rarely ships anything to the UK anyway. I apologize. 

TenkaraBum Home > Finesse-Fishing > Tenryu Rayz RZ39LL

---
"The bitterness of poor quality remains long after the sweetness of low price is forgotten" - Benjamin Franklin
"Be sure in casting, that your fly fall first into the water, for if the line fall first, it scares or frightens the fish..." -
Col. Robert Venables 1662
As age slows my pace, I will become more like the heron.

---
Warning:
The hooks are sharp.
The coffee's hot.
The fish are slippery when wet.
Beware of the Dogma

---