Finesse-Fishing
Finesse-Fishing is a sister website offering Japanese Domestic Market spinning and baitcasting rods and reels for trout and panfish.
Many of us started out fishing with ultralight spinning gear. Despite taking up fly fishing and then discovering tenkara, there are a core group of us who never abandoned ultralight spin fishing.
There is another group who, after the initial excitement of the great drifts they got with a tenkara rod, gradually realized that while they could use a tenkara rod about anywhere, there is a lot of water that really isn't "tenkara" water. It takes a while for the euphoria to fade away before you realize that tenkara is great on some waters, but not so hot on others. Ultralight spinning gear works very well on a lot of the water for which tenkara is OK but not great.
One of the core themes of TenkaraBum.com has always been to match the gear to the fish. A corollary of that is to match the gear to the water.

For years now, I have been importing tenkara, keiryu and seiryu rods made for the Japanese Domestic Market. I think a lot of tenkara anglers (and ALL the keiryu and seiryu anglers) accept that Japanese rods are the best.
Bass anglers have known for some time that the best spinning and baitcasting gear is made for the Japanese Domestic Market. I suspect most trout and panfish anglers have not yet realized that (no one here sells it and no one is talking about it). My goal is to change that.
A second goal is to help people understand and accept that the "worms to spinners to flies" path most tenkara anglers took is not a one way street.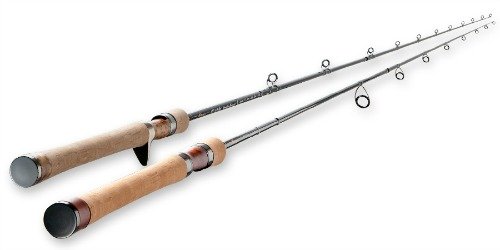 Tenryu UL Spinning and Baitcasting Rods
If you fish with ultralight spinning gear, if you are curious about ultralight baitcasting gear (yes, it does exist), head over to Finesse-Fishing and take a look.
The names are familiar: Daiwa, Shimano and even Tenryu, which makes the nicest looking ones of all! I started importing Tenryu tenkara rods a couple years ago and have been extremely pleased with their quality. If anything, their spinning and baitcasting rods for trout fishing are even nicer than their tenkara rods.
Tenryu Rayz Spinning Rods

Tenryu's spinning and baitcasting rods for trout are in their Rayz series, which runs from a 4' 10"  rod for the headwaters up through a 10' 6" rod for salmon on wide, windy rivers. The LL notation for the RZS51LL is between light and ultralight.

The following spinning rods and baitcasters will be ideal for trout fishing in streams.

Tenryu Rayz Spectra RZS51LL
Tenryu says the parabolic action of the Tenryu Rayz Spectra blank was inherited from the Rayz series, but if you pick up both and wiggle them one after another, you can tell in an instant that they are not the same. As nice as the Tenryu Furaibo rods are, and as nice as the Tenryu Rayz rods are, the Tenryu Rayz Spectra is on another level.

Model                    RZS51LL
Type                     Native (stream rod)
Length                  5'1"
Sections                2
Breakdown Length   31 1/4"
Rod Weight            2.3 oz
Line Weight            1 - 5 lb
Lure Weight            1 - 8 grams (roughly 1/32 - 1/4 oz)
Tenryu Rayz Spectra RZS51LL - $435
---

Tenryu Rayz RZ632S-L
Short of the Spectra, the Tenryu Rayz rods are the nicest spinning rods you will ever find. The fit and finish are truly excellent.
Please visit the Finesse-Fishing page on the Tenryu Rayz spinning rods for more information.

Tenryu Rayz Integral RZI53UL-4
For the quality of a Tenryu Rayz spinning rod and convenience an packability of a tenkara rod, you can't beat the Tenryu Rayz Integral 4-piece rods. The rods  will fit in a backpack.

Model
Length
Sections
Breakdown
Rod Weight
Line Weight
Lure Weight
RZI50UL-4
5'0"
4
16 1/8"
2.3 oz
1 - 4 lb
1/32 - 1/5 oz
RZI50UL-4 - $345
RZI50L-4
5'0"
4
16 1/8"
2.3 oz
3 - 6 lb
1/16 - 1/4 oz
RZI50L-4 - $350

Tenryu Rayz Alter
Unlike the Tenryu Rayz and Tenryu Rayz Spectra, the Tenryu Rayz Alter rods are not designed for mountain streams. They are designed for fishing in lakes, where you don't have to fight the current as well as the fish, and where logs and snags are not nearly as big an issue. However, I recently received an email from a very satisfied owner who said the Tenryu Rayz Alter is a wonderful rod for the small fish you find in the headwaters. If you have room to cast a 6' rod, the soft action would indeed be a lot of fun with smaller headwaters trout.

The rods are softer and more mid flex than the stream rods, and are rated for lighter lures. Tenryu does not give a minimum lure weight, indicating only that it approaches zero. If you want a rod with Tenryu quality and the capability of casting lures below 1/32 oz, these are your rods.
Model
Type                   
Length                
Sections
Breakdown 
Rod Weight          
Line Weight          
Lure Weight   

RZA61L-T
Area (lake)
6'1"
2
38"
2.75 oz
1 - 5 lb
Near 0 to 3/16 oz

RZA61L-T - $395
RZA62UL-S
Area (lake)
6'2"
2
38 1/8"
2.6 oz
1 - 4 lb
Near 0 to 1/8 oz

RZA62UL-S - $400
I would pair most of these rods with the Shimano Cardiff CI4+ 1000SHG reel. For the Tenryu Rayz Alter, though, I would choose the slightly smaller, slightly lighter Shimano Soare CI4+ 500S.

Ultralight Baitcasting Rods

Most people think baitcasters are just for heavy lines and heavy lures. However, there has been a revolution in Japan with the advent of the Bait Finesse System. It is a collection of reels, rods, lines and techniques that have opened the way for light and even ultralight baitcasters. Finally, there are baitcasters for trout - reels and rods that are very well suited for trout fishing in streams.
Baitcasters are more accurate than spinning rods and reels, and that accuracy is paramount in small streams. Bait Finesse for trout (or as it is called in Japan, Mountain Stream Bait Finesse) in the US is now about where tenkara was back in 2009. This is just the beginning.
Tenryu Rayz RZ542B-L
The Tenryu Rayz baitcasters are at least as nice as their spinning rods. If you know you like fishing with a baitcaster and you want to try it for trout in streams, these are your rods.
Model                   
Type                   
Length                 
Sections
Breakdown Length
Rod Weight
Line Weight
Lure Weight

RZ4102B-UL
Wild (stream)
4'10"
2
30"
2.9 oz
Max 4 lb
Max 6 g
(about 3/16 oz)
$435
Made in Japan
RZ4102B-UL - $435
RZ542B-L
Wild (stream)
5'4"
2
33"
3.1 oz
Max 6 lb
Max 8 g
(about 1/4 oz)
$440
Made in Japan
RZ542B-L - $440
Any of the BFS reels offered on Finesse-Fishing.com would be a good match to the Tenryu baitcasters.

---
Shipping
Domestic shipping is $10 via USPS Priority Mail ($20 for the Daiwa Area Bum 60L-B).
The charge for international shipping depends on the destination country, the weight of the package, the overall length of the package and the value of the package. Packages under 24" long and under $400 in value will go via USPS First Class International. Packages over 24" or over $400 will go via USPS Priority Mail International.

---
---
"The bitterness of poor quality remains long after the sweetness of low price is forgotten" - Benjamin Franklin
"Be sure in casting, that your fly fall first into the water, for if the line fall first, it scares or frightens the fish..." -
Col. Robert Venables 1662
As age slows my pace, I will become more like the heron.

---
Warning:
The hooks are sharp.
The coffee's hot.
The fish are slippery when wet.
Beware of the Dogma

---