Nikko Sashi

Nikko Sashi seems to be the correct name for what I originally had called Nikko Maggies. The new packaging clearly says サ シ (sashi)  and Dappy Fly Larvae SS. I've been calling them Sashi long enough that I think I'll keep calling them Sashi rather than Fly Larvae SS.

Do not believe the Urban Dictionary, which says sashi stands for "super attractive stylish hippie intellectuals." Sashi are fly larvae - blowfly maggots. (That is not to say that hippie intellectuals are maggots, but that's what sashi means in Japanese.)

The Nikko Sashi are biodegradable artificial maggots. They are very effective for panfish and for micros when you don't have live bait. I have tried a lot of things for micro bait, and while the best seems to be the smallest speck of earthworm you can cut, some people do not like to cut up worms. Even if that doesn't bother you, sometimes you just don't have a worm to cut.
What got me searching for alternatives was the sheer waste of buying worms for microfishing. One worm is more than enough for a full day of microfishing, but what do you do with the rest of them? For some reason, my wife was not thrilled to have worms in the refrigerator. I tried bits of chicken and even steak! (Pound for pound, cheaper than worms!)
Several years ago, while visiting my supplier in Japan, my wife picked up a package of Nikko Sashi. The packaging said "Zazamushi," which loosely translates to shallow water insect larva. I found they worked nicely for small sunfish.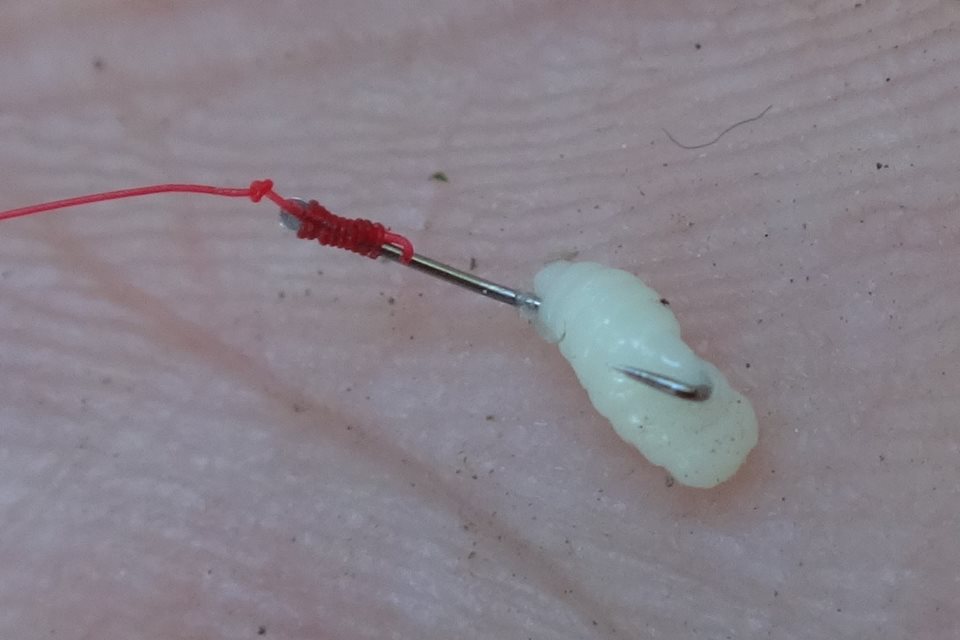 Nikko Sashi on New Half Moon hook.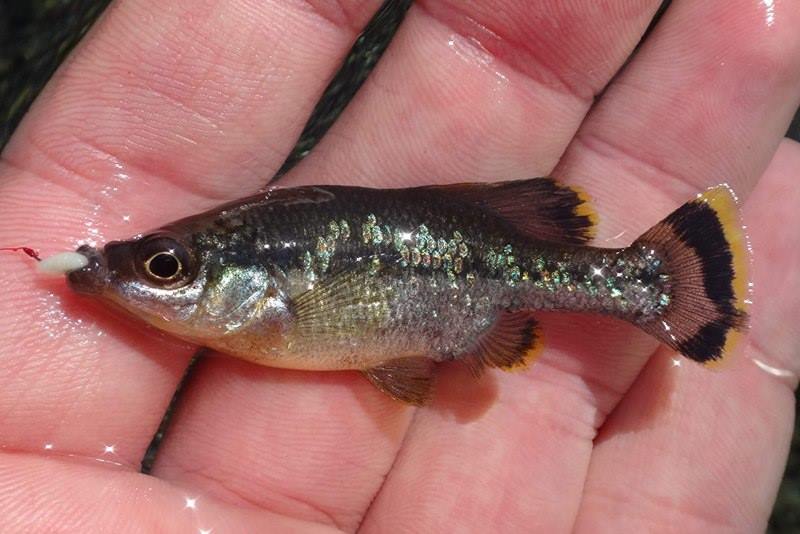 Ameca Splendens caught with a Nikko Sashi on a New Half Moon hook.
Before I had decided to stock them, I sent some to Ben Cantrell to try as a micro fishing bait. He took them on a trip to Mexico and when he returned told me "They worked great when we didn't have any live bait. Which was 90% of the time. Seriously, they worked really well." A number of the other fish he caught with the Sashi can be seen on his Flickr page.
When he told me how well they had worked, I knew I had to get some in for the shop. After all, if there are any micro fishing masters in the US, Ben has to be one of them. Luckily, I was able to track down the Nikko Sashi and have had them in stock since.

I have them in white, which is probably the best color to use when sight fishing. I find it easier to see white than any other color with the stream bed as a background. I have had them in pink (Trip Report 8-10-19) and found that the pink ones work also. Still, the white ones work just fine and are much easier to see.

The Nikko Sashi come in five strands with 10 sashi per strand. You can tear them from the strand one by one, but for smaller micros you may even want to cut them in half. The plastic is quite durable and will last for lots of fish.
Despite being durable, sashi are completely biodegradable and contain no plastisol, phthalates or any toxic chemicals. (Unlike the hippie intellectuals back in Boulder, CO in the early '70s, many of whom were heavily into chemicals.)
I have not yet tried them for trout, although I know live maggots are used quite effectively in the UK. One of the participants at the first Midwest Tenkara Fest was a bait fisherman who said essentially that you wouldn't believe how effective maggots are for trout. One of these days I'll have to give it a try.
Nikko Sashi - $6.50
---
Shipping
Domestic shipping is via USPS Ground Advantage. Rates are $4.00 for packages that weigh up to 4 ounces and $6.00 for packages that weigh over 4 ounces. The charge is added to your order automatically.
Please note: All packages are shipped via USPS. If you have a PO Box, please list ONLY the PO Box in your address, not the PO Box and your street address.
The charge for international shipping depends on the destination country, the weight of the package, the overall length of the package and the value of the package.
International shipments

International purchases may be subject to import duties and taxes. I cannot keep track of all import regulations in all countries written in all languages. Understanding and paying import duties and taxes is the responsibility of the buyer.
TenkaraBum.com no longer ships to the EU, the UK or Russia.

---
TenkaraBum Home > Microfishing Gear > Nikko Sashi

---
"The bitterness of poor quality remains long after the sweetness of low price is forgotten" - Benjamin Franklin
"Be sure in casting, that your fly fall first into the water, for if the line fall first, it scares or frightens the fish..." -
Col. Robert Venables 1662
As age slows my pace, I will become more like the heron.

---
Warning:
The hooks are sharp.
The coffee's hot.
The fish are slippery when wet.
Beware of the Dogma

---