Covid-19 Announcement
Most international flights have been cancelled.
There is no ETA for out-of-stock items that come from Japan.
Shipments to overseas buyers will take longer than normal - possibly much longer. Patience is a virtue - especially in fishing.

---
"One Fly" Tying Kit™
Killer Bugger
The Killer Bugger "One Fly" Tying Kit™ has the materials you need to tie 25 Killer Buggers, plus step-by-step instructions and full color illustrations that will show you just how to tie them. Because of US Postal regulations, I cannot mail superglue, which is the one thing you'll have to buy locally.
The Killer Bugger is a cross between a Killer Bug and a Woolly Bugger - basically a Killer Bug with a marabou tail. The Woolly Bugger has proven itself everywhere, and the Killer Bug has proven itself everywhere people have tried it. I'm pretty confident the Killer Bugger will, too.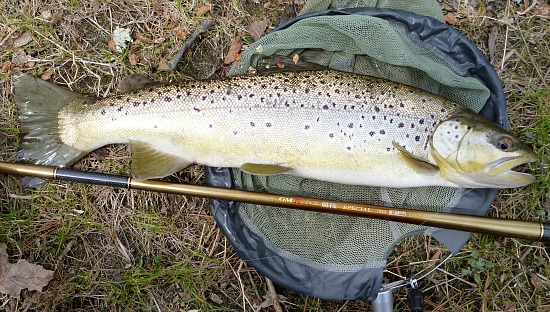 My first trout on a Black Killer Bugger
Some time ago, I wrote an essay on the Tenkara Woolly Bugger, in which I wondered why not one tenkara angler in the various "one fly" discussions has stood up to declare that his one fly is the Woolly Bugger.
If the "one fly" discussions were held among fly fishermen, more than a few would openly declare that they really only fish a Woolly Bugger and that they do very well with it. No one would doubt that they do - and for just about any species of fish. Perhaps tenkara anglers are concerned that they would be considered impure, or at least unsophisticated, for not choosing a sakasa kebari as their "one fly."
But why is that? A Woolly Bugger is extremely effective when fished exactly the same way that the Japanese masters fish their kebari - both dead drift and with gentle pulses. Granted, a woolly bugger does not make a very good emerger and one would be hard pressed to fish it in the film. Still, it is a simple, effective fly that arguably is as good as any other - which, by the way, is about how Dr. Ishigaki chose his "one fly." No quest, no careful evaluation, he just happened on a really simple fly that worked as well as any other.
The Tenkara Woolly Bugger I described in that essay, though, was not a simple fly, with peacock herl in place of chenille and a starling feather in place of saddle hackle. It worked, but it was not easy to tie. The Killer Bugger is easy to tie. With the body of a Killer Bug and the tail of a Woolly Bugger, it blends the best of both flies.
The yarn body,  teased out with Velcro (or trout teeth) is slightly translucent and looks like it has legs or gills or "something" that a small stick or bit of weed doesn't have, and the marabou tail undulates with every movement of the fly in the water. It definitely looks alive. And for a trout (or bass or bluegill, or just about any fish, for that matter), if it's alive and not too big, it's food.
As great as a Woolly Bugger is, most are tied too large and too heavily weighted to be used with tenkara rods.  The Killer Bugger is only a size 12 and is not weighted, so you can fish it as well with a light seiryu rod as you can with a tenkara rod or a stiffer keiryu rod.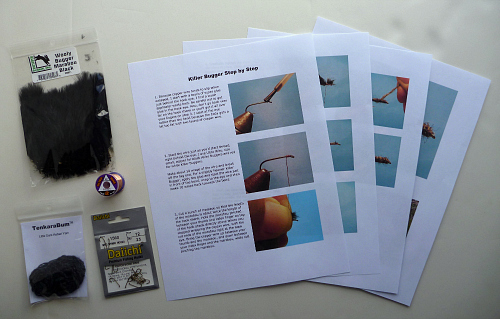 Black Killer Bugger One Fly Kit
In addition to the instruction sheets, the Black Killer Bugger "One Fly" Tying Kit™ comes with a package of Daiichi 1560 hooks in size 12, a package of Black Killer Bugger yarn, a package of black Woolly Bugger Marabou and a spool of copper wire. The White Killer Bugger  "One Fly" Tying Kit™ comes with a package of Daiichi 1560 hooks in size 12, a package of White Killer Bugger yarn, a package of white Woolly Bugger Marabou and a spool of red wire.
The Killer Bug "One Fly" Tying Kit™ has been my best selling "One Fly" kit. The Killer Bugger kit is now right up there with it. The fly is easy to tie and has already proven to be extremely effective. The Black Killer Bugger Challenge in the summer of 2014 yielded 54 different species of fish caught on a black Killer Bugger. Try it. It works!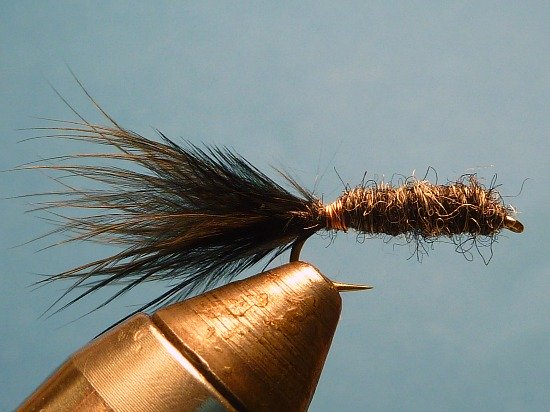 Hook: Daiichi 1560 size 12
Wire: Ultra Wire, small, copper
Tail: Black Woolly Bugger Marabou
Yarn: Black Killer Bugger Yarn
All materials included in Black Killer Bugger Tying Kit

Out of stock - I am getting out of the materials and tying kits business. The Killer Bugger is easy to tie and the necessary materials are widely available. Step-by-step tying instructions are here.

---
TenkaraBum Home > "One Fly" Tying Kit™ > "One Fly" Tying Kit™ Killer Bugger
---
"The bitterness of poor quality remains long after the sweetness of low price is forgotten" – Benjamin Franklin
"Be sure in casting, that your fly fall first into the water, for if the line fall first, it scares or frightens the fish..." Col. Robert Venables 1662
As age slows my pace, I will become more like the heron.

---
Warning:
The hooks are sharp.
The coffee's hot.
The fish are slippery when wet.
Beware of the Dogma

---