Suntech Sawanobori
Cho Kotsugi

The Suntech Sawanobori Cho Kotsugi rods are keiryu rods designed for backpacking into the headwaters. They collapse to just 14 5/8 inches. They are available in three lengths: 4.5 meters, 5.4 meters and 6.0 meters.
As is usual with Japanese names, Cho Kotsugi doesn't translate perfectly into English, but it is close to "extreme short joint" - meaning extremely short sections.

I have not seen the 54 or 60 length rods, and have not fished with the 45. I first saw one of the 45 length rods in 2019 when I got one in as a special order. At the time I thought it would make a very good Czech nymphing rod, but for some reason did not order more to keep them in stock.

Since then, though, I have received a lot more questions about and requests for backpacking rods. Granted, most of those questions were specific to tenkara fishing, but certainly not all.
The Suntech Sawanobori Cho Kotsugi is not well suited to tenkara. It is just too stiff. That said, with one of the longer rods and with a Daiwa 7 meter floating line (which is heavy enough for the rod to cast) you could fish bank eddies on the other side of rivers that you could not reach with any of the honryu tenkara rods.
Rather than fishing unweighted flies with long lines, though, I think the rods are much better suited to fishing two or three heavy nymphs on a short line. Suntech recommends tippet no stronger than 5X, so the Sawanobori Cho Kotsugi is not a rod for monster fish, but if you are fishing deeper water with fast currents, and are using heavy nymphs to get down fast, it should work quite well.
Of course, the rod actually is a keiryu rod, and was designed to fish with bait. I have one customer whose "go-to" rod on all his vacations is a Daiwa Kiyose 33SF (very similar to the Keiryu-X 33). It packs down small so it is very convenient, it can handle good sized fish, and he fishes with bait and split shot. For the same attributes in a longer rod, you couldn't do better than the Suntech Sawanobori Cho Kotsugi.
I recently received a inquiry about the Suntech Genryuko 53. I occasionally have the Genryuko 36 and 39 in stock, and can special order the Genryuko 45 and 53. The potential buyer wants a rod for bikepacking and travel, and will fish a wide variety of streams, rivers, lakes and the seashore. I told him if it was me, I would choose the Sawanobori Cho Kotsugi 54 over the Genryuko 53. The Genryuko is very much a tip flex rod, while the Sawanobori Cho Kotsugi is more midflex. It is a STIFF midflex, to be sure, but it is still midflex (and isn't nearly as stiff as the Genryuko). I think it would protect the 5X tippet better. Also, if he did want to cast flies, it would cast considerably better.
For that matter, the Sawanobori Cho Kotsugi 45 would cast flies better than either the Daiwa Keiryu-X 45 or Suntech Genryu Sawanobori 45, both of which are considerably stiffer.

Suntech Sawanobori Cho Kotsugi Features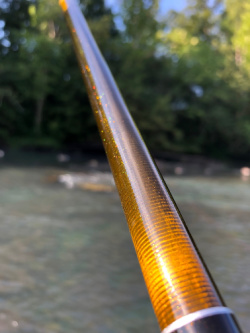 Yellow Highlights
Jeff R photo
The Suntech Sawanobori Cho Kotsugi rods look black, with minute bright sparkles in the finish. When sun hits the rod a certain way, the rod shows yellow highlights.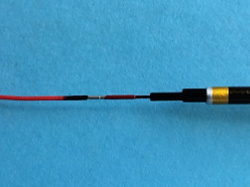 Lillian connected by a swivel.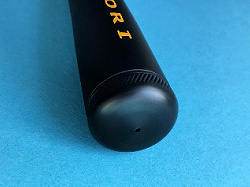 Grip screw cap with ventilation hole.
Above the grip, though, the color changes depending on the angle of the sun. The rod can look black but can also have a golden yellow color.
The lillian is attached with Suntech's signature swivel mechanism, which will pass through the #2 section for complete disassembly. The grip screw cap is knurled for easy removal or tightening, and has a ventilation hole. In lieu of a tip plug, the rod comes with a Fuji KTC-20 rod cap.


Grip showing "Sawanobori" name.
The grip is a widened out section of the blank itself with smooth non-skid finish that is effective wet or dry. The grip has Sawanobori written on it.

Suntech Sawanobori
Cho Kotsugi 45
Length Extended - 14' 9"
Length Collapsed - 14 5/8"
Weight with cap - 3.4 oz
Weight w/o cap - 2.8 oz
Sections - 15
Tippet - 8X-5X
Pennies - 33
Suntech Sawanobori Cho Kotsugi 54 and 60 are available by special order. Price shown is out of date and will vary based on the dollar/yen exchange rate.

---
Shipping
Domestic shipping is between $10 and $15, depending on package weight and destination, via USPS Ground Advantage (2-5 day delivery).

Please note: All packages are shipped via USPS. If you have a PO Box, please list ONLY the PO Box in your address, not the PO Box and your street address.
If you live in an apartment, please put the apartment number in the same box as the street address (as in 123 Main St. Apt 45).
Please do not put anything in the box for "Company" if it isn't absolutely necessary. Not "self", not "none" not "--". It wastes your time to put it in and it wastes my time to take it back out. Please just leave it blank.

International Shipments

International purchases may be subject to import duties and taxes. I cannot keep track of all import regulations in all countries written in all languages. Understanding and paying import duties and taxes is the responsibility of the buyer.
EU
TenkaraBum.com no longer ships to the EU.

Russia
TenkaraBum.com no longer ships to Russia.

UK

TenkaraBum.com no longer ships to the UK. The new VAT regulations are too onerous for a one-man shop that rarely ships anything to the UK anyway. I apologize. 

---
TenkaraBum Home > Tenkara Rods > Suntech Keiryu Sawanobori

---
"The bitterness of poor quality remains long after the sweetness of low price is forgotten" - Benjamin Franklin
"Be sure in casting, that your fly fall first into the water, for if the line fall first, it scares or frightens the fish..." -
Col. Robert Venables 1662
As age slows my pace, I will become more like the heron.

---
Warning:
The hooks are sharp.
The coffee's hot.
The fish are slippery when wet.
Beware of the Dogma

---