Tenkarabum Silicone Fly Box
The Tenkarabum Silicone Fly Box holds up to 168 flies or 49 micro spoons. Silcone slits hold securely, hold their shape and repel water.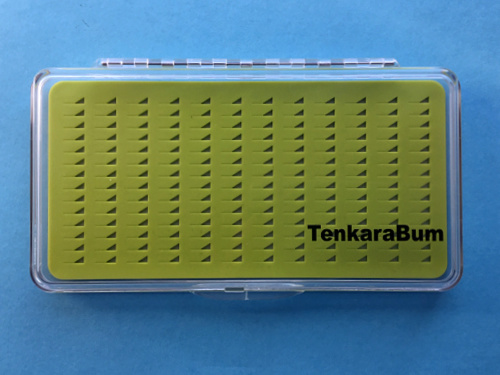 TenkaraBum Silicone Fly Box (large)
The slits, with triangle cut-outs, are constructed to make it easy to insert or remove flies. Push the hook bend down into the triangle and then push it back into the slit. To remove a fly, just pull straight up. Micro spoons are inserted and removed in exactly the same way.
The slits and silicone are a much better solution than foam into which you hook your fly or micro spoon. Whether the hooks are barbed or barbless, they do not damage the silicone at all.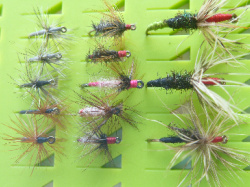 Flies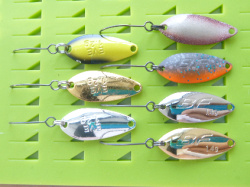 Micro Spoons
The box has a clear top, a stainless steel hinge and a positive latch.

TenkaraBum Silicone Fly Box
Small 4 1/4" x 3" x 3/4"
Holds up to 22 micro spoons - $11
---
TenkaraBum Silicone Fly Box
Medium 6" x 3 1/4" x 7/8"
Holds up to 30 micro spoons - $13
---
TenkaraBum Silicone Fly Box
Large 7 3/8" x 4" x 7/8"
Holds up to 49 micro spoons - $15
---
TenkaraBum Home > Tenkara Accessories > TenkaraBum Silicone Fly Box

---
Shipping
Domestic shipping is $4, via USPS First Class Mail (unless ordered with an item that must go via Priority Mail, and which has a higher shipping charge). The charge is added to your order automatically.
Please note: All packages are shipped via USPS. If you have a PO Box, please list ONLY the PO Box in your address, not the PO Box and your street address.
If you live in an apartment, please put the apartment number on the same line in the order form as the your street address, for example
John Doe
123 Main St Apt 4
Yourtown, XX 12345
Just leave the second line blank! Please! It takes you more time to put something in it and it takes me more time to take it back out. If you need it for a business name, use it. Otherwise, please leave it blank. No dashes, no nothing.
The charge for international shipping depends on the destination country, the weight of the package, the overall length of the package and the value of the package.
Import Duties and Taxes

International purchases may be subject to import duties and taxes. I cannot keep track of all import regulations in all countries written in all languages. Understanding and paying import duties and taxes is the responsibility of the buyer.
---
"The bitterness of poor quality remains long after the sweetness of low price is forgotten" - Benjamin Franklin
"Be sure in casting, that your fly fall first into the water, for if the line fall first, it scares or frightens the fish..." -
Col. Robert Venables 1662
As age slows my pace, I will become more like the heron.

---
Warning:
The hooks are sharp.
The coffee's hot.
The fish are slippery when wet.
Beware of the Dogma

---