Covid-19 Announcement
INTERNATIONAL: Shipments to Europe and Canada are still slightly delayed but are getting back closer to normal. Shipments to Australia are still much slower than normal.

DOMESTIC: Many deliveries are taking about a day longer than normal. A few deliveries are taking a lot longer than normal. If you are planning a trip, please order well in advance.

---
Carp Rods

The Japanese do fish for carp - and with fixed line rods. They just don't use trout rods. They use carp rods. Yes, they do exist. I think it is important to point out that the rods I am talking about are not hera rods, which are designed for catching herabuna (crucian carp) a fish which rarely exceeds 3.5 pounds. The rods I am talking about are designed for catching common carp, which seem to start at 3.5 pounds and go up - way up.
Carp rods are not rated for 5X tippets. Depending on the rod, they're rated for tippets of 3X to as much as 0X, which is equivalent to size 3 tenkara line!
So if you want to fish for carp, do it! But, do it with a carp rod.
I currently carry the Nissin Flying Dragon carp rods. For a while I had carried the Nissin Red Dragon, but dropped it when I discovered the Nissin Kyogi. Sadly, Nissin has discontinued the Kyogi.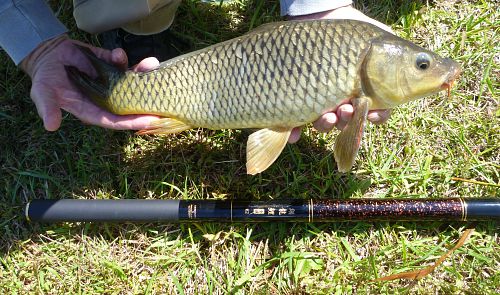 Nissin Flying Dragon carp rod.
In any event, the Flying Dragon is a lot more convenient because it collapses to about 22", the same length as most tenkara rods.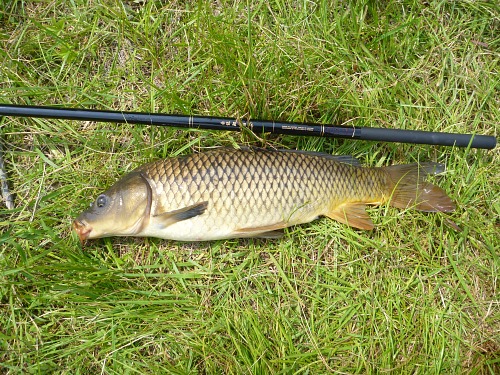 Nissin Red Dragon carp rod.
The Nissin Red Dragon is heavier than the Flying Dragon or the Kyogi. It falls between the Flying Dragon and the Kyogi with respect to flexibility, maximum tippet strength and collapsed length. I may bring it back, but its long collapsed length makes it much less convenient than the Flying Dragon. The tippet rating is 2X, which really isn't all that much stronger than 3X, so I'm not sure it is worth the extra weight and extra collapsed length.
These are all two-handed rods. Carp rods do come in shorter lengths, but for carp of any size I really think you'll want a longer rod. That said, if you do want a shorter version of one of the rods listed here, do not hesitate to ask for it. I will order one for you.
Carp Rods
Nissin Flying Dragon
---
Salmon, Steelhead & Stripers

I get a lot of questions about rods for steelhead, salmon and schoolie stripers. There are no "striper" rods in Japan, but but I can say that a carp rod  is sufficient for schoolie stripers! Daiwa, Shimano and Suntech have rods specifically designed for salmon. They're long. Daiwa's Salmon Hunter is an 8.3m rod and their Flame Hawk P-10 85 is an 8.5m rod. Shimano's Super Game Special Salmon is an 8.3-8.9m zoom rod. They're also very expensive. The Salmon Hunter is about $700, the Flame Hawk is over $900 and the Shimano is over $1000. The Suntech Suikei Special Honryu rods are a bit over $700 or $800, depending on length

Suntech Honryu Special SST
---
TenkaraBum Home > Carp Rods

---
"The bitterness of poor quality remains long after the sweetness of low price is forgotten" – Benjamin Franklin
"Be sure in casting, that your fly fall first into the water, for if the line fall first, it scares or frightens the fish..." Col. Robert Venables 1662
As age slows my pace, I will become more like the heron.

---
Warning:
The hooks are sharp.
The coffee's hot.
The fish are slippery when wet.
Beware of the Dogma

---