Carp Rods

The Japanese do fish for carp - and with fixed line rods. They just don't use trout rods. They use carp rods. Yes, they do exist. I think it is important to point out that the rods I am talking about are not hera rods, which are designed for catching herabuna (crucian carp) a fish which rarely exceeds 3.5 pounds. The rods I am talking about are designed for catching common carp, which seem to start at 3.5 pounds and go up - way up.
Carp rods are not rated for 5X tippets. Depending on the rod, they're rated for tippets of 3X to as much as 0X, which is equivalent to size 3 tenkara line!
So if you want to fish for carp, do it! But, do it with a carp rod.
I currently carry the Nissin Flying Dragon carp rods. For a while I had carried the Nissin Red Dragon, but dropped it when I discovered the Nissin Kyogi. Sadly, Nissin has discontinued  both the Kyogi and the Red Dragon.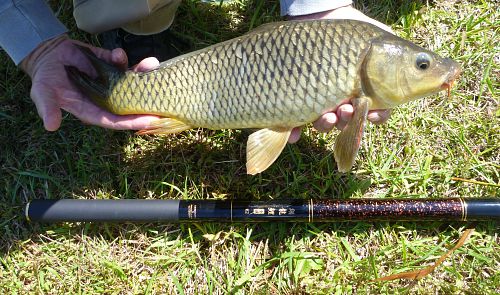 Nissin Flying Dragon carp rod.
In any event, the Flying Dragon is a lot more convenient because it collapses to about 22", the same length as most tenkara rods.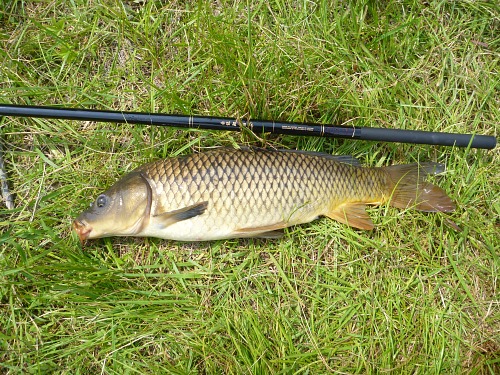 Nissin Red Dragon carp rod.
These are all two-handed rods. Carp rods do come in shorter lengths, but for carp of any size I really think you'll want a longer rod. That said, if you do want a shorter version of one of the rods listed here, do not hesitate to ask for it. I will order one for you.
Carp Rods
Nissin Flying Dragon
---
Salmon, Steelhead & Stripers

I get a lot of questions about rods for steelhead, salmon and schoolie stripers. There are no "striper" rods in Japan, but but I can say that a carp rod  is sufficient for schoolie stripers! Daiwa, Shimano and Suntech have rods specifically designed for salmon. They're long. Daiwa's Salmon Hunter is an 8.3m rod and their Flame Hawk P-10 85 is an 8.5m rod. Shimano's Super Game Special Salmon is an 8.3-8.9m zoom rod. They're also very expensive. The Salmon Hunter is about $700, the Flame Hawk is over $900 and the Shimano is over $1000. The Suntech Suikei Special Honryu rods are a bit over $700 or $800, depending on length

Suntech Honryu Special SST
---
TenkaraBum Home > Carp Rods

---
"The bitterness of poor quality remains long after the sweetness of low price is forgotten" - Benjamin Franklin
"Be sure in casting, that your fly fall first into the water, for if the line fall first, it scares or frightens the fish..." -
Col. Robert Venables 1662
As age slows my pace, I will become more like the heron.

---
Warning:
The hooks are sharp.
The coffee's hot.
The fish are slippery when wet.
Beware of the Dogma

---