Nissin Flying Dragon Carp Rod

The Nissin Flying Dragon carp rods offer one significant advantage over the Nissin Kyogi rods - they collapse to a convenient 22 inches compared to 47 inches! I've had a few customers who wanted the capability of a carp rod but the long collapsed length was a deal breaker. I have another customer who bought one of the carp rods that do not collapse to a convenient length, and absolutely loves the rod, but on a recent trip for which it would have been ideal he ended up leaving it home. It wouldn't fit in a carry-on bag or a checked suitcase, and checking another piece of luggage these days is $25 - each way!

The Nissin Flying Dragon carp rods are rated for 3X tippets. Although that is less than the 0X rating of the Nissin Kyogi, it is stronger than the 4X tippets that the Tenkara Guides in Salt Lake City routinely use for carp. I think it should be sufficient.

The Nissin Flying Dragon is capable of handling fish larger than this.
Interestingly, the Nissin Zerosum Oni Tenkara Honryu 450 is also rated for 3X tippet, but that does not make it a carp rod! It is a 20 penny rod - right in line with the other Honryu tenkara rods and nowhere near the 68 pennies of the Flying Dragon 530 carp rod! To fight a big fish, you need more than just a strong tippet, you need a rod that is stiff enough to resist the pull of a strong fish - that still has "bend" left - right up to the breaking strength limit of the tippet. The Oni Honryu is a strong rod, but it is much too soft for carp.
A real carp rod, whether the Flying Dragon or the Kyogi, has the stiffness (and the length) you need to get the leverage to turn a carp. ERiK Ostrander taught me that you can't stop one, but you can turn one if you hold your rod nearly horizontal and put side pressure on the fish. Instead of stopping a run, you make it run in a semicircle, first one direction and then the other until it gets tired.

The Nissin Flying Dragon 530 and 620 both can cast an unweighted wet fly with size 4 level line. A bead-chain-eyed carp fly (with or without a few lead wraps) is even easier to cast. Casting a weighted fly is not silky smooth (with any rod), but it is effective.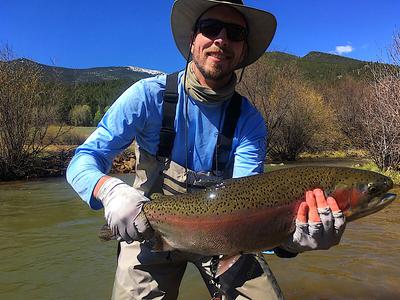 Jared K with Flying Dragon Rainbow.
And if you have any doubts at all about whether a carp rod is appropriate for trout, just take a look at Jared K's rainbow above. Despite the size of the fish, Jared said "I was in complete control the whole time." To get the full story, read his review of the rod.
For some time now I have wondered whether carp rods would be able to handle steelhead. I finally have my answer! Frank L from Ohio wrote in and told me a little about his carp and steelhead fishing with the Flying Dragon 530. Frank has fished the Great Lakes tributaries in Ohio for forty years and knows the fishery well. He says the average Great Lakes steelhead is about 25" long and weighs about 5 pounds. He says the Flying Dragon 530 handles the average Great Lakes steelhead well. He hasn't hooked any really large fish, which might be 30" long and weigh 10 pounds. He said a large, hot fish might be a problem for the Flying Dragon, but he has caught 10-12 pound carp with the rod.

Despite being able to land dragons, I was very surprised at how sensitive the rod is, and how well it transmits even the tiniest tap. While carp fishing for the first time with the rod, I clearly felt the take of a 3" bluegill in still water. Feeling the take of a trout in current will be a snap. For nymphing, I'd use a Tactical Nymphing Sighter for strike detection, but if you wanted to fish a tight line by feel, you could.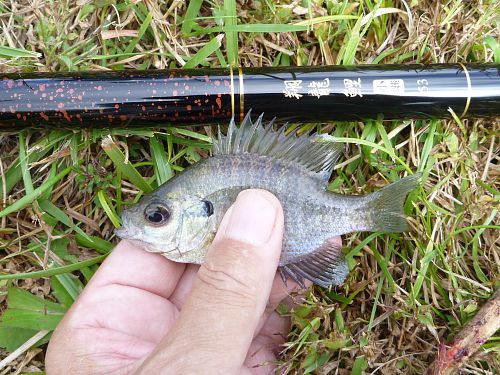 The Nissin Flying Dragon is sensitive enough to detect subtle hits...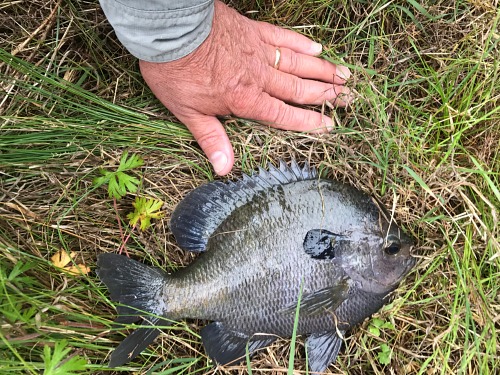 ... and the not-so-subtle ones! (Frank B photo)
I'm sure the average fly fisherman would never think of Czech nymphing with a 5.3 meter rod, but if you are fishing any river that is 30 or more feet wide and doesn't have low overhead tree branches, a longer rod is going to give you better drifts. If you are fishing a wide, deep, fast river, the Nissin Flying Dragon carp rod has the backbone you'd need to fish the heavy flies required to get down to where the fish are (Jared K was fishing a weighted nymph with three BB shot on the tippet. He said "The rod had no problem casting this weight.")
17" Largemouth Bass caught on a Muddler Minnow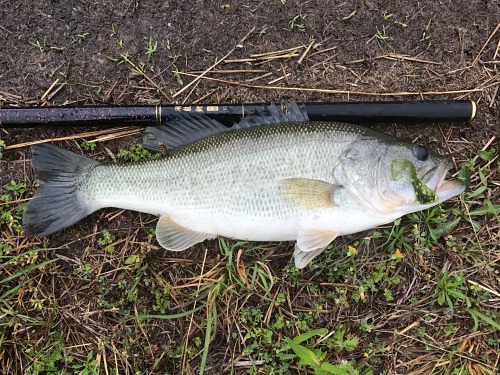 Nice rod for ponds, with long reach and strong enough for large bass. - Frank B
The other side of that coin, though, is that the Nissin Flying Dragon Carp Rod is designed with big fish in mind. Any fixed line rod that can handle th 10 to 12 pounders is going to be overkill for the 10 to 12 inchers. If you catch big bass or big trout, though, the rod can handle them.
Equally important: When considering this rod for Czech nymphing, understand that this rod is NOT a one-hander. You will need both hands for casting the rod and for holding it during the drift.

Aaron B with a nice carp.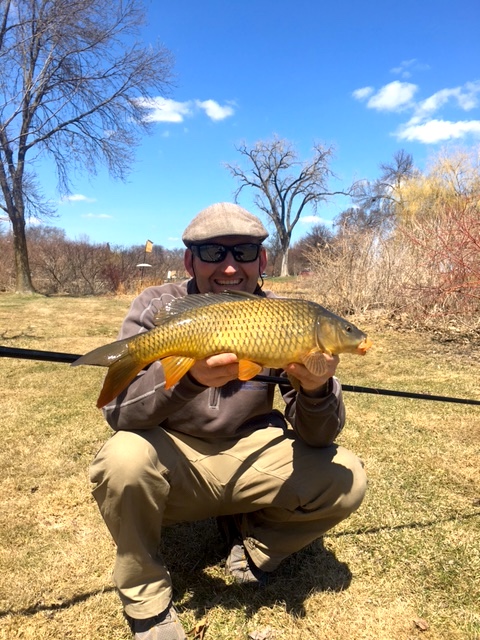 Eric K photos.
Despite the photos of trout, bluegills and bass, at its heart, the Nissin Flying Dragon is a carp rod - a very effective, convenient, and portable carp rod!

Nissin Flying Dragon Carp Rod
  Features and Stats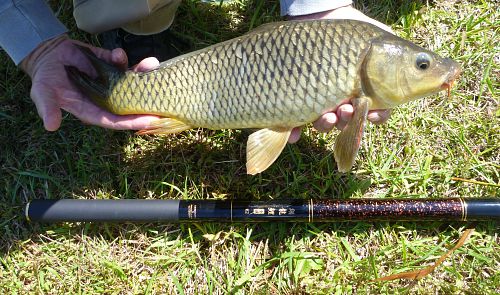 If you focus your attention on the rod rather than the fish, you'll notice that the grip is just a nonskid coating on the end of the last section. (In this case, section #14, NOT section #1!)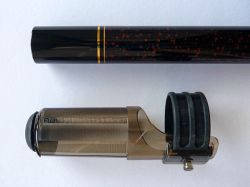 The Nissin Flying Dragon Carp Rods come with Fuji Rod Caps. The Flying Dragon 530 takes a KTC-25 (shown) and the 620 takes a KTC-28.

The Meiho small tenkara line holders will not fit over the ends of these rods, and the Fuji EZ Keepers will not fit either. In practice, I have not needed to move from one spot to another very frequently. When I did move, I removed the line, replaced the Fuji rod cap, wound the line on a tenkara line holder and slid it into a vest pocket. I am sure I would move a lot more using the rod for Czech nymphing in a river than fishing for carp in a pond. Still, taking the line off the rod and replacing it at the next spot takes only seconds.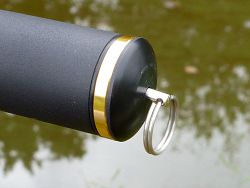 The grip screw cap has a split ring, as does the Red Dragon Carp Rod, which I am sure is so you can clip on a rod leash. I suppose it would help you retrieve your rod if you threw it in the water (which I would not recommend). I suspect it is more likely there so you can tie the rod down and thus prevent a carp from taking it if you are fishing from the bank with the rod propped up with a rod holder or forked stick. If a carp happens to take your bait, feels the hook and bolts, the rod had better be in your hands or tied down. Use the split ring any way you want, but it is nice to know it's there.
Because they are so much more compact and convenient, the Nissin Flying Dragon Carp Rods will allow more people to enjoy fixed line carp fishing. As John Vetterli of the Salt Lake City Tenkara Guides says, "It is just too much fun."
What's more, I am pretty sure my customer who uses his Red Dragon for nymphing and for stripers is on to something, carp rods are going to be used for a multitude of species and a variety of situations - anywhere you'd want a big rod to go chase big fish.
Nissin Flying Dragon Carp Rod
Length extended
Length collapsed
Weight without rod cap
Tip Diameter
Grip Diameter
Sections
Pennies


530
17'1"
22"
5.3 oz
1.0 mm
23.8mm
12
68


620
20'2"
22"
7.6 oz
1.0mm
27.9mm
14
?

Rod made in Japan

---
TenkaraBum Home > Fixed Line Carp Fishing > Nissin Flying Dragon Carp Rod

---
"The bitterness of poor quality remains long after the sweetness of low price is forgotten" - Benjamin Franklin
"Be sure in casting, that your fly fall first into the water, for if the line fall first, it scares or frightens the fish..." -
Col. Robert Venables 1662
As age slows my pace, I will become more like the heron.

---
Warning:
The hooks are sharp.
The coffee's hot.
The fish are slippery when wet.
Beware of the Dogma

---