TenkaraBum Store - Flies
The price is $7.50 for 3 flies (except for the Keeper Kebari, which is $8.25 for three). Purchases of a dozen or more will be mailed in a 6-compartment fly box.
All the flies offered on TenkaraBum.com were tied in the US.

---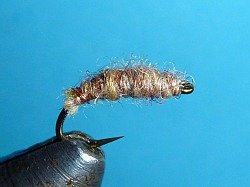 Killer Bug
Killer Bug
$7.50 for 3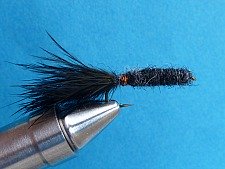 Killer Bugger
Black Killer Bugger
$7.50 for 3
---
Keeper Kebari
Keeper Kebari
$8.25 for 3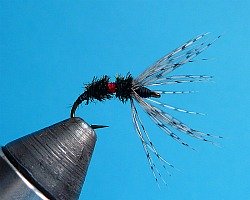 Royal Sakasa Kebari
Royal Sakasa Kebari
$7.50 for 3
---
---
I will be away from Tuesday, Oct 15 through Monday, Oct 21. Shipments will resume on Oct 22. Orders can be placed while I am away. After I return they will be processed in the sequence they were received.

---
Warning! The hooks are sharp! Keep out of the reach of unsupervised children. Keep away from pets. Wear eye protection.
And if you think you might hook yourself or your fishing partner, please  buy the flies tied on barbless hooks (or bend down the barb on barbed hooks before hooking yourself or your partner).

---
TenkaraBum Home > TenkaraBum Store > TenkaraBum Store - Flies
---
"The bitterness of poor quality remains long after the sweetness of low price is forgotten" – Benjamin Franklin
"Study to be quiet." - Izaak Walton 1653

"Be sure in casting, that your fly fall first into the water, for if the line fall first, it scares or frightens the fish..." Col. Robert Venables 1662
As age slows my pace, I will become more like the heron.

---
Warning:
The hooks are sharp.
The coffee's hot.
The fish are slippery when wet.
Beware of the Dogma

---