TenkaraBum Store - Flies
The price is $7.50 for 3 flies (except for the Keeper Kebari, which is $8.25 for three).

The flies offered on TenkaraBum.com were tied in the US.
Click here for additional information about the Killer Bug, Killer Bugger and Keeper Kebari. The Royal Sakasa Kebari is an example of the Sakasa Kebari style.

---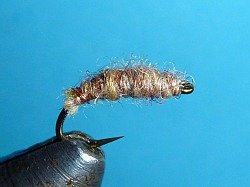 Killer Bug
Killer Bug
$7.50 for 3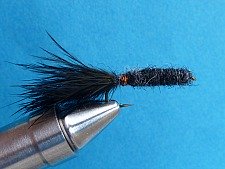 Killer Bugger
Black Killer Bugger
$7.50 for 3
---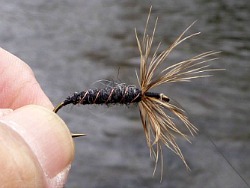 Keeper Kebari
Keeper Kebari
$8.25 for 3
Royal Sakasa Kebari
Royal Sakasa Kebari
$7.50 for 3
---
Warning! The hooks are sharp! Keep out of the reach of unsupervised children. Keep away from pets. Wear eye protection.
If you think you might hook yourself or your fishing partner, bend down the barb on barbed hooks before hooking yourself or your partner.

---
---
Shipping
Domestic shipping is $4, via USPS First Class Mail (unless ordered with an item that must go via Priority Mail, and which has a higher shipping charge). The charge is added to your order automatically.
Please note: All packages are shipped via USPS. If you have a PO Box, please list ONLY the PO Box in your address, not the PO Box and your street address.
The charge for international shipping depends on the destination country, the weight of the package, the overall length of the package and the value of the package.
International shipments

International purchases may be subject to import duties and taxes. I cannot keep track of all import regulations in all countries written in all languages. Understanding and paying import duties and taxes is the responsibility of the buyer.
UK
TenkaraBum.com no longer ships to the UK. The new VAT regulations are too onerous for a one-man shop that rarely ships anything to the UK anyway. I apologize.

Australia
The USPS has suspended all shipments to Australia. UPS will deliver, but the shipping charge is more than $20 higher than the charge that will be calculated at checkout, requiring an additional payment.

---
TenkaraBum Home > TenkaraBum Store > TenkaraBum Store - Flies
---
"The bitterness of poor quality remains long after the sweetness of low price is forgotten" - Benjamin Franklin
"Be sure in casting, that your fly fall first into the water, for if the line fall first, it scares or frightens the fish..." -
Col. Robert Venables 1662
As age slows my pace, I will become more like the heron.

---
Warning:
The hooks are sharp.
The coffee's hot.
The fish are slippery when wet.
Beware of the Dogma

---