Tenryu Rayz Spectra

(and the Curse of the Kurenai)

The Tenryu Rayz Spectra reminds me a bit of the Suntech Kurenai HM30R.
The Suntech Kurenai HM30R comes with a curse. If you even touch one you will come under it's spell. You will want one. You will not be able to get it out of your mind! If your friend has one and says "here try this" you will fall under the curse and will want one yourself. It is just a wonderful rod and that wonder is infectious.
That is exactly what I felt when I first took a Spectra RZS51LL out of it's case. Wow!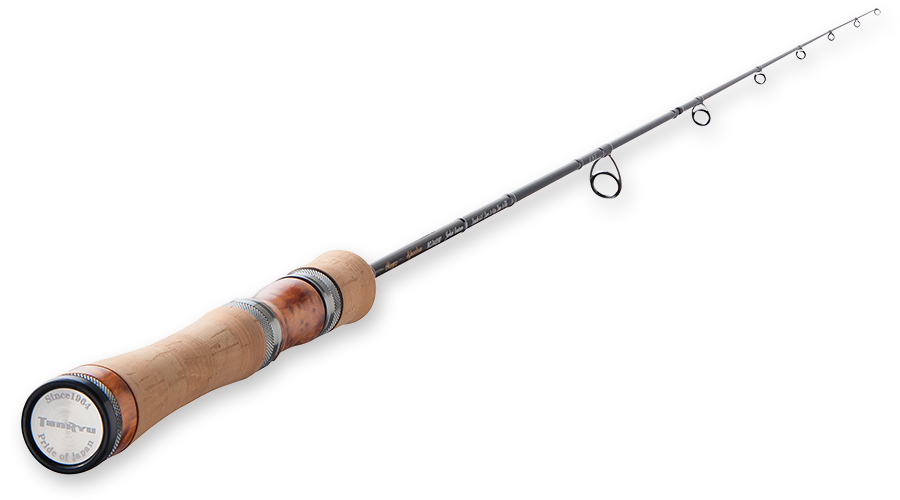 Tenryu Rayz Spectra
People who have a Tenryu Furaibo tenkara rod or a Tenryu Rayz spinning or baitcasting rod know how nice they are. They are expensive but they are worth every yen.
As nice as the Tenryu Furaibo rods are, and as nice as the Tenryu Rayz rods are, this rod is on another level. Tenryu says the parabolic action of the blank was inherited from the Rayz series, but if you pick up both and wiggle them one after another, you can tell in an instant that they are not the same.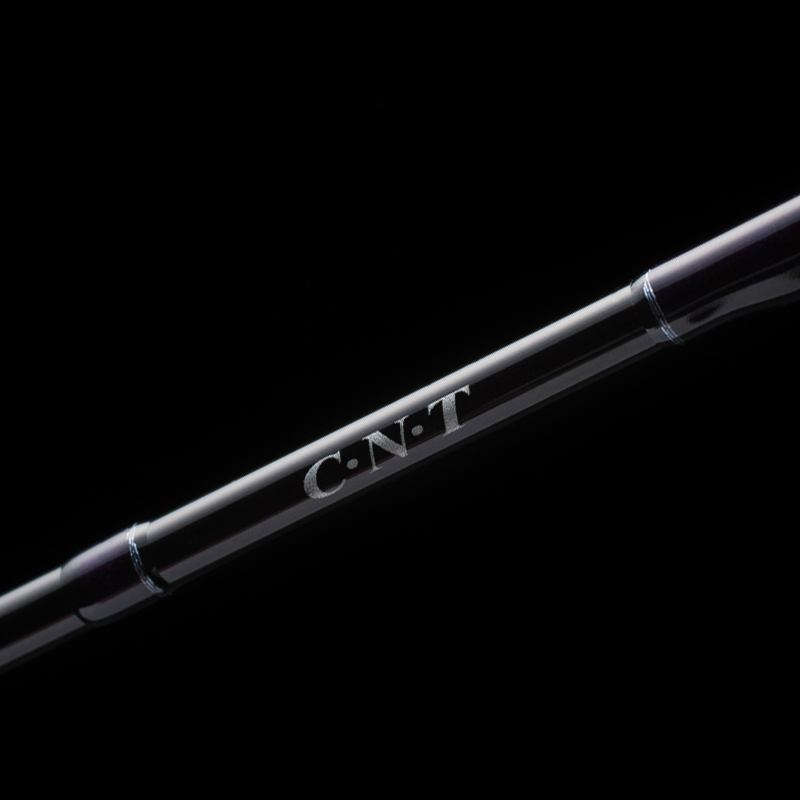 CNT Technology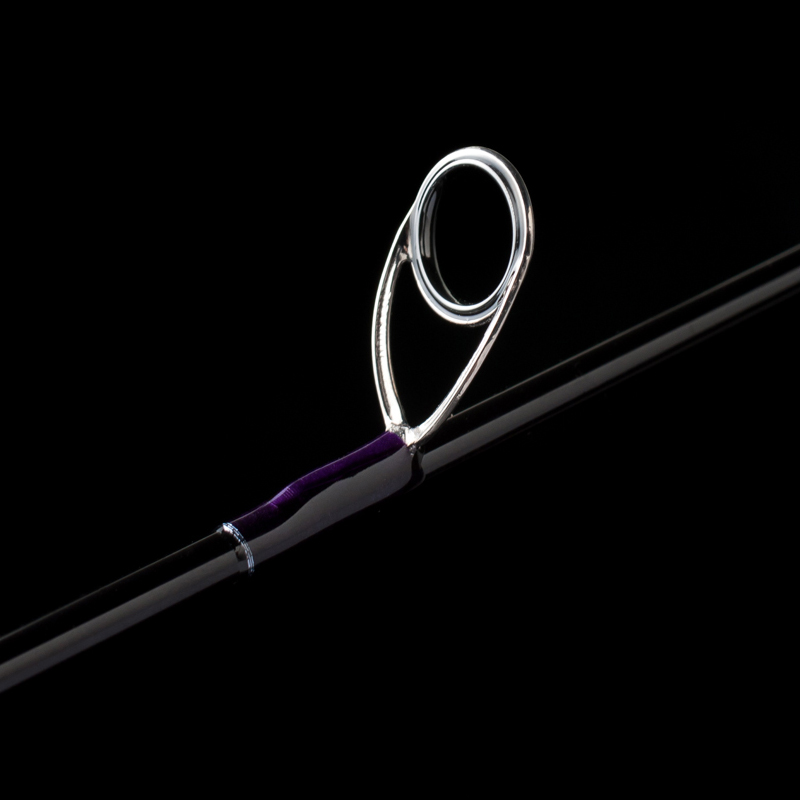 Titanium Guides with Torzite Inserts
The Tenryu Rayz Spectra rods are two piece rods, with the butt section reinforced with carbon nanotube technology. I had a vague idea of what carbon nanotubes are, but I had no idea how their use would change the feel of a fishing rod. The use of carbon nanotubes allowed Tenryu to make the blank both stronger and lighter.
The guides on the Tenryu Rayz rods are titanium frames with SIC inserts. The guides on the Rayz Spectra rods have the same titanium frames but have Torzite inserts - which are thinner and lighter. A lighter blank and lighter guides may seem like small things, but they affect the rod's inertia and that affects how the rod feels when you wiggle it or cast it (and it feels really, really nice).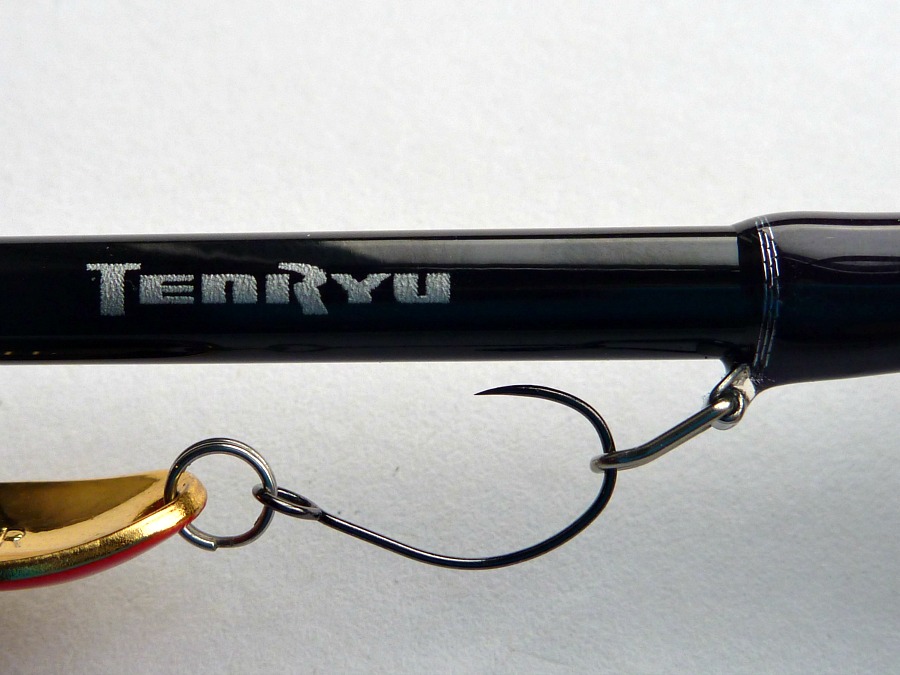 Hook Keeper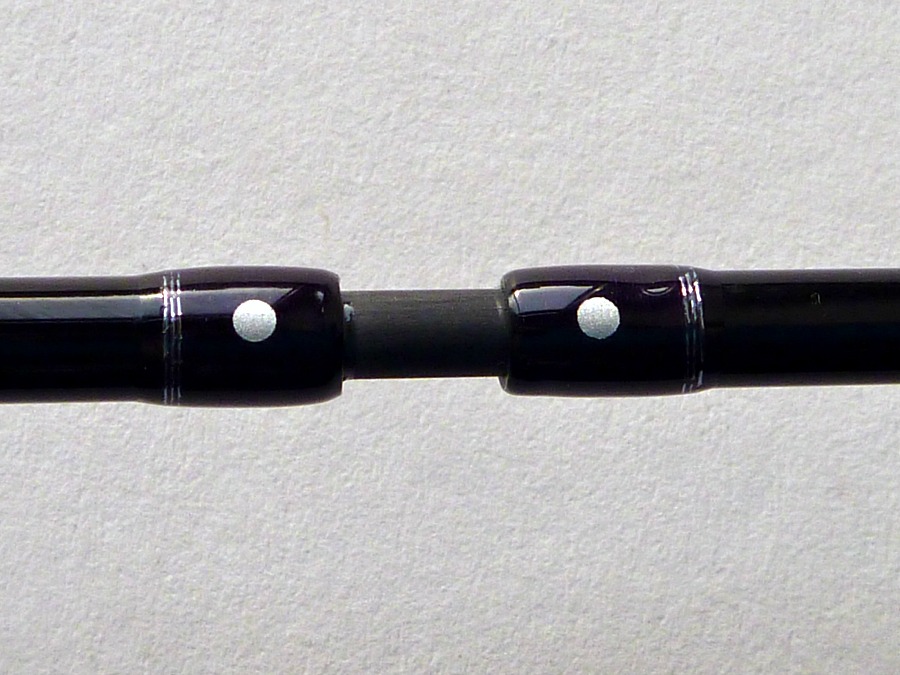 Alignment Dots
The two parts are designed to be about that far apart when assembled. Do not try to force them closer together.
One of the smaller Tenryu Rayz Spectra features that doesn't affect how it feels or how it casts but is nice nonetheless is the built-in hook keeper. Having the hook keeper, which folds away when not in use, prevents possibly scratching the guides with the hook on your spoon or plug if you hook your lure to a guide, which many people do. It also prevents you from hooking the lure into the cork or putting a cheap plastic hook keeper on the blank of your super premium rod.
It was nice touch to put white dots on the two sections so you know in an instant as you assemble the rod that the guides will be in perfect alignment.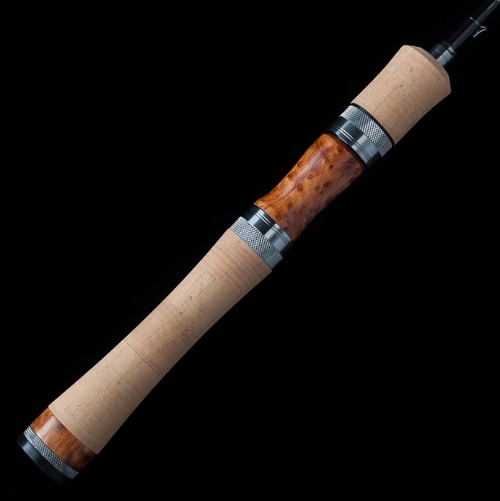 Tenryu Rayz Spectra Grip and Reel Seat
In addition to performing well, you want a premium rod to look good - not to show off, but just because you yourself enjoy it. The Tenryu Rayz Spectra does not disappoint. The grip is premium quality cork. The reel seat is select hardwood. Each one has a unique grain pattern. There is a matching hardwood accent piece between the cork and the end cap.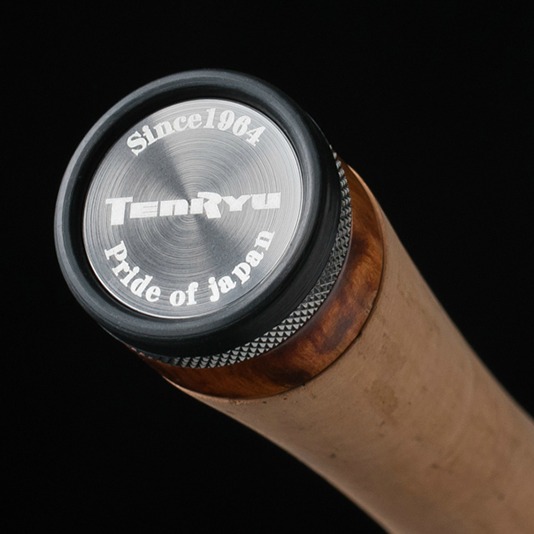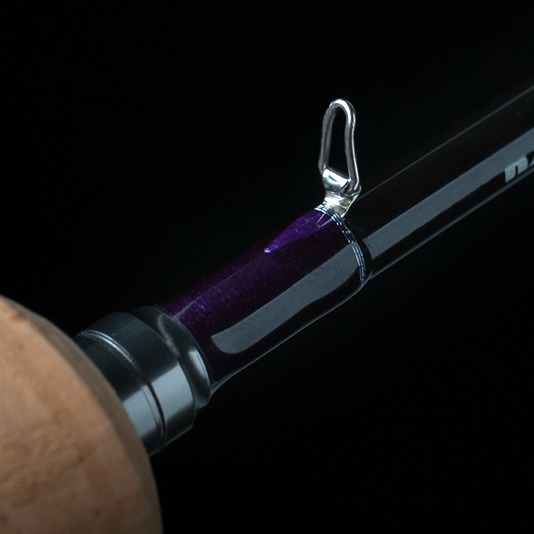 The end cap itself is protected from scratches by a raised rubber ring.
Although it is subtle and not obvious other than in bright sunshine, the windings are a deep purple.
In one of the Tenkara in Focus videos, I think it was Go Ishii that said Tenryu was thought to have the best blanks in the country. He also said that they were better known for their lure rods. When you consider the Tenryu Rayz Spectra you can certainly understand how that could be true.
When I first imported the Tenryu Furaibo TF39TA tenkara rods I only bought a few. I wasn't sure American tenkara anglers would spend over $500 for a tenkara rod. I was wrong and later in the year bought every single TF39TA Tenryu had left in stock. I made the same mistake with the Rayz RZ39LL 3'9" spinning rod. I wasn't sure Americans would buy a rod that was that short. (I again had to later buy every one Tenryu had left in stock.)

After receiving the Tenru Rayz Spectra (and after picking one up and thus getting captured by the curse) I was afraid I may have made the same mistake again with the Spectra! This time, though, I placed another order almost immediately!

As it turns out, I did run out of stock anyway, but I have more now!

Tenryu Rayz Spectra RZS51LL Specs

Model                    RZS51LL
Type                     Native (stream rod)
Length                  5'1"
Sections                2
Breakdown Length   31 1/4"
Rod Weight            2.3 oz
Line Weight            1 - 5 lb
Lure Weight            1 - 8 grams (roughly 1/32 - 1/4 oz)
Rod made in Japan

Tenryu Rayz Spectra RZS51LL - $435
---
Shipping
Domestic shipping is $10 via USPS Priority Mail (2-3 day delivery).
Please note: All packages are shipped via USPS. If you have a PO Box, please list ONLY the PO Box in your address, not the PO Box and your street address.
If you live in an apartment, please put the apartment number in the same box as the street address (as in 123 Main St. Apt 45).
Please do not put anything in the box for "Company" if it isn't absolutely necessary. Not "self", not "none" not "--". It wastes your time to put it in and it wastes my time to take it back out. Please just leave it blank.

International Shipments

International shipments are taking weeks longer than normal and tracking does not seem to be working.
International purchases may be subject to import duties and taxes. I cannot keep track of all import regulations in all countries written in all languages. Understanding and paying import duties and taxes is the responsibility of the buyer.
Russia
TenkaraBum.com no longer ships to Russia.

UK

TenkaraBum.com no longer ships to the UK. The new VAT regulations are too onerous for a one-man shop that rarely ships anything to the UK anyway. I apologize.

Australia and New Zealand

The US Postal Service has suspended all shipments to Australia and New Zealand. There are two alternatives. One is the same price as the USPS had been (as calculated at checkout) but may take 3-4 weeks. The other is UPS, which is considerably faster (3-5 days), but also considerably more expensive. If you want the faster, UPS shipment, I will send an invoice for the required amount.

TenkaraBum Home > Rods > Tenryu Rayz Spectra RZS51LL

---
"The bitterness of poor quality remains long after the sweetness of low price is forgotten" - Benjamin Franklin
"Be sure in casting, that your fly fall first into the water, for if the line fall first, it scares or frightens the fish..." -
Col. Robert Venables 1662
As age slows my pace, I will become more like the heron.

---
Warning:
The hooks are sharp.
The coffee's hot.
The fish are slippery when wet.
Beware of the Dogma

---