Daiwa Iprimi 56XXUL-S

---
The Daiwa Iprimi 56XXUL-S is an extra, extra ultralight spinning rod that is rated for lures as light as .4g (1/70th oz). It is the best micro fishing spinning rod I have found (and most micro fishermen use spinning rods, not fixed line rods). Even if you are not specifically fishing for micros, it is a fun rod for catching just about any small to medium sized fish.
And if you want have fun catching the fish that are in the town park (even if they aren't trophies), boy, do I have the rod for you!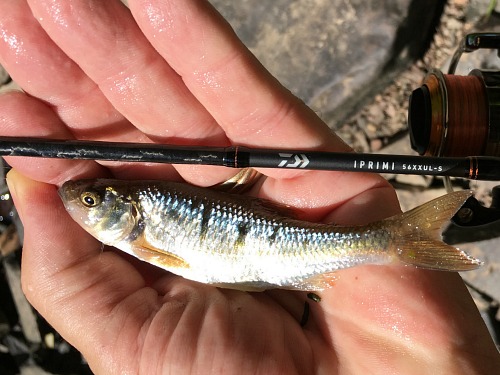 Common Shiner
Similarly, if you go to any of hundreds of eastern trout streams, and if you are not disappointed when the fish you hook turns out to be a fallfish or a common shiner instead of a brown trout. This is the rod you want.
The designers intended the Daiwa Iprimi 56XXUL-S to be a trout rod, not a shiner rod. It is a rod designed for fishing what are called "Areas," which are managed, pay-to-fish lakes stocked with trout. Some of the trout are quite large but there is no current and there are no snags to worry about, and if you have a reel with a good drag even an extra, extra ultralight rod is sufficient.
We don't have many pay-to-fish areas in the US, but we have thousands (probably many thousands) of bodies of water that have fish in them - not big fish perhaps, but fish that are there and that you can catch. With an extra, extra ultralight rod like the Daiwa Iprimi 56XXUL-S, the fish don't have to be big to be fun.
Seriously, any rod that is rated to cast a 1/70th ounce lure is going to be fun with very modest fish!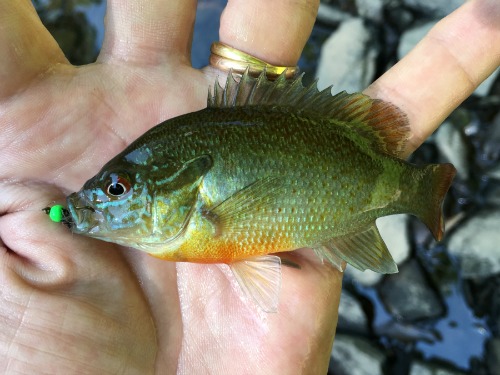 Redbreast Sunfish
A couple summers ago, Coach and I had a species contest, trying to see how many species of fish we could catch in a day. We caught 14 species (which was less than he had projected but still isn't at all bad). The redbreast sunfish shown above was one that I had caught.
The only thing remarkable about it is that it was caught with a fly - a bead head hare's ear nymph. Actually, catching a sunfish with a bead head nymph is not very remarkable, the remarkable part is I could cast that bead head nymph with the spinning rod! No casting bubble, no float, no added split shot - just the bead head nymph. The nymph had a fairly large bead head, as you can see, but still! Truthfully, I couldn't cast it all that far, but it was clearly far enough to catch fish!
It probably isn't a coincidence that the low end of the recommended lure weight range for the Daiwa Iprimi 56XXUL-S is .4 grams - exactly the weight of the lightest Daiwa Presso Vega spoons! (The Vega spoons have since been discontinued, but if you enjoy fishing with micro spoons, this rod will do very well with them.)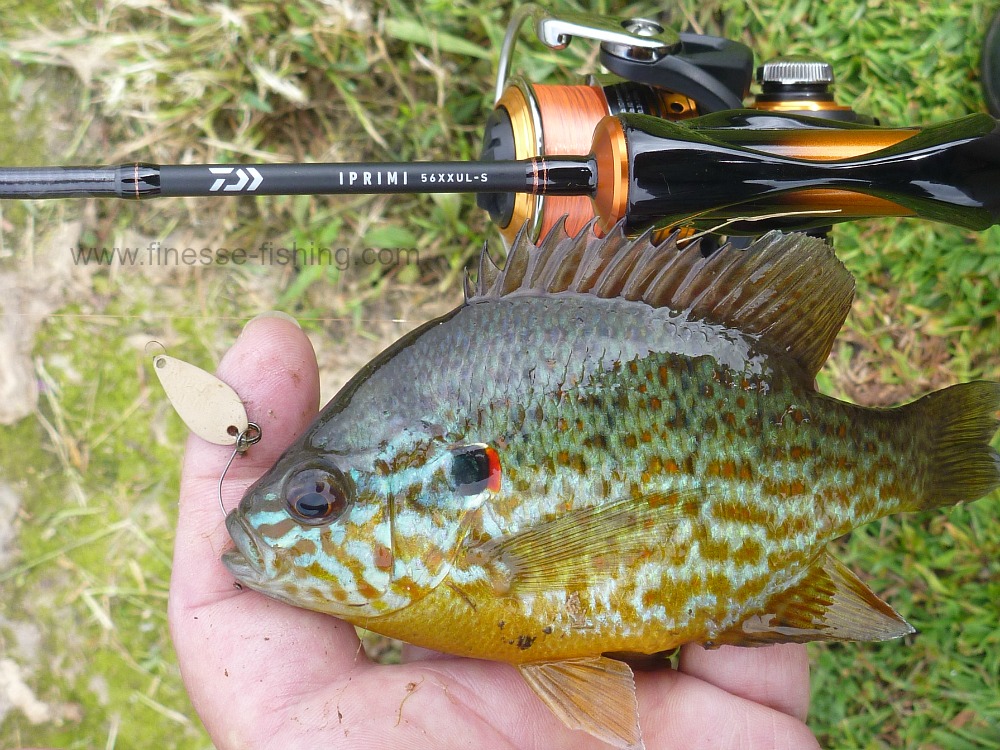 Pumpkinseed, Daiwa Presso Vega spoon, Daiwa Iprimi 56XXUL-S.
To be sure, the .4 gram spoons didn't cast very far, even with 2 lb line, but they did cast far enough to catch fish (particularly the small sunnies that are near shore in a town park, or the common shiners or creek chubs that are in a small stream). For that matter, I have caught more than a few trout with a 2.7m fixed line rod, and you can cast a .4g spoon further with the 56XXUL-S than you can cast a fly with a 2.7m rod!
I have to admit, though, that even though the Daiwa Iprimi 56XXUL-S could cast the .4g Vega spoons, it was able to cast .8g Vega spoons much, much better. The two spoons were exactly the same size, with the heavier one just stamped out of thicker metal. That is the same situation with the Rodio-craft .5g and .7g Blinde Flanker spoons, the .9g and 1.5g Forest Marshal Tournament spoons. The point is that slightly heavier, easier-to-cast spoons that are still very small are available.

The upper end of the recommended lure weight range is 2.5 grams - exactly the weight of the Daiwa Eve Gekiatsu spoons - which again are the same size (length and width) as the 1.2g spoons, but are stamped from thicker metal. They are still quite small - less than an inch long - which means they are just the right size for small sunfish or creek chubs or shiners.
Lure fishing for micros is a real possibility.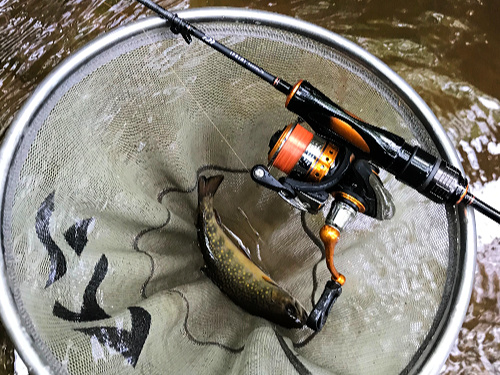 Brook trout caught with Daiwa Iprimi 56XXUL-S -- Charles C photo
When I first wrote about the Daiwa Iprimi 56XXUL-S I lamented that I had wanted to catch a brookie with the rod - as I thought it would prove to be a great little brookie rod. Well, I couldn't get a good photo that day. Luckily, Charles C bailed me out with a photo of one of the brookies he's caught with the rod.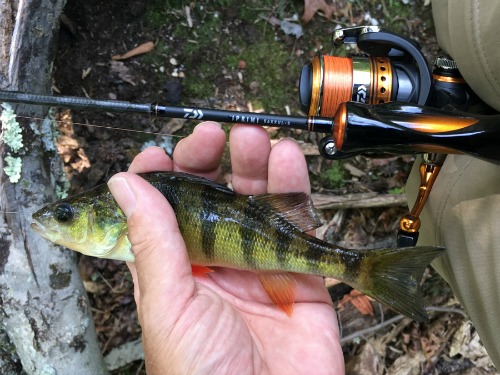 Yellow Perch
Overall, the rod is just a fun little rod. It is short for a lake rod at 5'6", but that is a good length for small streams or for fishing ponds. You don't have a huge casting range with a rod that short, but if there's one thing tenkara anglers have learned, it is that you don't have to cast very far to catch fish.
Because it is a particularly soft rod, it is a lot of fun with even very modest fish. Sunfish, shiners, creek chubs - they'll all put a bend in the rod and a smile on your face.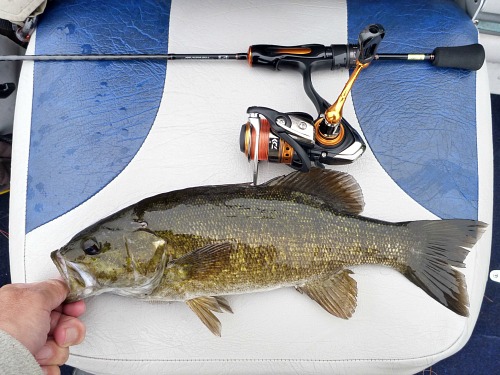 Smallmouth Bass
But if you happen to hook a fish that is larger than you expected, and if you don't have to muscle it away from a brush pile or downed tree, the rod will do just fine. That said, the rod is rated for no more than 3 lb test line, so you aren't going to muscle much of anything!
I should mention that the "S" at the end of Daiwa Iprimi 56XXUL-S stands for solid tip. Most spinning rods have hollow tip sections. The last 6" of the 56XXUL-S tip section is solid - just like the solid tip of most tenkara rods. That makes for a very sensitive tip.

Of course, it's not just a rod for micros! In Japan it is a trout rod and it will do just fine with trout here also - modest trout in streams and larger trout in lakes.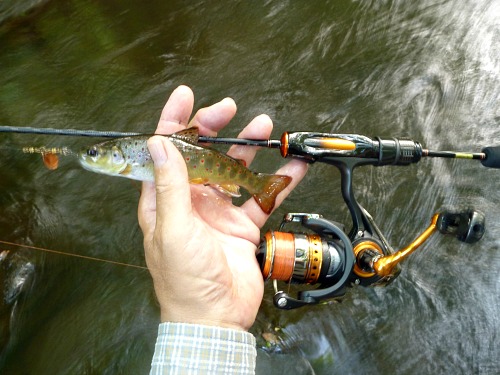 Brown Trout caught with a Colorado Spinner.
Truly, this is a finesse rod. If you can keep that in mind and if you can be happy catching modest fish with tiny lures, you can have an awful lot of fun with it.

Please note: when you put the two sections together there will be a gap. It is supposed to be that way. Do not force it.

Daiwa Iprimi 56XXUL-S Stats

Model
Length
Sections
Breakdown
Length
Rod Weight
Line Weight
Lure Weight

Iprimi 56XXUL-S
5'6"
2

34.25"
2.1 oz
1.5 - 3 lb
1/70 - 1/11 oz
(.4-2.5g)
Made in Vietnam
---
Shipping
Domestic shipping is between $10 and $15, depending on package weight and destination, via USPS Ground Advantage (2-5 day delivery).

Please note: All packages are shipped via USPS. If you have a PO Box, please list ONLY the PO Box in your address, not the PO Box and your street address.
If you live in an apartment, please put the apartment number in the same box as the street address (as in 123 Main St. Apt 45).
Please do not put anything in the box for "Company" if it isn't absolutely necessary. Not "self", not "none" not "--". It wastes your time to put it in and it wastes my time to take it back out. Please just leave it blank.

International Shipments

International purchases may be subject to import duties and taxes. I cannot keep track of all import regulations in all countries written in all languages. Understanding and paying import duties and taxes is the responsibility of the buyer.
EU
TenkaraBum.com no longer ships to the EU.

Russia
TenkaraBum.com no longer ships to Russia.

UK

TenkaraBum.com no longer ships to the UK. The new VAT regulations are too onerous for a one-man shop that rarely ships anything to the UK anyway. I apologize. 

---
TenkaraBum Home > Rods > Daiwa Iprimi 56XXUL-S

---
"The bitterness of poor quality remains long after the sweetness of low price is forgotten" - Benjamin Franklin
"Be sure in casting, that your fly fall first into the water, for if the line fall first, it scares or frightens the fish..." -
Col. Robert Venables 1662
As age slows my pace, I will become more like the heron.

---
Warning:
The hooks are sharp.
The coffee's hot.
The fish are slippery when wet.
Beware of the Dogma

---