Tenryu Rayz Integral RZI50UL-4
The Tenryu Rayz Integral RZI50UL-4 and RZI50L-4 are the ideal spinning rods for a backpacker, traveler or someone who takes more than one rod when fishing.
Recently, a devoted tenkara angler asked me to recommend a spinning rod and reel. I already knew that he's an avid backpacker. I also knew that he strongly believes that tenkara is the ideal way to fish a high-gradient mountain stream. Whereas many American anglers also would use their tenkara rods to fish high mountain lakes or larger rivers, he feels that outside of the waters on which tenkara was developed, it really isn't the ideal way to fish. For lakes and larger rivers, he'd rather use a spinning rod and reel.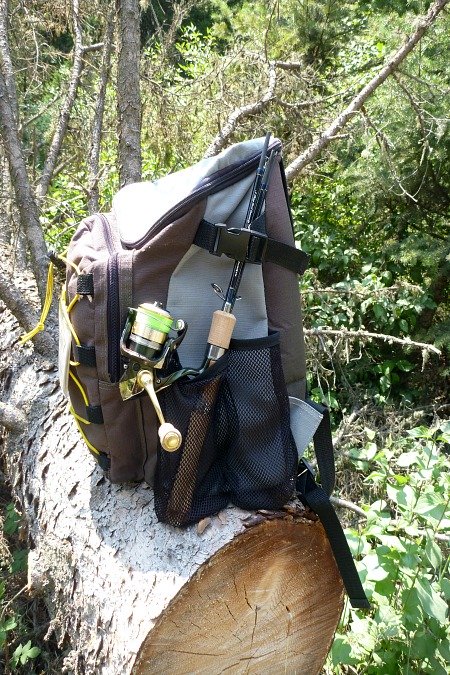 Tenryu Rayz Integral RZI50UL-4 with BW Sports Backpack
On his hikes in the high country, he plans to fish with tenkara gear in the streams and spinning gear in the lakes. Thus, he will generally carry more than one rod. When he told me what weight lures he wanted to fish, the best rod and reel choice became obvious.
Although he would use an ultralight backpack rather than the BW Sports Fishing Backpack shown, the Tenryu Rayz Integral RZI50UL-4 will be the perfect rod for his needs.
First and foremost, it is an excellent rod. He has a Tenryu Furaibo TF39TA tenkara rod and appreciates the company's commitment to quality.
The 4-piece rod will fit inside his backpack. It comes with a hard case and divided rod sock (exclusive to TenkaraBum and Finesse-Fishing - if you buy one of the rods in Japan it will not come with the hard case or sock). Since he is an ultralight backpacker, he'll likely wrap up the collapsed rod in the sock but leave the case home.

The Tenryu Rayz Integral RZI50UL-4 and RZI50L-4 now come with a cloth rod sock...

and a hard case!
Given that he will carry a spinning rod and a tenkara rod, the Tenryu Rayz Integral RZI50UL-4 is the ideal spinning rod to take. I carry multiple rods all the time. A two piece spinning rod is no problem at all if you carry only one rod. If you carry more than one rod, though, it is much more convenient to have a 4-piece spinning rod.
The Tenryu Rayz Integral RZI50UL-4 and RZI50L-4 break down to a shorter length than most tenkara rods. Packed either fully within the backpack or in a case strapped to the side, they are as secure as they can be. A Rayz Integral spinning rod and a TF39TA tenkara rod make a perfect pair for the backpacking angler.
Because his primary use would be on lakes, larger streams and smaller rivers, the 50" length of the Rayz Integral rod would make more sense than the 39" length of the Rayz RZ39LL, which is better suited to very narrow, overgrown streams.
Since the lures he fishes are 1/8 ounce or less, the "ultralight" RZI50UL-4 is a slightly better choice than the "light" RZI50L-4, which does better with lures over 1/8 oz (up to 1/4 oz).
The ultralight rod will still have all the muscle he'll need for the 16" fish he expects to catch in the mountain lakes.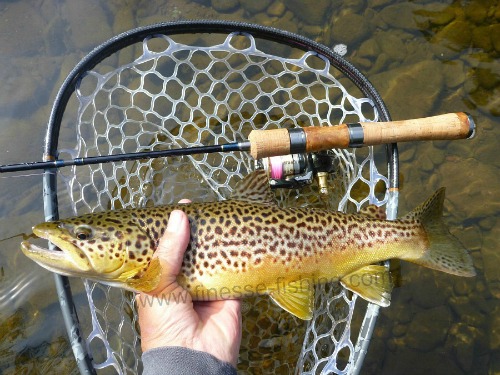 Tenryu Rayz RZI50UL-4 and 16" brown trout.
I've caught trout up to 22" with the Tenryu Rayz Integral RZI50UL-4. All you need is a reel with a good drag. At the time, I recommended the Shimano Cardiff CI4+ C2000HGS, which I felt matched the rod perfectly. It has since been discontinued, and the Shimano Cardiff CI4+ 1000SHG or Daiwa Luvias 1003 would be my recommendation now. In addition to being as smooth as silk and having a good drag, both reels are also very light at just 6.0 or 6.2 ounces. For a backpacker, that is important. Really, though, even if you don't backpack in, having a light reel is something you will appreciate - I know I do.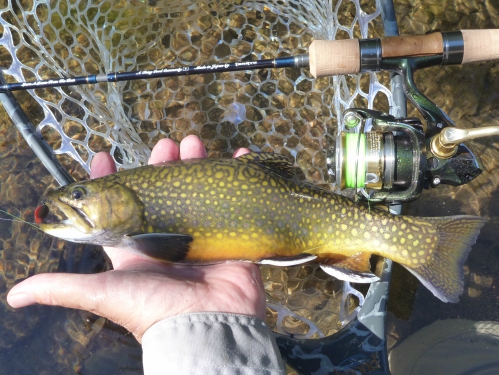 Tenryu Rayz Integral RZI50UL-4, Shimano Cardiff CI4+C2000HGS, Daiwa Presso Vega .8g Horizon Spoon, Brookie.

There is gap between sections when assembled.
Please note: there will be a gap between the sections when the rod is assembled. It is supposed to be that way. Do not try to force them together.

---
Model                    Tenryu RZI50UL-4
Length                  5'0"
Sections                4
Breakdown Length  16 1/8"
Rod Weight            2.3 oz
Line Weight           1-4 lb
Lure Weight           1/32 - 1/5 oz (1-6 g)

Tenryu Rayz Integral RZI50UL-4 - $345
---
Shipping
Domestic shipping is between $10 and $15, depending on package weight and destination, via USPS Ground Advantage (2-5 day delivery).

Please note: All packages are shipped via USPS. If you have a PO Box, please list ONLY the PO Box in your address, not the PO Box and your street address.
If you live in an apartment, please put the apartment number in the same box as the street address (as in 123 Main St. Apt 45).
Please do not put anything in the box for "Company" if it isn't absolutely necessary. Not "self", not "none" not "--". It wastes your time to put it in and it wastes my time to take it back out. Please just leave it blank.

International Shipments

International purchases may be subject to import duties and taxes. I cannot keep track of all import regulations in all countries written in all languages. Understanding and paying import duties and taxes is the responsibility of the buyer.
EU
TenkaraBum.com no longer ships to the EU.

Russia
TenkaraBum.com no longer ships to Russia.

UK

TenkaraBum.com no longer ships to the UK. The new VAT regulations are too onerous for a one-man shop that rarely ships anything to the UK anyway. I apologize. 

---
TenkaraBum Home > Tenryu Rayz Integral RZI50UL-4

---
"The bitterness of poor quality remains long after the sweetness of low price is forgotten" - Benjamin Franklin
"Be sure in casting, that your fly fall first into the water, for if the line fall first, it scares or frightens the fish..." -
Col. Robert Venables 1662
As age slows my pace, I will become more like the heron.

---
Warning:
The hooks are sharp.
The coffee's hot.
The fish are slippery when wet.
Beware of the Dogma

---