Tenryu Furaibo TF39 Becchou Fishing
by Les Albjerg
(Caldwell, Idaho)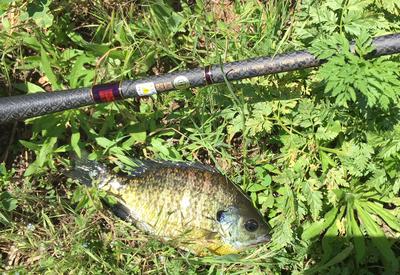 First Fish on Becchou
I don't buy a rod not to fish it. Today, I finally got to fish the Tenryu Furaibo TF39 Becchou. It fishes as well as it looks! The first fish caught today was a nice sunfish. I had a many fish day! I fished it with a Kebari for the first fishing session. It was interesting that Kathleen, one of my co-workers, noticed that the fly I was using looked just like the beautifully painted Kebari that is on the Becchou.

The first few casts didn't produce a fish. I then noticed that I had a few followers. I then slowed my retrieve down to a very slow pace. I then began catching fish. The bend profile in the rod is very sweet! I could feel the change of directions during the fight. Every head shake was transmitted to the rod. It didn't take long to get used to the handle. I really like the unusual shape of the handle.

Our secretary came walking along and joined me fishing. She took the picture of me fishing. Marta really got into scouting and spotted several schools of fish for me! I am not sure who was more excited when I caught a fish.

After our staff retreat, I went out and fished for another 90 minutes. I couldn't resist trying a bead headed Utah Killer Bug. The Becchou cast the bead headed fly just fine! It wasn't hard to get the fish up from the deep with the Becchou. I'm not sure it was more effective than the Kebari. The fish were a little bigger caught on the beadhead. I think the bigger fish were deeper.

So after three hours of fishing my new rod, I am totally pleased! It fishes as good as it looks. I know that they are no longer available. That said, when the next special offer comes around from Chris, make sure you look long and hard and trust that it is special! I can't wait to go after Red-Band Rainbow trout with the Tenryu Furaibo TF39 Becchou. It will be nice when the Boise River settles down again to normal flow levels.
Return to Your Tenkara Stories.
---
"The bitterness of poor quality remains long after the sweetness of low price is forgotten" - Benjamin Franklin
"Be sure in casting, that your fly fall first into the water, for if the line fall first, it scares or frightens the fish..." -
Col. Robert Venables 1662
As age slows my pace, I will become more like the heron.

---
Warning:
The hooks are sharp.
The coffee's hot.
The fish are slippery when wet.
Beware of the Dogma

---