Covid-19 Announcement
TenkaraBum.com is located in New York City, which is essentially locked down.
Package pickup has been suspended. My neighborhood post office is closed. I go outside as little as possible because I am in an "at risk" group.
TenkaraBum.com is still open, for now. Next shipments tentatively scheduled for Wednesday, April 8 (rain in the forecast).
Most international flights have been cancelled, so there is no ETA for out-of-stock items that come from Japan.
---
Peacock and brown plus Soyokaze - great combo
by Alan Luecke
(Kansas City, MO)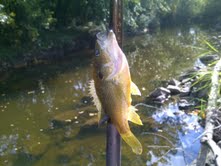 Sunfish recently in rocks
After a week of working harder than I really wanted to I quit a little early on Friday and stopped by Tomahawk Creek (suburban Kansas City) on my way home. I had a couple attempted copies of Anthony Naples Peacock and Brown flies I had tied earlier in the week. They came out a little ragged but worked great. My Soyokaze 27 was the perfect tool for laying the fly in between the rocks to target individual fish.

All my tenkara stuff (5 rods) is in a small backpack that is usually with me. I'm continually amazed at the capability in that little bag - micros to carp. I love the gear, obviously, but more importantly I've become addicted to getting out in these beautiful little streams and catching more fish in the last six months than I have in my whole life. Fishing used to be something I did on vacation. Now I think I could catch a fish within ten minutes of were ever I am in the city. The difference is the ease and effectiveness of these rods.

A big thank you to Tenkarabum and all the folks on this site who have shared there enthusiasm for this wonderful way of fishing.
---
"The bitterness of poor quality remains long after the sweetness of low price is forgotten" – Benjamin Franklin
"Be sure in casting, that your fly fall first into the water, for if the line fall first, it scares or frightens the fish..." Col. Robert Venables 1662
As age slows my pace, I will become more like the heron.

---
Warning:
The hooks are sharp.
The coffee's hot.
The fish are slippery when wet.
Beware of the Dogma

---