Midges 'n' Micros II
In Midges 'n' Micros, the first of what probably will be a series of essays about midges and micro fishing, I mentioned that I could become obsessed with midge fishing if I ended up catching a lot of fish on the tiny flies, thin tippets and soft rods.
I dodged the bullet. Friday was a good day, but not a great day. I am not yet beyond the point of no return.
With the TenkaraBum Challenge still on and Coach & I neck and neck for the lead with about three weeks to go, we decided to hit both cold water and warm water streams. The target species in the cold water stream were brook trout and blacknose dace. We've fished the stream several times and almost without fail we've each caught multiple brookies. Of all the times we've fished there, though, I'd only caught one blacknose dace and Coach had never caught any. Because of that one we knew they were there but we were pretty sure the blacknose dace would be the longshot catch of the day.
For me, though, a blacknose dace came pretty quickly - one of those first pool, second cast, "fish on!" kind of things. In the upper left hand corner of the photo tank you can see the fly - a black Killer Bugger tied with a 1/16" gold tungsten bead on a size 26 Daiichi 1110 hook.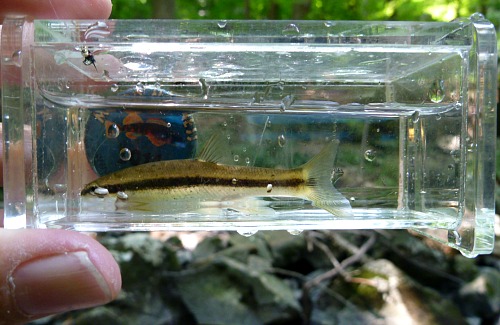 Blacknose Dace
The brook trout, though, was a struggle. Several creek chubs and another dace later, I managed to catch a little brookie. Little still counts for the Challenge, but I was really hoping to catch a few 6-7" trophies or even the 8" king of the stream.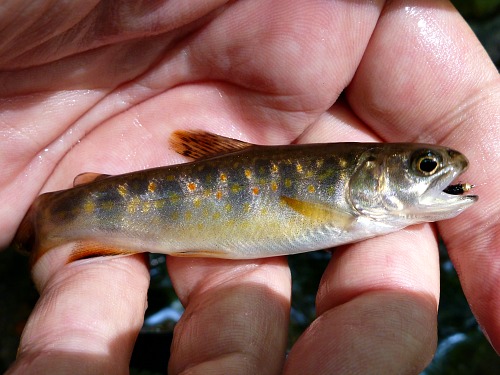 Brook Trout
One day last year I had a great day on that stream fishing a size 14 Stewart Spider, popularized by WC Stewart in his 1857 book The Practical Angler. On Friday I fished a Stewart Spider tied on a Tiemco 518 #32 but I got no takers. I also tried a size 32 micro caddis, tied with a bit of CDC rather than elk hair. I got no takers on it either.
Coach and I met up at the appointed time, and I learned he had also caught both the brookie and the dace. For him the brookie came on the second cast and he had to work for the dace.
With both of us two for two, we headed for a warmwater stream where I hoped to catch a banded killifish and spottail shiner and he hoped for a spotfin shiner. I managed to catch the killifish, but coach is still looking for that spotfin shiner.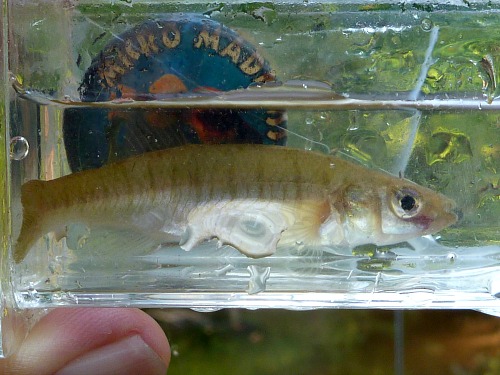 Banded Killifish
Size 26 Black Killer Bugger
My three catches pictured here, plus a few creek chubs at the first stream and numerous bluegill, redbreast and green sunfish, juvenile largemouth and smallmouth bass, and satinfin shiners were all caught on a size 26 gold bead head black Killer Bugger.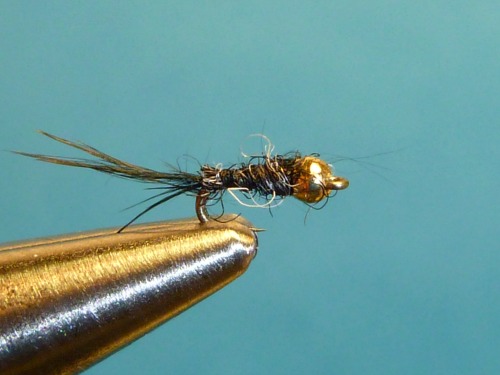 Bead head Black Killer Bugger
Hook: Daiichi 1110 size 26
Thread: Veevus 16/0, black
Body: TenkaraBum Black Killer Bugger yarn
Tail: Black Woolly Bugger Marabou
Bead: 1/16" Tungsten, gold

I have fished with the size 26 Daiichi 1110 more than a few times, and have caught fish with Killer Bugs, pheasant tail nymphs and Stewart Spiders tied on the hook. I must say, though, that I am very impressed with how well the gold bead head black Killer Bugger did. The only thing that took the shine off was the less than stellar showing for brookies. I've read so often that tiny flies are very successful for catching nice trout but all I caught was a single three incher. 

Friday was the first time I fished with flies tied on the Tiemco 518 #32, which I have recently started to carry on the website. Although the hook gape of the 26 is actually pretty close to that of the 32, the shaft length on the Tiemco is much shorter so the overall profile of a fly tied on the 518 is much smaller.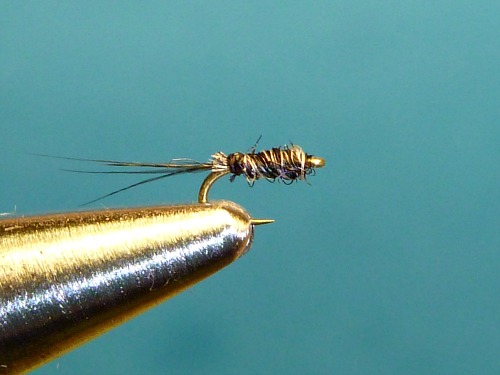 Black Killer Bugger
Hook: Tiemco 518 size 32
Thread: Veevus 16/0, black
Body: TenkaraBum Black Killer Bugger yarn
Tail: Black Woolly Bugger Marabou

Coach had caught several fish in the first stream on the size 32 black Killer Bugger. I hadn't tried it there and in the second stream I was able to catch only one. I had high hopes that the smaller fly would be taken readily by all the fish in the stream. I guess it just proves the attractiveness of the gold bead.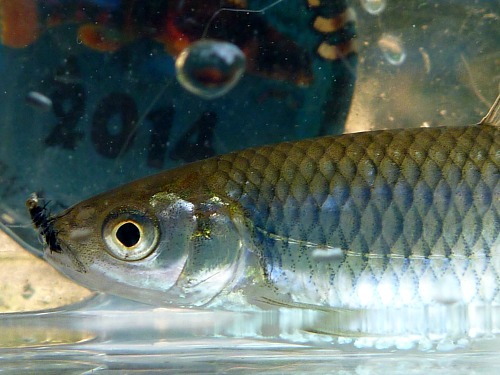 Satinfin Shiner caught on size 32 black Killer Bugger
Size 32 Stewart Spider
I suspect about now confirmed midge fishermen are thinking to themselves, "Killer Buggers aren't midges, I don't care how small they are." Maybe not, but I would argue that a small enough Stewart Spider could be. It's one of those nondescript buggy flies that could be anything. Tied small enough, it could be a midge. And you can't tie it any smaller than on a Tiemco 518 #32!

Unlike in the trout stream, though, on the warm water stream I did have some luck with a size 32 Stewart Spider.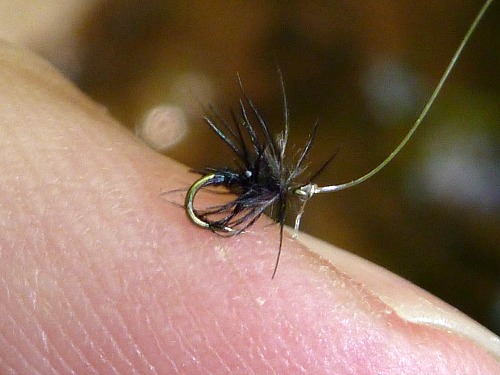 That's an awfully scruffy looking fly, but maybe scruffy is buggy. This little smallmouth thought it looked good enough to eat.
Just look at those teeth! No wonder when bass fishing you have to check your tippet for abrasion after each fish. This photo also shows the difference between 8X, to which the Stewart Spider was tied as a  dropper, and 10X, which went past his mouth and on down to a size 32 Killer Bugger tied on point.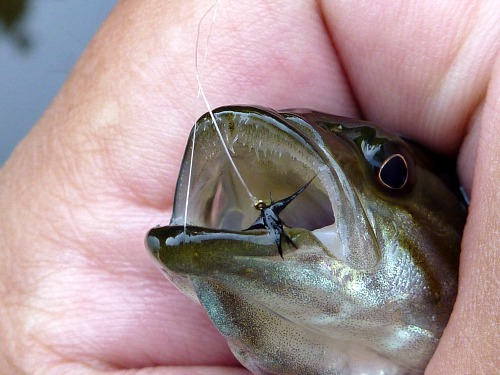 Shortly thereafter I caught the smallest bluegill I have ever caught, also  on the size 32 Stewart Spider. It managed to flip out of my hand just before I got the camera in position, though.

10X Tippet

The first time I tried fishing with 10X tippet, with larger flies and for larger fish, I broke off several fish on the hook set. On this trip I didn't have any trouble with the 10X tippet. I didn't break it once on a hook set. Of course, the fish were all so small that "hook set" implies a much larger and more forceful action than just the slight line tightening that was required to hook the fish. Even at that, though, I did launch a few of the smaller ones.
Flip Focals

I found on Friday that a pair of Flip Focals are worth their weight in gold for tying size 26 (and smaller) flies on 10X tippets. You can actually see what you're doing - to the point that I had much less trouble tying on a  size 26 fly than I've had with size 14 flies without the Flip Focals. Highly recommended.
So Why are Tenkara Flies Shaped Like That?

After fishing these tiny flies a few times, I think I can finally answer the question of why so many tenkara flies have a reverse hackle. I am pretty sure it is because the hackle in that shape, particularly if the hackle is tied full rather than sparse, acts like a drogue chute or sea anchor. It resists being pulled through the water, helping you to keep your line tight. 
Given that tenkara anglers have had hundreds of years to improve the tenkara "system" (rod, line, fly combination), I believe they discovered that the sakasa kebari shape best allowed them to keep a light line off the water's surface.  It resisted being pulled through the water as the line tried to sag from its own weight and that helped to keep the line tighter and off the surface. I truly believe keeping the line off the water is the essence of both tenkara and keiryu fishing.

Size 1.2 Line

My little Killer Buggers provided no such resistance, and even a light line pulled the fly as it wanted to hang straight down from the rod tip. In addition to fishing with very light tippets, I suspect it will be very important when fishing such small flies to fish with very light lines. While fishing in the first stream, I definitely felt that size 1.5 line was too heavy!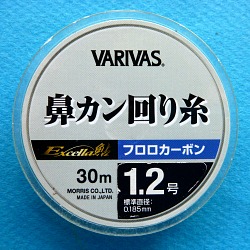 I then switched to a size 1.2 line that is the same line (but in a larger size) as the .8 Ayu fishing line I've gotten in for keiryu fishing.
It would be difficult to cast a long 1.2 line with an unweighted fly. I've fished a short size 1.2 line moderately effectively with an unweighted fly, and on Friday had no problems casting a tungsten bead head fly (even a very small one) using the soft Shimotsuke Oikawa III 290 and Nissin Royal Stage 450.
Although I'm not (quite) obsessed with the tiny flies (yet), I'm going out again, and soon, to give them another try for trout.
Update
I can no longer get the size 32 Tiemco hooks. It seems Tiemco really did discontinue them. I have size 30 Varivas 2300 "Ultra Midge" hooks, which are almost as small.

---
TenkaraBum Home > Midges 'n' Micros >  Midges 'n' Micros II > next

---
"The bitterness of poor quality remains long after the sweetness of low price is forgotten" - Benjamin Franklin
"Be sure in casting, that your fly fall first into the water, for if the line fall first, it scares or frightens the fish..." -
Col. Robert Venables 1662
As age slows my pace, I will become more like the heron.

---
Warning:
The hooks are sharp.
The coffee's hot.
The fish are slippery when wet.
Beware of the Dogma

---