Midge Hooks
Long rods, thin tippets, small flies - it doesn't get any better.

---
Some time ago, I decided to move the midge hooks off the micro fishing hooks page. I now think that was a mistake and am moving it back. At least for a while, the midge hooks will be on both pages. Eventually, they will be on the micro hooks page only.
The Daiichi 1120 size 20 and 26 are back in stock. I have found them to be ideal sizes for micro Killer Buggers.

---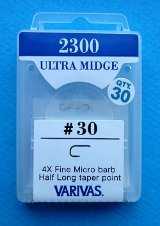 I have been asked repeatedly for size 28 and 30 hooks. The size 30 Varivas 2300 Ultra Midge hooks are very nearly as small as the Tiemco 518 #32.  They seem to be a bit finer wire and perhaps a bit more brittle.
I have not been able to get the Tiemco 518 #32 for a couple years now.

Varivas 2300 Ultra Midge - 30 hooks - $7.00
---
TenkaraBum Home > Fly Tying Materials > Midge Hooks

---
"The bitterness of poor quality remains long after the sweetness of low price is forgotten" – Benjamin Franklin
"Study to be quiet." - Izaak Walton 1653

"Be sure in casting, that your fly fall first into the water, for if the line fall first, it scares or frightens the fish..." Col. Robert Venables 1662
As age slows my pace, I will become more like the heron.

---
Warning:
The hooks are sharp.
The coffee's hot.
The fish are slippery when wet.
Beware of the Dogma

---