TenkaraBum Store
Streamside Tools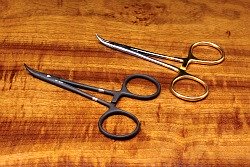 Dr. Slick Spring Creek Clamps
The Dr. Slick Spring Creek Clamps have a very fine tip to more easily reach and hold smaller flies. They are particularly helpful for unhooking smaller fish. They will hold hooks securely enough that you can use them as a travel vise! The photo shows shiny and flat black. I only carry the flat black.

Dr. Slick 5" Spring Creek Curved Clamp - $14.00
---
Dr. Slick ECO Nippers
These nippers are effective and inexpensive. They come with a needle to clear hook eyes. Flat black. You could spend more - a lot more on some brands - but these cut line, which is most of what you need a pair of nippers to do.
Dr. Slick ECO Nippers - $6.00
---

Daiwa Figure 8 Tool
The Daiwa Figure 8 tool has become one of my "don't leave home without it" items. I don't carry a lot of gadgets: nippers and Spring Creek Clamps all the time, Flip Focals if I will be tying on tiny flies, but that's about it. This one, though, has definitely become one of my favorites.
If you tie surgeons knots, or for that matter, any knot where you have to reach through a loop to grab the line on the other side (or push a line through a loop) this tool will make it easier. It will also hold your fly as you tie it on or your hook as you snell it. It really is a handy tool. More info...
Daiwa Figure 8 Tool - $30
---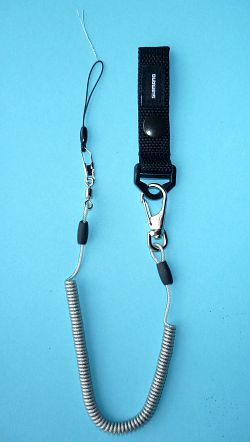 Shimano Net Leash
The Shimano Net Leash is similar to a standard American net leash, but it has a very clever system for attaching the leash to your net. Most Japanese tenkara and keiryu nets do not have a screw eye in the end of the handle, as most  American nets do. Thus, a simple clip or split ring won't work well. the Shimano Net Leash has a cord loop with which to form a girth hitch around the net hoop (and through the fine netting if necessary). The cord loop attaches to a secure clip on one end of the coiled leash. The other end of the coiled leash has a robust clip to attach to a D-ring on your vest. A belt loop is also provided for those anglers who do not wear vests.
Shimano Net Leash - $25
---
Shipping
Domestic shipping is $4, via USPS First Class Mail (unless ordered with an item that must go via Priority Mail, and which has a higher shipping charge). The charge is added to your order automatically.
Please note: All packages are shipped via USPS. If you have a PO Box, please list ONLY the PO Box in your address, not the PO Box and your street address.
The charge for international shipping depends on the destination country, the weight of the package, the overall length of the package and the value of the package.
International shipments

International purchases may be subject to import duties and taxes. I cannot keep track of all import regulations in all countries written in all languages. Understanding and paying import duties and taxes is the responsibility of the buyer.
UK
TenkaraBum.com no longer ships to the UK. The new VAT regulations are too onerous for a one-man shop that rarely ships anything to the UK anyway. I apologize.

Australia
The USPS has suspended all shipments to Australia. UPS will deliver, but the shipping charge is more than $20 higher than the charge that will be calculated at checkout, requiring an additional payment.

---
TenkaraBum Home > TenkaraBum Store > TenkaraBum Store Streamside Tools

---
"The bitterness of poor quality remains long after the sweetness of low price is forgotten" - Benjamin Franklin
"Be sure in casting, that your fly fall first into the water, for if the line fall first, it scares or frightens the fish..." -
Col. Robert Venables 1662
As age slows my pace, I will become more like the heron.

---
Warning:
The hooks are sharp.
The coffee's hot.
The fish are slippery when wet.
Beware of the Dogma

---