Daiwa Figure 8 Tool
The Daiwa Figure 8 tool has become one of my "don't leave home without it" items. I don't carry a lot of gadgets: nippers and Spring Creek Clamps all the time, Flip Focals if I will be tying on tiny flies, but that's about it. This one, though, has definitely become one of my favorites.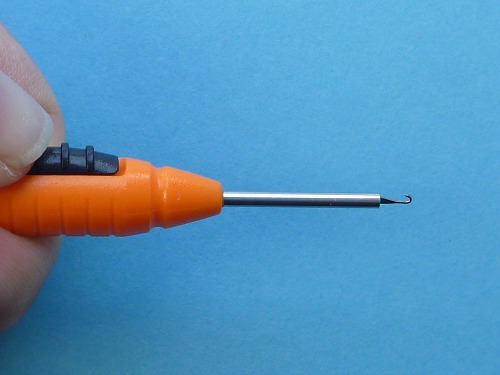 It is called "speedy figure 8 knot" in Japanese, and it certainly does allow you to tie quick figure 8 knots.
It is truly a snap to use. Make a loop.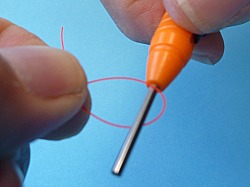 Insert the tool through the loop.
Make one half turn with the tool. You have to make the turn in the correct direction - and the correct direction depends on how you have formed the loop. Rather than me telling you how to make a loop, just try it once. If it works, you are turning it the right way. If your half turn destroys your loop, you turned the wrong way. Seriously, you can figure it out in less time than it would take to read detailed instructions of how to do it right the first time.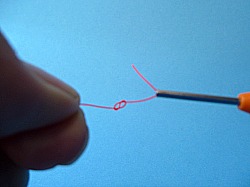 Extend the hook, grab the line and pull it through the loop. Figure 8 knot!

---
The tool also makes it easy to tie loops

With just a little practice, you can tie loops of any size you want. The loop shown above is stronger than the Perfection Loop, but the tool also makes the Perfection Loop easy to tie.
If you tie surgeons knots, or for that matter, any knot where you have to reach through a loop to grab the line on the other side (or push a line through a loop) this tool will make it easier. It also works on any of the  knots tied with hemostats (in place of the hemostat).

---
If that wasn't enough (and for most people it is), the tool is also excellent at holding a fly as you tie on your tippet. Lots of tools are out there to do this, most of them do not work on as wide a range of hooks as this tool. On the left is a photo of the tool holding a Daiichi 1120 size 10, which is about as large a hook as most tenkara anglers normally use. It will also hold a Daiichi 1560 size 6 for those anglers who'd discovered the effectiveness of a Keeper Kebari.
Most anglers don't need a fly holder for large hooks, though. For the really small hooks, the Daiwa Figure 8 Tool beats the other tools out there. The photo on the right shows it holding a Tiemco 518 size 32! You probably can't do that with the hook holder you use now. (Unfortunately,  you probably can't do it with the Figure 8 Tool any more because I can no longer get the 518 size 32.)

Daiwa also makes a yellow Figure 8 Tool, which has a larger barrel diameter. It will not hold small hooks and it is more difficult to insert the larger barrel through line loops. I would highly recommend getting the orange one sold here, rather than ordering the yellow one from Japan.

---
At $30, the Daiwa Figure 8 Tool will not be the cheapest tool on your vest. However, for the people who have them and use them for tying knots or holding small flies, they are worth every penny.
---
---
Shipping
Standard shipping is via USPS First Class mail.
A shipping/handling charge of $4 will be added to all orders.
If you live outside the US, you must add more postage unless the items on this page are mailed with a rod!
Please note: The buttons below only add the postage, they are not for the product AND the postage. You must click on the product button above also.

TenkaraBum.com does not sell to residents of Norway or any other county of the European Union or the European Economic Area.

---
Where do you live?


---

USA


Add this amount for shipping.


---

No additional postage required for First Class mail.
(Total charge $4)

---

Canada or Mexico


---

Additional $6 postage required. (Total charge $10)

---

Other Country


---

Additional $10 postage required. (Total charge $14)
---
---
Priority Mail Upgrade - U.S. Only

2-3 day shipping (U.S. only)
First Class should be just as fast for people living east of the Mississippi.
Do Not click if your order includes a rod, wader gaiters, 3x5 Photo Tank or Daiwa Keiryu Damo. They already go via Priority Mail.
Domestic Priority Mail Upgrade - Additional $4
---
---
Payment
Payment is processed by PayPal but you don't need to have a PayPal account. You can use your credit card.
---
TenkaraBum Home > Tenkara Accessories > Daiwa Figure 8 Tool


---
"The bitterness of poor quality remains long after the sweetness of low price is forgotten" – Benjamin Franklin
"Study to be quiet." - Izaak Walton 1653

"Be sure in casting, that your fly fall first into the water, for if the line fall first, it scares or frightens the fish..." Col. Robert Venables 1662
As age slows my pace, I will become more like the heron.

---
Warning:
The hooks are sharp.
The coffee's hot.
The fish are slippery when wet.
Beware of the Dogma

---