Please note: All the "Add to Cart" buttons have been switched to Shopify from PayPal (although you can still pay with a PayPal account). If you experience problems during checkout please use the contact form.

I know some of the buttons need to be modified.
Buttons that offer a choice of size, color, etc. show the stocks condition for top choice only! Make your choice to see if the item is in stock.

To be notified when an Out of Stock item is back in stock,
please use the contact form and indicate the desired item.
---
Kurenai works well!
by Martin
(okieflier@att.net)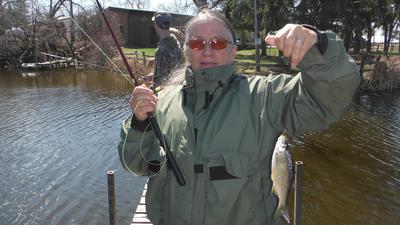 I bought the Kurenai HM33R for my wife while at the Sowbug Roundup in Mountain Home, AR from Chris. We were in Wisconsin last week fishing off a small dock on the south side of Lake Mason. She wanted to test her new Tenkara rod and caught this Golden Smelt with a grey killer bug I made. She caught a bunch of bluegill and one looked like 13" large mouth bass with the Kurenai and killer bug combo in about a hour and a half fishing. I obviously won't be able to wrestle this rod from her. It has great action and is very light so is not tiring like her regular fly rod.
---
"The bitterness of poor quality remains long after the sweetness of low price is forgotten" – Benjamin Franklin
"Study to be quiet." - Izaak Walton 1653

"Be sure in casting, that your fly fall first into the water, for if the line fall first, it scares or frightens the fish..." Col. Robert Venables 1662
As age slows my pace, I will become more like the heron.

---
Warning:
The hooks are sharp.
The coffee's hot.
The fish are slippery when wet.
Beware of the Dogma

---