Please note: All the "Add to Cart" buttons have been switched to Shopify from PayPal (although you can still pay with a PayPal account). If you experience problems during checkout please use the contact form.

I know some of the buttons need to be modified.
Buttons that offer a choice of size, color, etc. show the stocks condition for top choice only! Make your choice to see if the item is in stock.

To be notified when an Out of Stock item is back in stock,
please use the contact form and indicate the desired item.
---
Fixed line fishing in Florida
by Martin P
(WV)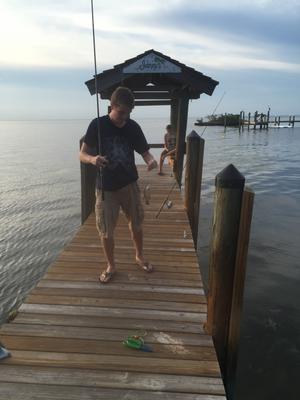 Florida Pier
Our family vacation in Marathon gave us access to a small boat dock. We had the Fieldmaster 44 with us so it was game on! We caught many Mangrove snappers, pin fish, unidentified fish in the photo and a few blue-lined grunts. I caught a couple of pinfish initially using killer bugs but it was slow progress and after all who was going to judge if I used bait. Frozen shrimp on a small hook (6 or 8) worked well and this encouraged my teenaged kids to have go. My son liked to watch the shrimp disappear and time the hook set, my daughter and I used a small bobber and struck when it went under. I would like to say we returned all the fish alive and happy but the local 12 inch long barracudas managed to grab a few as we pulled them in. We used 5x fluorocarbon so we did not land any toothy critters. The main lesson to catch the little Mangrove Snappers was to use pieces of the shrimp still frozen or they just sucked it off the hook time after time.
I washed the FM 44 at the end of the trip and have used it since without any issues.

---
"The bitterness of poor quality remains long after the sweetness of low price is forgotten" – Benjamin Franklin
"Study to be quiet." - Izaak Walton 1653

"Be sure in casting, that your fly fall first into the water, for if the line fall first, it scares or frightens the fish..." Col. Robert Venables 1662
As age slows my pace, I will become more like the heron.

---
Warning:
The hooks are sharp.
The coffee's hot.
The fish are slippery when wet.
Beware of the Dogma

---