This has been a very difficult year to manage inventory. Stocks of many items are lower than I would like at this time of year. If you are shopping for a Christmas gift, please do not wait until the last minute. There is a good chance your items will be out of stock if you wait.

---
Color of Chadwick's 477 Yarn When Wet
by John Evans
(San Antonio, TX)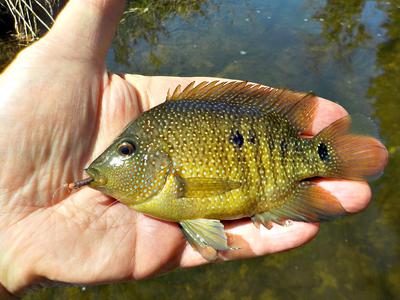 First Cichlid Taken With Chadwick's 477 Yarn
A few blog posts ago I mentioned that my wife had gifted me with some original Chadwick's 477 yarn from England, and I tied up a few Killer Bugs with it. I finally had the opportunity to fish the yarn in a little warm water creek with good results. The fish I caught weren't anything special—just some cichlids and bluegills, but the Killer Bug worked well. The one I used was tied with a pink hot spot at the head, the normal way I tie Utah Killer Bugs with the Spindrift Oyster Yarn.

I thought I'd post the one photo of this little cichlid just so readers could see the translucent, "wormy" color of the Chadwick's yarn when it's wet. You can see why fish go for it. Most yarns just turn darker when they're in the water, but the Chadwick's and Oyster yarns gain a life-like, attractive appearance, with some depth to them.

The one take-away from the afternoon's excursion is the importance of actually testing fly-tying materials in the water. The way something looks on the shelf or fly-tying bench and the way it appears in the creek will almost certainly be different. Plus, it gives you a good excuse to go fishing!

Return to Your Tenkara Stories.
---
"The bitterness of poor quality remains long after the sweetness of low price is forgotten" - Benjamin Franklin
"Be sure in casting, that your fly fall first into the water, for if the line fall first, it scares or frightens the fish..." -
Col. Robert Venables 1662
As age slows my pace, I will become more like the heron.

---
Warning:
The hooks are sharp.
The coffee's hot.
The fish are slippery when wet.
Beware of the Dogma

---