A New Species
by Phillip Dobson
(Butte, MT)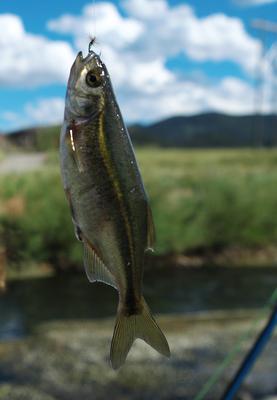 Here in SW Montana, the target of flyfishers is almost always some sort of salmonid species. Last week was my first time landing something else in a recently reclaimed creek near town. After landing some nice cutthroats, I saw fish rising all over this calm pool, and while they'd strike my sz16 comparadun, I couldn't get a hookup. It was only after switching to a sz22 dry that I got one to shore. I'm not exactly sure what it is: some cyprinid I think, maybe a shiner?

I noticed something interesting after switching to a flatwing streamer and casting it to the pool. The small baitfish apparently considered the fly to be sufficiently realistic, as they'd school around it like it was one of their own. It was cool to see a swarm of a dozen fish following a fly that was bigger than them. I'm wondering if it would be effective to tie a tiny dropper behind so that it sits in the center of the school. A new microfishing technique that involves a 4" fly? I'll be sure to give it a try when I have a chance.
Return to Your Tenkara Stories.
---
"The bitterness of poor quality remains long after the sweetness of low price is forgotten" - Benjamin Franklin
"Be sure in casting, that your fly fall first into the water, for if the line fall first, it scares or frightens the fish..." -
Col. Robert Venables 1662
As age slows my pace, I will become more like the heron.

---
Warning:
The hooks are sharp.
The coffee's hot.
The fish are slippery when wet.
Beware of the Dogma

---