Zuri Tabi
by tnitz
(Joseph, Oregon)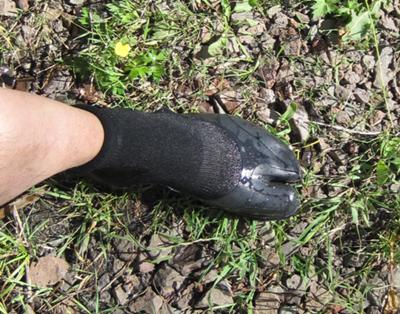 Not suitable for black tie...
It may be that no-one will believe me, but my acquiring Zuri tabi had absolutely nothing to do with an interest in tenkara angling. I actually thought they would be good kayaking/canoeing footwear. I still haven't explored that use, but did wear them angling the other day.

The only reliable and constant supply of these appears to be Walmart or Don Quixote in Honolulu, HI. By coincidence, I had to go to Honolulu twice last fall for work, my first time there. Not knowing what there was to do or how much time I would have to spend eating great food, my simple goal for the first trip was simply to go to Walmart and get a pair of Zuri Tabi.

Current models are black felt adhered to black rubber footbed with black stretch nylon upper. They are anything but handsome, though they do make quite a fashion statement, especially with shorts. Don't know what kind of fashion statement, but they make a big one anyway.

You have to fit them relatively closely so your feet don't slide around in them and even in person that's not easy without putting them on. I actually bought a size too big my first time and had to get a smaller size the next time I went. The felt is 1/2" thick and does a better job of cushioning your soles than you might think. Even fishing a stretch with large cobbled bottom, the soles of my feet didn't get sore. The only issue I had was when my foot slid down or was placed between two boulders - no protection on the top of the foot and only a layer of rubber on the side are a far cry from wading boots.

Like aqua socks, the top is porous and so your feet are constantly wet. In one sense this is a good thing, the water kinda massages your feet while you fish!

Previously, my favorite wet wading shoes when I didn't want to wear boots were Sperry topsiders. Wet canvas sneakers wear quickly, however. These are much better and actually easier to put on and take off since there are no laces. They are great for those times when you can't be bothered to put on waders or wading boots and flip flops just won't cut it.

Best of all, they are dirt cheap. It's just the commute that's expensive.
---
"The bitterness of poor quality remains long after the sweetness of low price is forgotten" - Benjamin Franklin
"Be sure in casting, that your fly fall first into the water, for if the line fall first, it scares or frightens the fish..." -
Col. Robert Venables 1662
As age slows my pace, I will become more like the heron.

---
Warning:
The hooks are sharp.
The coffee's hot.
The fish are slippery when wet.
Beware of the Dogma

---