Ultralight Strike Indicator
The Ultralight Strike Indicator is indeed ultralight. It is 5mm long - about 5/16" by not quite 1/4" wide. It floats, but is so small it will not support any weight. I am sure it was designed to be used when fishing unweighted wet flies. It will probably work when micro fishing or ultralight worm fishing with a small hook, small bait and no split shot.

I had imported them thinking they would make good microfishing floats, but when I realized they would not support even one size 10 split shot, I completely lost interest and never put them on the website. Recently, there was a discussion in one of the Your Stories threads about using floats and I mentioned them - which led to a request to put them on the website for the "crazy ultralight guys."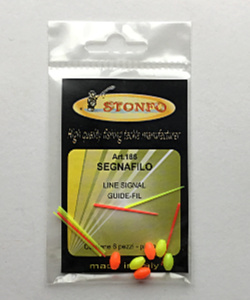 So here they are! Each package contains six hard plastic strike indicators, and six plastic toothpick-like pegs.
Slide your tippet through the hole in the middle of the indicator and then insert the peg to hold the indicator in place.
Because they are so light (.004 oz) and are relatively aerodynamic, they should not affect your cast much.

Ultralight Strike Indicator (pkg of 6) - $1.50
---
---
Shipping
Standard shipping is via USPS First Class mail.
A shipping/handling charge of $4 will be added to all orders.
If you live outside the US, you must add more postage unless the items on this page are mailed with a rod!
Please note: The buttons below only add the postage, they are not for the product AND the postage. You must click on the product button above also.

TenkaraBum.com does not sell to residents of Norway or any other county of the European Union or the European Economic Area.

---
Where do you live?


---

USA


Add this amount for shipping.


---

No additional postage required for First Class mail.
(Total charge $4)

---

Canada or Mexico


---

Additional $6 postage required. (Total charge $10)

---

Other Country


---

Additional $10 postage required. (Total charge $14)
---
---
Priority Mail Upgrade - U.S. Only

2-3 day shipping (U.S. only)
First Class should be just as fast for people living east of the Mississippi.
Do Not click if your order includes a rod, wader gaiters, 3x5 Photo Tank or Daiwa Keiryu Damo. They already go via Priority Mail.
Domestic Priority Mail Upgrade - Additional $4
---
---
Payment
Payment is processed by PayPal but you don't need to have a PayPal account. You can use your credit card.
---
---
"The bitterness of poor quality remains long after the sweetness of low price is forgotten" – Benjamin Franklin
"Study to be quiet." - Izaak Walton 1653

"Be sure in casting, that your fly fall first into the water, for if the line fall first, it scares or frightens the fish..." Col. Robert Venables 1662
As age slows my pace, I will become more like the heron.

---
Warning:
The hooks are sharp.
The coffee's hot.
The fish are slippery when wet.
Beware of the Dogma

---