Spinning for Fresh and Salt Water Fish of North America

A.J. McClane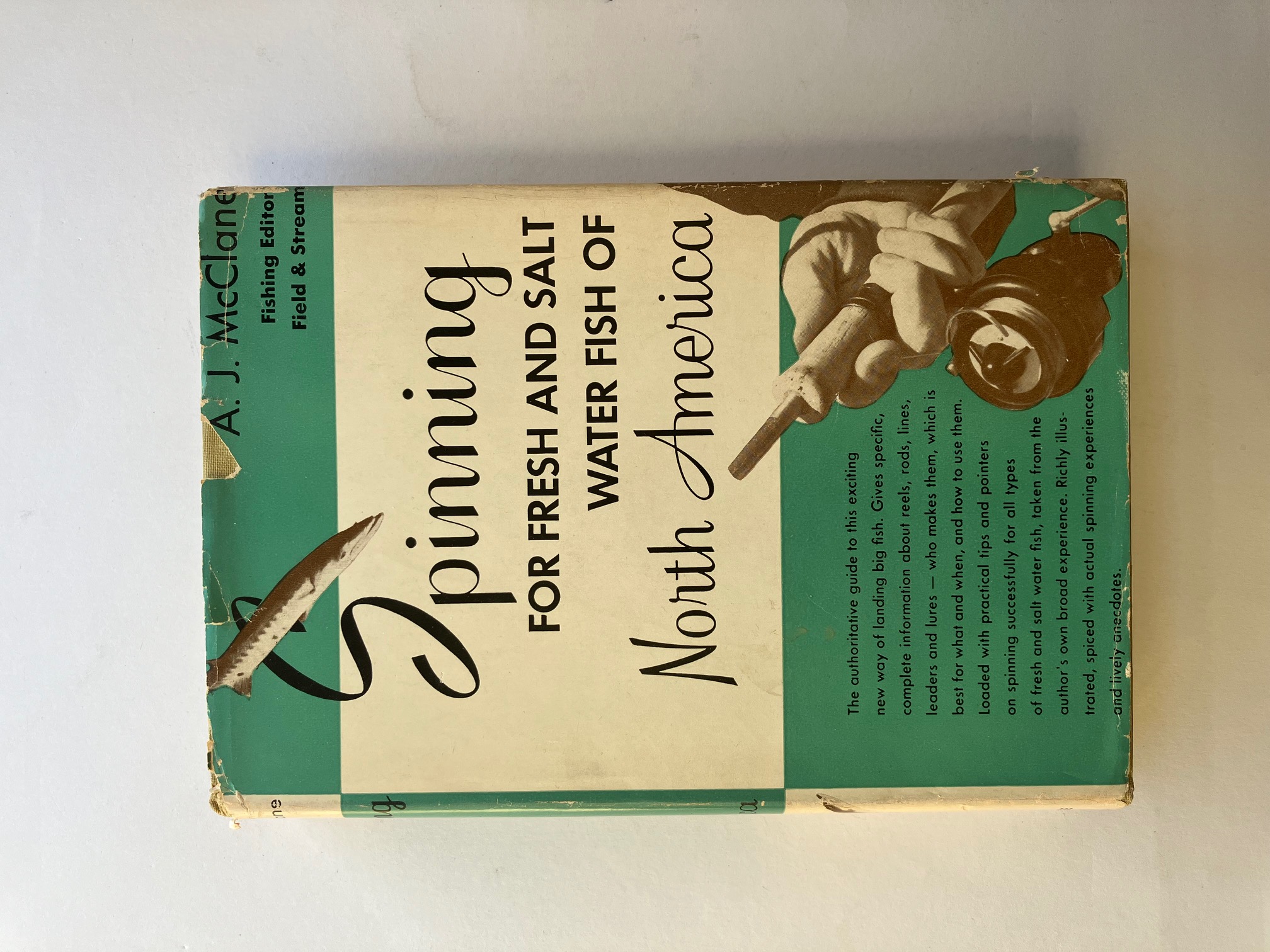 The authoritative guide to this exciting new way of landing big fish. Gives specific, complete information about reels, rods, lines, leaders, and lures --  who makes them, which is best for what and when, and how to use them. Loaded with practical tips and pointers on spinning successfully for all types of fresh and salt water fish, taken from the author's own broad experience. Richly illustrated, spiced with actual spinning experiences and lively anecdotes.
Prentice Hall, New York 1952
Hardbound, 280 pages
8 1/2  x 6 in.
Two copies, both in fair Condition.
1. Torn dust jacket, previous owner's writing inside cover.
2. No dust jacket, used book price inside cover.

Contents
Introduction

Chapter One   History

             Two    The Reel
             Three  The rod
             Four    The Line
             Five      First Casts
             Six        Lures
             Seven   Panfish
             Eight     Pacific Salmon and Steelhead
             Nine      Trout
             Ten         The Black Bass
             Eleven     The Pike Family
             Twelve     Live Bait
              Thirteen  Salt Water
                             Index
---
---
Shipping to a US address is via USPS Media Mail. The shipping charge will be calculated at checkout.
Please request a quote for international shipments, providing the name of the book, your name and your address on the Contact Us page.

---
TenkaraBum Home > Used Fishing Books > Spinning for Fresh and Salt Water Fish of North America

---
"The bitterness of poor quality remains long after the sweetness of low price is forgotten" - Benjamin Franklin
"Be sure in casting, that your fly fall first into the water, for if the line fall first, it scares or frightens the fish..." -
Col. Robert Venables 1662
As age slows my pace, I will become more like the heron.

---
Warning:
The hooks are sharp.
The coffee's hot.
The fish are slippery when wet.
Beware of the Dogma

---