Simple Fly Fishing

Techniques for Tenkara and Rod & Reel
First Edition

Yvon Chouinard, Craig Mathews,
Mauro Mazzo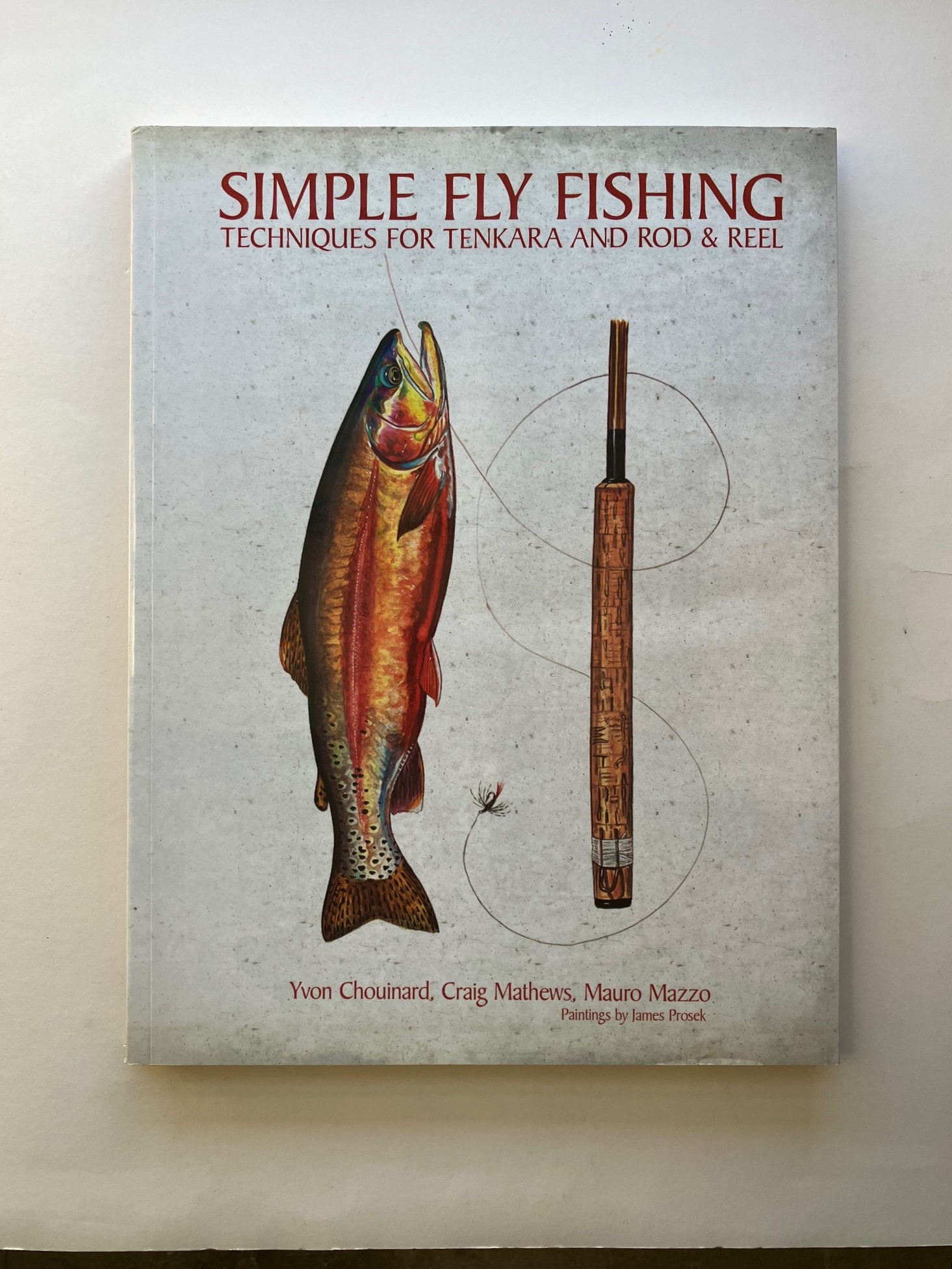 From the dust jacket flap: "Modern-day fishing, like much in life, has become exceedingly complex, with high-tech gear, a confusing array of flies and terminal tackle, accompanied by high-priced fishing guides. This book reveals that the best way to catch trout is simply, with a rod and a fly and not much else.

The wisdom in the book comes from a simpler time, when the premise was: the more you know the less you need. It teaches the reader how to discover where the fish are, at what depth, and what they are feeding on. Then it describes the techniques needed to present a fly at that depth, made to look lifelike, and hook the fish. With chapters on wet flies, nymphs, and dry flies its authors employ both the tenkara rod as well as regular fly fishing gear to cover all the bases.
With paintings by reknowed artist James Prosek, technical illustrations, and inspiring photographs and stories throughout, Simple Fly Fishing reveals the secrets and the soul of this captivating sport."
When the Simple Fly Fishing was first released, tenkara anglers were excited that someone as famous as Yvon Chouinard had not only taken up their sport but had written a book about it. They soon became disappointed because the book really isn't about tenkara. It is about exactly what the title says: Simple Fly Fishing - Techniques for Tenkara and Rod & Reel.


Patagonia Books 2014
Paperback, 144 pages
11 1/4 x 8 1/2 in.
As new condition.

Contents
Foreword

Introduction
Chapter 1:  Trout and Their Food
Chapter 2:  Fly Fishing with Wet Flies and Streamers
Chapter 3:  Fly Fishing with Nymphs
Chapter 4:  Fly Fishing with Dry Flies
Chapter 5:  Fishing Situations
Afterword
Additional Resources
---
---
Shipping to a US address is via USPS Media Mail. The shipping charge will be calculated at checkout.
Please request a quote for international shipments, providing the name of the book, your name and your address on the Contact Us page.

---
TenkaraBum Home > Used Fishing Books > Simple Fly Fishing

---
"The bitterness of poor quality remains long after the sweetness of low price is forgotten" - Benjamin Franklin
"Be sure in casting, that your fly fall first into the water, for if the line fall first, it scares or frightens the fish..." -
Col. Robert Venables 1662
As age slows my pace, I will become more like the heron.

---
Warning:
The hooks are sharp.
The coffee's hot.
The fish are slippery when wet.
Beware of the Dogma

---