Micro Fishing Line Winders
Micro Fishing Line Winders allow you to store rigged micro fishing lines. Since the hooks are small and the lines are very thin, it is easier to make up your lines at home.
Bamboo Line Winders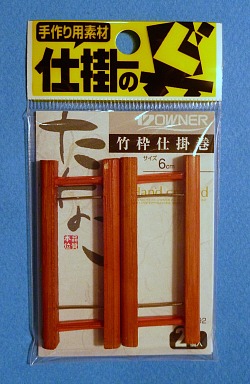 If you have several of the Micro Fishing Line Winders, you could rig lines of different lengths. You could also rig lines with floats for fishing at mid depths and lines without floats and with heavier shot for fishing on the bottom.
Because there is such a huge variety of micro species - many of which prefer substantially different habitats, you will not be able to use one rig for all situations.
The line winders are made of bamboo, with thin metal bars on which to affix the hook to start winding. There are slits in the ends of the long bamboo pieces which will hold the end of your line.
The winders are 6 cm long (just under 2.5 inches). Two will fit easily in the Tanago Tackle Box.
They will pay for themselves in time savings (and frustration prevention).

Bamboo Line Winders (package of two) - 3.75
---
Foam Line Winders

From time to time I ask my supplier "What should I be buying that I'm not?" There are just too many different products, and too many new products, to know everything that is available. Some of her suggestions don't quite hit the mark, but some do. This is one that does.
One of the nicest things about micro fishing is that the tiny, tiny hooks you need are available snelled. The Stonfo hook tyer is nice, but personally, I use the snelled hooks. If you also use the snelled hooks, you've probably run unto the same thing I have. What do you do with your hook and snell, or even your whole line, at the end of the day. Getting one of those snelled hooks back in the package is like getting a genie back in the bottle. It don't wanna go. The bamboo line winders are nice, and they do fit in the Tanago Tackle Box, but you can only get a few in the box.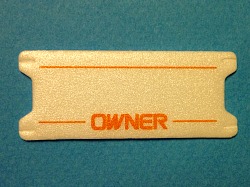 It turns out that Owner has foam line winders that take much less space. They're not as large and they sure are convenient. They may not be as strong, but they're so inexpensive it more than makes up for it. You can have more than a couple rigs already made up and still be able to keep them organized. Alternatively, if you have a pack of snelled tanago hooks with you all the time, a couple of the foam line winders take almost no additional space (and they come with little reclosable poly bags) so you can set up a micro rig and store it afterwards even if you didn't bring the Tanago Tackle Box with you. 2 1/4" x 7/8" x 1/16"

Foam Line Winders (package of 25) - $7
---
---
Shipping
Standard shipping is via USPS First Class mail.
A shipping/handling charge of $4 will be added to all orders.
If you live outside the US, you must add more postage unless the items on this page are mailed with a rod!
TenkaraBum.com does not ship to the European Union or the European Economic Area.

---
Where do you live?


---

USA


Add this amount for shipping.


---

No additional postage required for First Class mail.
(Total charge $4)

---

Canada or Mexico


---

Additional $6 postage required. (Total charge $10)

---

Other Country


---

Additional $10 postage required. (Total charge $14)
---
---
Priority Mail Upgrade - U.S. Only

2-3 day shipping (U.S. only)
First Class should be just as fast for people living east of the Mississippi.
Do Not click if your order includes a rod, wader gaiters, 3x5 Photo Tank or Daiwa Keiryu Damo. They already go via Priority Mail.
Domestic Priority Mail Upgrade - Additional $3
---
---
Payment
Payment is processed by PayPal but you don't need to have a PayPal account. You can use your credit card.
---
TenkaraBum Home > Micro Fishing Gear > Micro Fishing Line Winders

---
"The bitterness of poor quality remains long after the sweetness of low price is forgotten" – Benjamin Franklin
"Study to be quiet." - Izaak Walton 1653

"Be sure in casting, that your fly fall first into the water, for if the line fall first, it scares or frightens the fish..." Col. Robert Venables 1662

---
Warning:
The hooks are sharp.
The coffee's hot.
The fish are slippery when wet.
Beware of the Dogma

---