Field Master Suguru Salmon
By Sean Wurster
Rochester, NY

I was fishing one of the Ontario tributaries close to home in the late hours of the day. My dad and I had moved up to a large deep pool that usually has some lake-runs this time of year. I saw something big on the tail end of the pool, and drifted a few different things by it, including trout magnets, an egg sac, a single yarn egg, etc. No takes. 
As the light was fading I threw on a beadhead Killer Bug (size 6 tied on a Daiichi x point egg hook) just for fun.  I drifted that past the fish, and saw it drift over a bit and flash its mouth a bit.  I set the hook and the fish bulldozed away from me a bunch of times.
Thankfully the Fieldmaster Suguru Long seemed within its limits, and I was able to net it in a few minutes. 31.5" chinook on 4x fluorocarbon.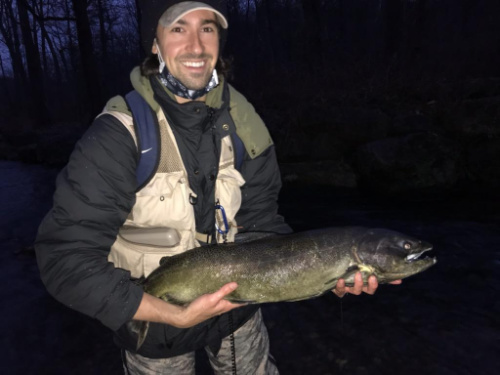 Sean's Suguru Salmon
---
Comments
Click here to add your own comments.
Be sure to include your name and which page your comments are for.
At least for now, that link goes to the TenBum Store.
---
TenkaraBum Home > Your Keiryu Stories > Field Master Suguru Salmon

---
"The bitterness of poor quality remains long after the sweetness of low price is forgotten" - Benjamin Franklin
"Be sure in casting, that your fly fall first into the water, for if the line fall first, it scares or frightens the fish..." -
Col. Robert Venables 1662
As age slows my pace, I will become more like the heron.

---
Warning:
The hooks are sharp.
The coffee's hot.
The fish are slippery when wet.
Beware of the Dogma

---