Tenkara Flies
Tenkara flies are an enigma. Wide variations in Japanese regional tenkara fly patterns exist, yet some tenkara anglers in Japan use just one fly pattern. At first glance it makes no sense. Upon reflection it makes perfect sense.
Dr. Ishigaki settled on one pattern because he caught as many fish on it as on any other pattern - so why change patterns? Hundreds of years ago, as fishermen in isolated mountain villages tied their own flies, local patterns developed - and were used because they worked. Two villages perhaps only 30 miles apart developed different tenkara fly patterns, but both flies survived because they worked. That the patterns were different didn't matter. Apparently one was as good as another - so why change patterns?
As with the two villages, two Japanese tenkara anglers may each have their own pattern that they use exclusively. For whatever reasons, each angler will have a favorite that he fishes with most or maybe even all the time. That another angler fishes with a different pattern doesn't matter. They all seem to catch fish.
And if all tenkara flies catch fish, the pattern to choose is the one you like the best or is the simplest to tie. If you tie your own flies, I show the tying sequence for the TenkaraBum flies, with the exception of Hans Weilenmann's CDC & Elk. His own website has a video of him tying the fly (and since it's his fly and the video is excellent, there was no need for me to do a step-by-step sequence here).
Just to be clear, though, you don't have to use "tenkara flies" with a tenkara rod. You can use the flies you've used successfully for years.
---
Anthony Naples' Tenkara Flies
Several of Anthony Naples' Tenkara Flies are available, and a couple of them are classics (or an adaptation of a classic), for example the Gold Ribbed Hare's Ear Sakasa Kebari and the Brown Hackle Peacock. His Minimalist Sakasa Kebari is pretty similar to my Sakasa Copperbari but uses the wire for just a rib rather than a full body. His wet ants will work wherever terrestrials work, which is just about everywere. Like the ants, his Partridge Caddis Emerger isn't strictly a tenkara fly, but I'm pretty confident it will put fish on your line.
Anthony also has a collection of midges, or Micro Fishing Flies for when the trout get picky or for when you are fishing for micros.
As with all the other flies on the TenkaraBum site, they are tied by a tenkara angler for tenkara anglers.
---
Guide Flies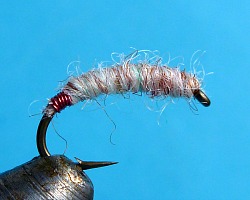 Guide flies are simple flies that are easy to tie, take only a few materials and catch fish. I am happy to offer tenkara style Guide Flies. In a sense, many tenkara flies could be considered guide flies - most are pretty simple to tie, take only a few materials and catch fish.
The flies offered here are simple flies. Proven flies. Guides have to rely on flies that will catch fish. There may not be a direct relationship, but I have to think that more fish probably means more tip. I think it's safe to say that these Guide Flies are battle tested.
---
jd_smith's Tenkara Flies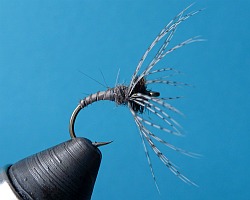 jd_smith's Tenkara Flies are the ones that got the ball rolling. He's the guy who got me started carrying other tenkara anglers' flies. Even though Kiwi's flies were the first to actually be available, it was jd_smith's idea.
He has a unique set of flies, most of which are modifications of standard tenkara patterns as outlined on Fujioka-san's pages. However, just as I offer the Killer Bug, and Kiwi offers the Usual, both great flies that could find a place in any angler's box, jd_smith offers an Adams dry fly that is sure to get the notice of any trout that are looking up and a Bird's Nest for any that aren't.
---
Kiwi's Tenkara Flies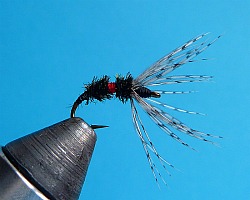 I've made a deal with Kiwi (Chris Kuhlow) to offer his flies on the TenkaraBum site. Anyone who's participated in one of the fly swaps he's been in knows the quality of his flies. That quality was recognized when he won second prize at the fly tying contest held by the Montana Fly Company and the Outdoor Bloggers Network. I think he would have won first prize, but the first prize was a fly reel, and it would have been a bit of an insult to give it to a tenkara angler.
Several of Kiwi's Tenkara Flies will be offered, including the Olive Bubble Kebari (which was the pattern that won the prize), Royal Sakasa Kebari and The Usual (which like a few other patterns offered on the site, isn't really a tenkara fly but is so effective that it would be a shame not to include it).
---
Tenkara Fly Step-by-steps
The following are flies that I once offered for sale but due to a lack of time I now offer only as step by step instructions to help you in tying your own. The hooks and materials needed for the flies are on the Fly Tying Materials page, and for some there are "One Fly" tying kits available. Plus, the Tying Tenkara Flies DVD will walk you through the steps for most of the flies that are shown below as well as some that aren't.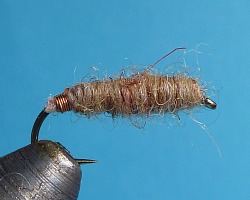 Most of the fish I catch are caught on a Killer Bug. I often wonder why I fish anything else. I have not adopted a "one fly" approach to tenkara and I doubt I ever will. If I did, though, it would almost have to be a Killer Bug. It certainly meets the requirements that Dr. Ishigaki set when he chose to become a "one fly" fisherman: it is simple to tie and it catches fish.

---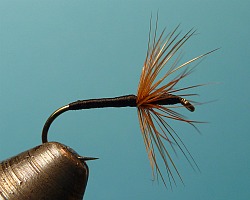 The simplicity of Dr. Ishigaki's sakasa kebari (reverse hackle) style tenkara flies is very attractive. They only require two materials, and are quick to tie. I don't know what he calls it, but I call the pattern anIshigaki fly or Ishigaki Kebari.

When you consider that most tenkara fishing in Japan is done in high-gradient mountain streams - not unlike many of our wild brookie streams - simple patterns make sense. In small mountain streams, fish do not have the luxury of closely examining their food. It goes by too fast. Fish in those conditions must eat quickly or not at all. If the pattern looks like it even might be food, and if the presentation is good, that's probably enough.
---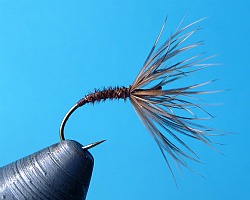 The Sakasa Kebari style of fly was developed with attention to presentation in mind. Tied with a reverse hackle, whether a soft hackle or a rooster neck, it pulses when the angler tightens and loosens his line. This gives the fly the impression of life, and can be the most effective presentation you can achieve (and you can achieve it better with a long rod and light line than with any other type of equipment).

Many small streams in the US are similar to the streams tenkara anglers fish in Japan. In small streams, trout are not as selective as they are in larger, more fertile streams that support extensive hatches. They are still very particular with respect to presentation, though. You can't get away with unnatural drag or slapping a heavy line onto the water. The tenkara rod and line take care of the presentation, which is important, making the fly choice relatively unimportant.
Of course, if you fish water that is has prolific hatches and sees extensive fishing pressure your fly choice becomes more critical. You certainly don't need to fish "tenkara flies." Your tried and true local favorites should work.
Keep in mind, though, that the the greatest advantage of tenkara, at least with respect to presentation, comes from being able to fish a very light line. You cannot effectively fish big wind resistant flies with a very light line. Similarly, the extremely soft tip sections on tenkara rods limits their ability to set the hook with very heavy flies fished deep. Traditional tenkara fishing in Japan is with unweighted wet flies fished just below the surface. And for smaller mountain streams, you'd be surprised how effective that can be.
---
The Hen and Hound is a sakasa kebari style fly, but to me it is a special one. To some extent it is an outgrowth of Dr. Ishigaki's "one fly" approach, although my take was more of an "any fly" than THE ONE fly. I was in Colorado visiting my sister and decided to tie a few flies with the materials that were at hand: Ginger colored hackles from her hens and a bit of dubbing from her partner's yellow Labrador Retriever. Orange silk thread to hold it all together (that's what was already in the bobbin holder) and a barbless hook - required for Rocky Mountain National Park. I caught fish, and have tied more from time to time. Each time I tie it, the better I like it. I'll fish it a lot more this year.
---
The Killer Kebari is the fly I tied for the first Tenkara USA fly swap. Although the sakasa kebari is the best known tenkara fly in the US, many of the tenkara flies used in Japan are not reverse hackled. One of the Hida Takayama tenkara flies is just a fairly thick wool body with a soft hackle of hen or hen pheasant. That is about the perfect description of the fly you would get if you added a soft hackle to a killer bug. I've fished hackled killer bugs and have done very well with them.
---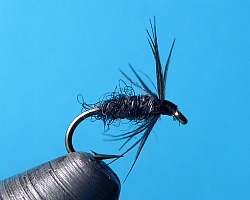 The Little Dark Kebari is actually a closer adaptation of the Hida Takayama style than is the Killer Kebari, which has already proven to be an effective and popular fly. The Little Dark Kebari is a bit smaller and darker, and may be taken by the trout to be a little black stone fly or little black caddis, or any one of the small, dark mayfly nymphs that make up a good percentage of a trout's diet.
---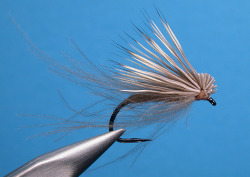 My second best fly, for the second (or maybe third) year running, was Hans Weilenmann's CDC & Elk which is an elk hair caddis variation. For where I fish, the CDC & Elk is the only dry fly I feel I need. Fished dead drift or skittered, this fly draws strikes!
---
Although the Stewart Black Spider is not a Japanese tenkara fly it is an unweighted wet fly, and a generic pattern that does not try to match a specific hatch - one that you could have on your line all the time, as did WC Stewart. The soft hackles also pulse just like those of a Sakasa Kebari. It may not be traditional, but to me it perfectly fits with the simplicity of tenkara.
---
Other "Tenkara" Fly Essays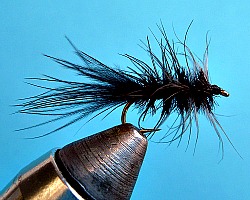 I'm a little surprised none of the "one fly" adherents have declared that their one fly is the woolly bugger. It has to be one of the most productive flies ever developed. Often tied large and heavily weighted, a "tenkara woolly bugger" should be relatively small and unweighted. The fly shown here is tied on a size 12 nymph hook, with black marabou, black ostrich herl and a starling feather.
---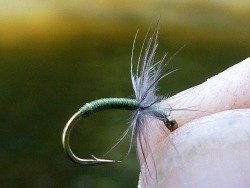 The 60s Rocker Sakasa Kebari is an adaptation of Ashley Valentine's shocking (and shockingly effective) Punk Rock Sakasa Kebari. Named 60s Rocker because it looks a rock star from the 60s whose once luxuriant hair has gone wispy and gray, this is the fly to tie when I'm out of purple starling.
---
The Indicator Kebari is tied to use as a strike indicator. It is tied around the tippet as shown in the photo to the left or with a loop of mono (or silk bead cord) as a "tail" to which tippet to a second fly can be tied. It is a wet fly but it is kept at the surface by fishing with a relatively short, tight line. Bright and highly visible, it will clearly indicate strikes on the point fly while drawing a few strikes itself. And unlike most floating indicators, this one has a hook in it!
---
A Tenkara Rod with Western Flies works very well. Don't think for a minute that you have to give up what you have used successfully for years. If you are a hatch matcher from way back, you can still match the hatch with a tenkara rod. 

---
Return from Tenkara Flies to TenkaraBum Home