60s Rocker Sakasa Kebari
The 60s Rocker Sakasa Kebari is an adaptation of Ashley Valentine's Punk Rock Sakasa Kebari. I've run out of purple starling and although my starling guy has dyed some more, he hasn't quite gotten around to shipping them. I had to use a natural, undyed starling feather. The name 60s Rocker is because the fly looks a bit like a rock star fom the 1960s - someone who is getting on in years, looks a bit green and whose once luxuriant hair is now wispy and gray.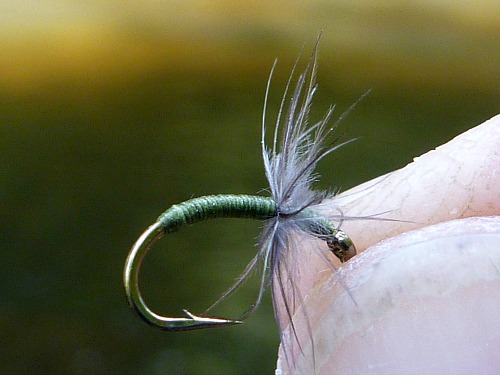 This is the 60s Rocker Sakasa Kebari dry.
Hook: Daiichi 1120 size 14
Hackle: Fluffy part of starling feather near base of stem
Thread: Uni-Thread 6/0 Olive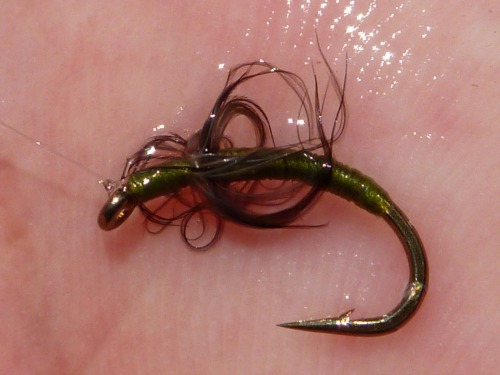 This is the 60s Rocker Sakasa Kebari wet.
The filmy hackle has no stiffness whatsoever and is incredibly mobile in the water. The fly should be fished dead drift because the slightest pull through the water will paste the hackle back against the body.
This is what happens after the 60s Rocker Sakasa Kebari gets wet.
I definitely believe that color matters, and I would not say that the gray hackle of the 60s Rocker Sakasa Kebari is better than the purple of the Punk Rock Sakasa Kebari. If you don't have purple starling, though, it's still worth doing the best you can.

TenkaraBum Home > Tenkara Flies > 60's Rocker Sakasa Kebari


---
"The bitterness of poor quality remains long after the sweetness of low price is forgotten" - Benjamin Franklin
"Be sure in casting, that your fly fall first into the water, for if the line fall first, it scares or frightens the fish..." -
Col. Robert Venables 1662
As age slows my pace, I will become more like the heron.

---
Warning:
The hooks are sharp.
The coffee's hot.
The fish are slippery when wet.
Beware of the Dogma

---