Tenkara
Tenkara is the modern Japanese version of the earliest fly fishing. People have been fly fishing for thousands of years. And for thousands of years, a rod, a line and a fly were all they had - and all they needed.
The fly reel is a relatively modern invention, and it offers a significant advantage - holding extra line so a fisherman can make long casts and a hooked fish to make long runs. With every advance, though, something gets left behind. In fly fishing, what got left behind was the ability to get drag-free drifts in tricky currents by keeping a light line off the water's surface. Also, the direct connection between the angler and the fish was lost when fish started pulling against the drag instead of the rod.
The Japanese did not invent fly fishing, and very similar styles of "rod-line-fly" fishing existed throughout Europe - and probably throughout much of the world. What is different, though, is that the Japanese did not give up on that simple fishing style after reels were invented or even after reels became common. The simple style also held out in a small area of northwestern Italy, but it is the Japanese version that has been introduced - or perhaps reintroduced - to the world in the last few years.
Fishing a mountain stream in Japan
In Japan, tenkara was used to fish for trout and char in small, high gradient mountain streams. For small mountain streams, it really is an ideal way to fish. You don't make long casts and the fish don't make long runs, so you don't need a reel. There are cross currents everywhere and the long rod and light line make it much easier to get a drag-free drift or to keep a fly in an eddy. Because the line is in the air and not on the water, there is no need to mend. There is no excess fly line to get caught underfoot or get tangled in sticks and snags.
That lack of excess line to manage makes this the easiest way for a beginner to learn fly fishing. It is really pretty intuitive and a complete beginner can pick it up without having to take casting lessons. Plus, the whole emphasis is on the fishing rather than the fly choice; on presentation rather than imitation. Matching the hatch is not emphasized - and learning Latin is absolutely not necessary!
Although some Japanese anglers use only one fly pattern, and many use only a handful, it is important to point out that if you already have favorite flies, you can continue to use them. Soft hackles in particular work quite well. To put it another way, tenkara rods are really very effective for fishing soft hackles.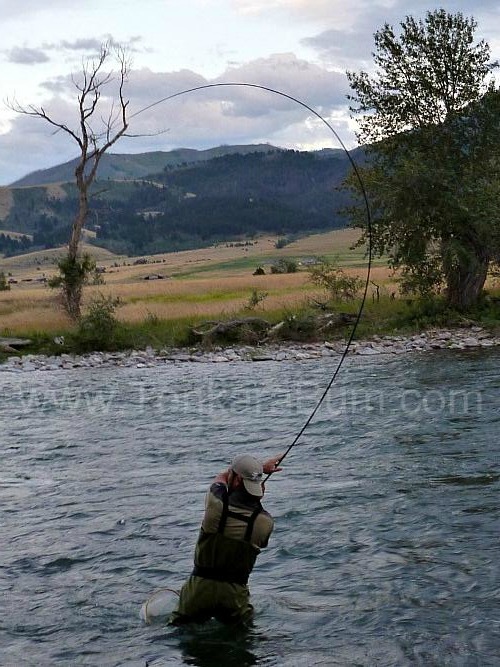 Masaki Nakano, Gallatin R. MT
The rods are long - most are 10 to 14.5 feet. Despite their length, they are very light, ranging from under 2 ounces up to perhaps 4 ounces for the longest rods. They are also telescopic, and collapse to between 15" and 24", depending on the model. That makes them very easy to transport - whether walking down the trail to the next pool or taking on the plane in your carry-on luggage. They are so supple that they can subdue larger fish than you would expect, and still protect very light tippets. (There are photos on the site are of 20+ inch fish caught on 6X tippets.)
The lines are usually about the length of the rods, but they are very light - lighter than the lightest fly line. The long rod and light line allow you to keep almost all your line off the water, greatly reducing drag. Reduced drag yields better presentation, and better presentations yield more fish.
There seems to be two schools of thought with respect to tenkara in the Western World. One suggests that it should remain pure and true to the way it is practiced in Japan. The other is that "as practiced in Japan" it is too narrowly defined.
The traditional Japanese definition of tenkara excludes many of the techniques and fly choices that most Americans use. The narrow definition also excludes lots of interesting rods - rods that in some cases are better suited to the way we actually fish than "tenkara" rods are. Even worse, tenkara as practiced in Japan excludes some wonderful fishing opportunities. In Japan, it is only practiced on mountain streams. In the US we have warm water streams, ponds and lakes full of bluegills, largemouth bass, smallmouth bass, crappies - I mean, how could you not fish for them? There is just way too much fun to be had to limit yourself to tenkara fishing as it is done in Japan. That just makes no sense.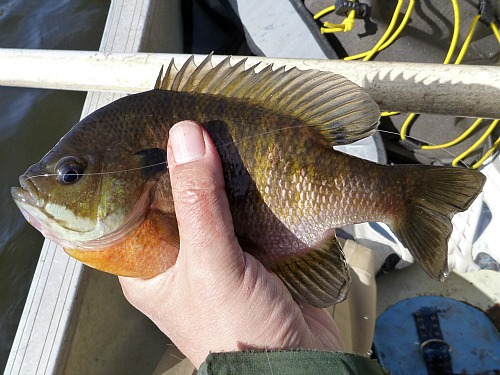 Bluegills are too much fun to ignore.
TenkaraBum.com will follow the second school of thought. I was not drawn to tenkara because it is Japanese and I do not feel wedded to its traditions. I like it because for the streams I like to fish, it is the most effective method. I like it because it is fun - so much so that I now choose it even where it may not be the most effective method.  For me, tenkara is not a religion and it's not a life style, it's just fishing.
I'm not a missionary. I'm a merchant. My goal is not to spread the word. It is to make available the best rods, the best lines and the best accessories I can find.
Chris Stewart, Tenakara Bum


Tenkara has no strict rules. Enjoy tenkara in your own way.
- Eiji Yamakawa