Nissin Royal Stage Syunki

The Nissin Royal Stage Sunki has been discontinued by Nissin and is no longer available.
The Fine Mode Nagare is quite similar.

---
The Royal Stage Syunki is a full flex rod that is amazingly smooth casting  and performs beautifully with a size 2.5 or 3 level line. The rod is softer than the mid flex Air Stage. This is a soft rod, but it is a soft rod with a difference. It seems to have a progressive bend profile that is very difficult to describe, but the word that first came to mind was sophisticated. You can easily feel the rod load and if you pay attention to the feedback you get through the rod, you can tell exactly how much force to put into a cast. You'll be surprised how little that is. This is a finesse rod.

Syunki is "Spring Season"
It seems most tenkara rod buyers in the US want faster, slightly stiffer rods. My sales of 7:3 rods outnumber my sales of 6:4s and the 6:4 rods sell better than 5:5 rods. And it's not just here at TenkaraBum. The Ebisu and Ayu (arguably the nicest rods Tenkara USA has ever made - and the only 5:5s) were both discontinued.
Luckily, that same sentiment does not hold in Japan. The softer, smoother, full flex Royal Stage is an upgrade from the mid flex Air Stage. (Similarly, Shimano's 34-38ZL is a softer rod than the previous LLS36NX and the Honryu Tenkara 44NP is softer than the previous Mainstream 40-45ZE.)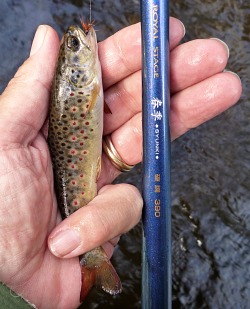 On my first trip to Japan, I participated in a gathering of tenkara anglers. They did a survey of the attendees, and a couple of the questions that were asked dealt with line choice. Not one angler at the gathering used furled lines, and if I recall, not one used a line heavier than a size 3. There were a smattering of 1.5, 2 and 2.5 users (I suspect most of the light line users were disciples of Tenkara no Oni).
Perhaps the tenkara retailers in the US have done a disservice to anglers by stating that heavier lines are easier to cast, and even more of a disservice by promoting heavy furled lines as "traditional."
These rods just cry out for a light line - which I will say again is the very essence of tenkara. If you already know that from your own fishing, and if you are thinking of getting a rod that will make the most of the lightest line you can find, by all means consider the Royal Stage.
Even a modest bluegill puts a deep bend in the rod!
One other consideration, though, is that these are not "big fish" rods. So far, I've fished them for bluegills, for little wild trout and for "ultralight worming" (described below). The largest fish I've caught was a trout of about  11", but my word what a fight. A big bluegill gives you a whale of a fight and even a modest bluegill puts a deep bend in the rod.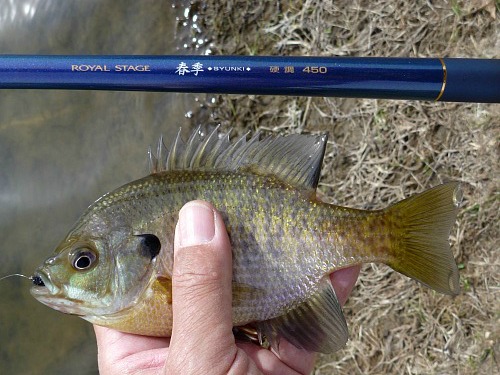 In trying to decide whether to carry these rods (and I ended up not getting very many) what tipped the balance in their favor was thinking of the anglers who never get to Alaska or Chile, and for that matter rarely if ever get to Montana or Colorado. Vacation time comes at a premium - and is usually a family vacation at that. Fishing is close to home, often for stocked trout - or maybe for panfish. However, fishing is important and they want to make the most of the fishing that is available.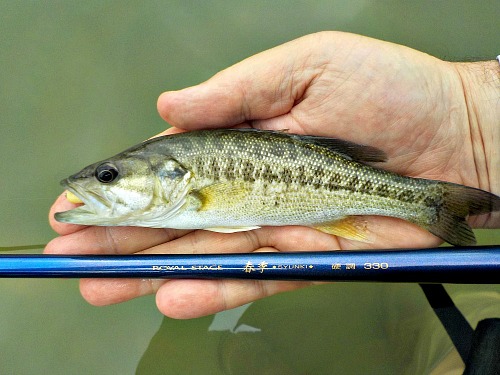 Guadalupe bass don't get big, but they get big enough to be fun to catch!
I don't know how many times I've written that you should match the gear to the fish, but it is never more true than with these rods. Some guys just can't go to where every hook up is going to be a big fish. With the Nissin Royal Stage Syunki, though, every hook up will still give you a fight. And for a premium rod for modest fish, I have not come across a nicer one.
A big cichlid will give you a fight you won't soon forget!
Ultralight Worm Fishing

Not too long ago, I stumbled on a fishing style that is so effective there can be only two reasons why everyone isn't doing it: 1) not many people have heard of it, and 2) fly fishermen don't want to fish with bait.
It's not just any bait fishing, though, it is fishing a small bait (a red wiggler or even half a red wiggler) with a soft tenkara rod or seiryu rod, a size 2.5 tenkara line, 7X or 8X tippet and a small, light wire hook. In a small, shallow stream, no weight is needed. With a soft rod, the size 2.5 line provides all the weight needed to make the cast, and the lack of any split shot means virtually no snags. A soft, smooth rod casts a worm easily and won't tear it off the hook. 
What you'll catch when Ultralight Worm Fishing
I call it Ultralight Worm Fishing, and although I was not fishing with a Nissin Royal Stage Syunki on the day I discovered it (rediscovered - it is really a very old technique) I thought later that the Syunki would be the ideal rod for this technique.
A few weeks later I tried Ultralight Worm Fishing with a Syunki 450 and it does indeed work very nicely. It is soft enough to cast a size 2.5 line well and to cast a worm effectively without tearing it off the hook. The rod tip will give enough when you get a hit that you will see the line register the strike but the fish will not feel tension on the line. If you try it, I think you will be amazed at how effective it is.
The Syunki 450 has all the length you need to reach over current seams into eddies - or reach over eddies into current seams. It really is just about the ideal rod for for this style of fishing. The 390 will be perfect for Ultralight Worm Fishing on small, shallow streams.

Nissin Royal Stage Syunki Features

The first thing you'll notice is the color of the rod. The grip section gradually changes from flat black at the butt end of the grip, through black with a gold sheen at the front end of the grip, through a deep blue (almost purple) with minute blue and red flecks to a royal blue with blue flecks. Above the grip section of the rod the blank is painted black with just a gold ring at the section ends. It is fancy but not at all flashy.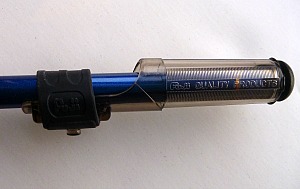 The Nissin Royal Stage Syunki in the 390 and 450 lengths come with Fuji KTC-12 rod caps. A number of my customers routinely buy a Fuji KTC rod cap with a new rod, no matter how good the standard tip plug is. The KTC-12 rod caps are extremely secure, and because of their size they are much harder to lose or misplace than the small factory tip plugs.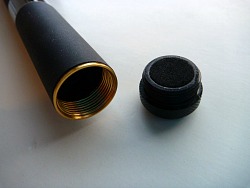 The grip and grip screw cap are pretty much the standard Nissin seiryu rod grip and cap. The grip is just a widened section of the blank, which is covered with a very effective nonskid coating that is just slightly rough to the touch (like wet/dry sandpaper). The grip screw cap is plastic and is knurled to make it easy to tighten or loosen. There is a foam insert to deaden the sound of the rod sections against the cap. There is no ventilation hole, but I always suggest disassembling a rod after each use to let it dry completely.


Like the high end Daiwas and Suntechs, the Nissin Royal Stage Syunki comes with a lillian that is attached to the rod with a micro swivel. It may seem like a small detail, but it does reduce line twist.
---
TenkaraBum Home > Tenkara Rods > Nissin Royal Stage
---
"The bitterness of poor quality remains long after the sweetness of low price is forgotten" - Benjamin Franklin
"Be sure in casting, that your fly fall first into the water, for if the line fall first, it scares or frightens the fish..." -
Col. Robert Venables 1662
As age slows my pace, I will become more like the heron.

---
Warning:
The hooks are sharp.
The coffee's hot.
The fish are slippery when wet.
Beware of the Dogma

---